About Samantha Abernathy
American graphic designer and poker player Samantha Abernathy. She was born in Atlanta, Georgia, on May 11th, 1991.
Her deep run at the 2016 Aussie Millions Main Event is what made her most famous. She is also well-known for frequently appearing on Poker Night in America, where she mainly participated in $25/$50 NLHE cash games. She has also earned $600K from live tournaments. On WSOP.com, she participates in games using the alias "SamanthaA."
She successfully biked from Las Vegas to Los Angeles in less than 72 hours, and as a result, she won a $10,000 prop bet against Dan Bilzerian in March 2016.
---🔥 Start playing on the softest tables in poker! This agent offers up to 55% Rakeback depending on your weekly rake. The team is available to you 24/7:
A
Telegram -
@FullHouseHelp
A
Whatsapp -
Get Started
As a player with this agency you get the best Rakeback,

guaranteed deposits and VIP service

for anything poker, catered to your needs. ---
She has a sizable social media following as well, with more than 20K followers on Twitter and over 100K followers on Instagram.
Career Dates
2014: She begins participating in live and online poker tournaments.
She begins making appearances on Poker Night in America in 2015, a cash game program that airs on CBS Sports.
She earns $437,543 for finishing third in the $10,000 Main Event at the Aussie Millions in 2016. That represents her career's largest single live tournament winnings to date.
Samantha Abernathy's Career History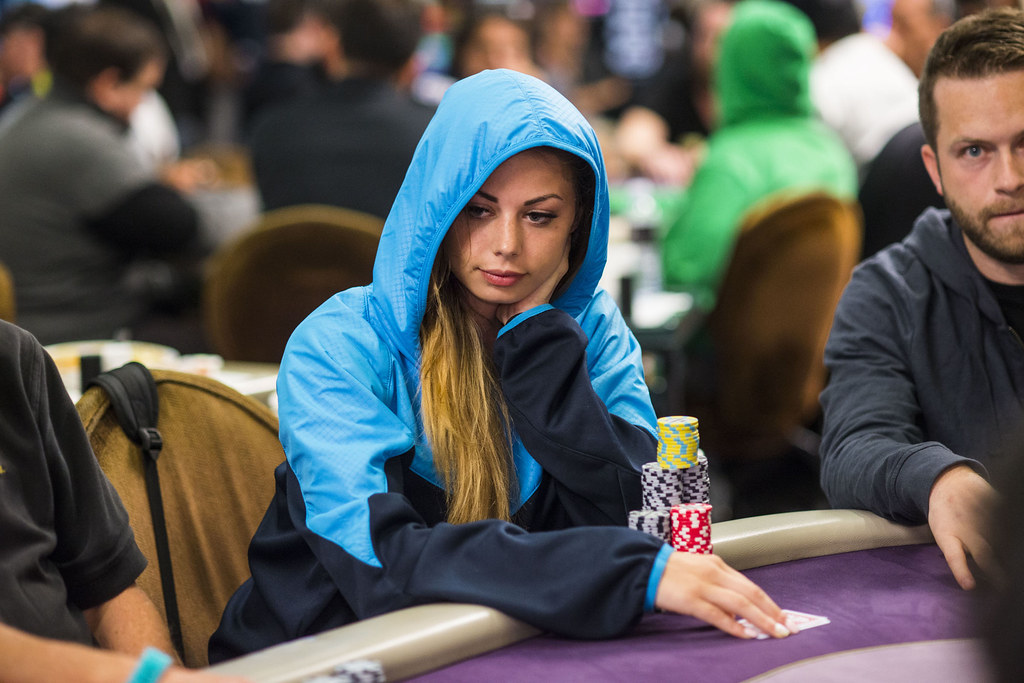 Beginnings
In Savannah, Georgia, at the College of Art and Design, Abernathy studied design. After graduating, she worked as a graphic designer. Even after she began playing poker on a regular basis, she still receives work as a freelancer.
Join Fishy Tables on Exclusive Poker Clubs
Abernathy used to play a variety of card and board games as a kid, including Monopoly, Clue, and Rummy.

The young Sam Abernathy would gamble – and win money – on prop bets from a very young age, according to her mother, who spoke to cardplayer.com for a profile piece on her daughter. She sometimes wagers on things like successfully completing a backflip or solving a Rubik's cube in a certain amount of time.
Regarding poker, she fell in love with the game in 2013 while having fun at the Seminole Hard Rock Casino in Florida. For her article, Abernathy described that memory as follows:
"I enrolled for a tournament, somehow avoided total humiliation, and fell in love with the concept of making a career out of poker while having no idea what I was getting myself into.
I traveled to Prague a week later to compete in several World Poker Tour tournaments. When I returned to the United States, I made the decision to relocate to Las Vegas and pursue the play seriously even though it initially seemed like a lighthearted play.
Samantha Abernathy at Live tournaments
Amounts of Cash totaling $597,164, according to Abernathy's Hendon website. They come from 60 various occasions spread over 7 years.
Her debut score dates back to January 2014. She finished 129th out of 5,316 players in the $160 NLHE event of the Mega Millions Series in Los Angeles for $1,600.
For the remainder of 2014, she continued to deliver winnings from low to mid-stakes Hold'em tournaments. In February 2015, she finished second in the $250 NLHE tournament at the Deep Stack Extravaganza at The Venetian for a score of $25,053, which was her first score of more than $10K.
She earned $10,772 for finishing ninth in the $1,600 Venetian Deepstack Extravaganza Main Event in April 2015. She finished third for $11,033 in the A$1,150 No Limit Hold'em Terminator event at the Aussie Millions in January 2016.
Abernathy first really caught the attention of the poker media at the 2016 Aussie Millions. She persevered until the $10,000 Main Event before busting in third place for a minimum of $437,543. Famous poker player and pundit Tony Dunst placed second in that competition, while Canadian poker pro Alan "Ari" Engel took first place.
Play on Reliable Poker Platforms:
This is Abernathy's highest-ever score in a single live competition.
Samantha Abernathy in World Series Poker
Abernathy has yet to take home the first of her two gold WSOP bracelets.
In total, she earned $32,888 in cash prizes from 7 World Series events, as well as appearing in several US casinos.
Her ITM finishes are almost exclusively from minor buy-in, large-field competitions. She placed 15th overall out of 1,000 players in the $1,500 No Limit Hold'em Shootout event in 2015, earning $5,413. Every table in a "shootout" tournament functions as a separate "mini-tournament." Each table's winner advances to the following round, when new tables are formed from the winners of the previous round.
She succeeded in finishing in the money at the $10,000 WSOP Main Event in 2021. Out of 6,650 players, she eventually busted in 868th place, winning $15,000 in the process.
Samantha Abernathy in Live Cash Games
Abernathy frequently appears on Poker Night in America, a program that airs on the American sports network CBS Sports. Between 2015 and 2018, she appeared in a total of 25 episodes. No Limit Hold'em cash game sessions with stakes of $25/$50 are the most common at PNIA.
In the all-female "Ladies Night" episode, Abernathy won a whopping $24,000 (480 BBs) while competing against Cate Hall, Kelly Minkin, and Lexy Gavin, among others.
She participated in the show again in 2016, going up against Joe McKeehen, the 2015 WSOP Main Event champion, Mike Dentale, and Andrew Micali.
She ran a famous bluff against Dentale during that session.
Samantha Abernathy in Online Poker
Abernathy participates in online poker games on WSOP.com Nevada as "SamanthaA." She has won $18,884 to date, according to the online MTT database PocketFives.
The first cash transaction on her profile dates back to June 2014, when she earned $124 for placing 14th in the $27.5 R&A $3,000 Guarantee tournament. Rebuy and add-on are abbreviated as "R&A."
Her largest online payday to date was a small $928 check. In November 2014, she earned that for placing second in the $30 buy-in $3,000 GTD Nightly NL Hold'em [R&A] competition.
Samantha Abernathy Scandals
Being slow-rolled at the Aussie Millions Main Event is one of several scandals.
In a hand versus Sam Abernathy on Day 4 of the A$10K Aussie Millions Main Event, Mikel Habb made the decision to violate professional poker etiquette twice.
Despite being dealt pocket Kings, Habb pretended to only want to call and "misclicked" to 3-bet his hand. Abernathy was immediately taken in and re-shoved with pocket 6s.
Habb then made matters worse by acting as though he had to make a difficult choice with the second-best Hold'em starting hand. He must have called following a little Hollywood.
Abernathy received a set of sixes on the river to knock the nasty slow roller to the rail, according to the "poker gods," who thankfully delivered some justice this time.
Dan Bilzerian was the target of her bicycle prop wager.
Dan Bilzerian, an Instagram sensation and self-described poker millionaire staked Sam Abernathy that she couldn't ride from Las Vegas to Los Angeles in less than 72 hours in March 2016. Abernathy accepted the challenge because she had always enjoyed gambling. She had a good relationship with Bill Perkins and Bilzerian even before the risky prop bet was placed.
It was a cold 270 miles (434 kilometers) to be traveled. Abernathy's feat of finishing the challenge on time on March 13 was impressive. She expressed her joy with the Twitter clip.