Pros
Available cryptocurrency deposits
Decent events with guarantees
A few flimsy games
Popular in the Philippines and Japan
Licensed by Isle of Man
Cons
Player verification is necessary
Not available for PC
Does not support tracking
Absence of HU tables
In recent years, prominent mobile poker apps have emerged thanks to sites like Poker Bros and Pokerrrr2. With a few crucial tweaks, KKPoker will be a very familiar type of real money poker app for anyone who has used play money app platforms. First off, there is a single central cashier for both playing in exclusive clubs and the worldwide player pool. Second, the Isle of Man Gambling Supervision Commission has granted KKPoker a gambling license.
They benefit from this in many countries when trying to recruit players. By installing an Android emulator, you may use your iPhone, iPad, Android phone, or PC to play a range of games that are offered on KKPoker. In the poker industry, KKPoker is a relatively new player. The majority of the difficulties associated with play money poker apps are eliminated with KKPoker's new payments mechanism. These include manual payments and an uncontrolled poker site, both of which KKPoker has addressed.
KKPoker consistently strives to adhere to all rules, unlike the majority of mobile poker programs. Your player balance is kept on a different, ring-fenced client account, which is how they function. This implies that you do not need to contact an agent to request deposits and withdrawals.
---🔥 Start playing on the softest tables in poker! This agent offers up to 55% Rakeback depending on your weekly rake. The team is available to you 24/7:
A
Telegram -
@FullHouseHelp
A
Whatsapp -
Get Started
As a player with this agency you get the best Rakeback,

guaranteed deposits and VIP service

for anything poker, catered to your needs. ---
Instead, you can make a poker deposit using any of the methods offered in the app's cashier. Skrill, Neteller, Ecopayz, and Bitcoin are a few examples of popular payment options. In this industry, having a home game experience (such as playing Omaha or Holdem with your buddies) with simple cashier tools is a terrific mix!
In a short period of time, KKPoker has gained popularity in countries including Japan, the Philippines, Canada, and New Zealand. We have gathered all the details you need in a Q & A format so that you may begin playing. Let's begin with KKPoker's key characteristics!
How is KKPoker structured?
A real money poker software with a license is KKPoker. Payments and transfers can be made at a central cashier or with the help of reputable KKPoker club representatives. The goal of KKPoker's operating strategy is to create the greatest poker experience by fusing the best elements of private poker clubs, authorized real-money operators, and poker networks.
On KKPoker, all poker variations are played in US dollars. Every player may join the tables offered at the global lobby in order to guarantee liquidity and a sufficient number of tables are available at all times. You can participate in the worldwide pool game with many players from various clubs thanks to this idea. In addition to the large player base worldwide, KKPoker clubs can host exclusive games for their members.
Ace King IOM Limited, a business that is authorized by the Isle of Man Gambling Supervision Commission, is the developer of KKPoker. On July 24, 2019, they last renewed their gambling license. A complete list of the Isle of Man gaming license holders may be found here. The Isle of Man's capital and largest town, Douglas, serves as Ace King IOM's headquarters.
KKPoker is very easy to use: You create an account, fund it with your initial payment, and then begin playing at the stakes you desire. Hold'em, Open Face Chinese, and Omaha all provide a wide variety of games. You can add an avatar and a moniker of your choice.
Join Fishy Tables on Exclusive Poker Clubs
Why is KKPoker growing in popularity among poker players?
Players can choose from a wide variety of real-money poker apps. Nevertheless, certain apps stand out from the competition because of their user-friendly features and designs. We created a list of the main factors that we think will contribute to KKPoker's popularity and traffic growth:

The worldwide pool allows you to compete with players from all over the world, not just those from your own nation or region. • KKPoker has recently been mentioned in a lot of web reviews and advertisements.
Recreational players can fully enjoy the games, and skilled players can have a high overall win rate because the quality of play is lower than in more reputable online poker rooms and you cannot utilize tracking software or a HUD.
The absence of regs and predatory players in a healthy poker ecosystem balances KKPoker's higher-than-average rake.
In order to maintain the integrity of the game, all participants must register their accounts using their real legal names and identities as specified in their T&C. For example, if you primarily use Bitcoin, there is presently no way to deposit BTC directly on a major poker site like PokerStars or partypoker, but KKPoker includes this option too. Players who are familiar with mobile poker apps will find KKPoker to be quite straightforward to use.

What's the appearance of a KKPoker club?
The app displays a list of all the open tables once you've signed up for a club to play at. The global player pool is shared by all clubs to always have adequate tables available. The stakes, participant count, and game type are all visible. It's quick and simple to find your preferred poker game in the lobby. Finding appropriate stakes for your appetite is simple because all tables at KKPoker use the USD currency.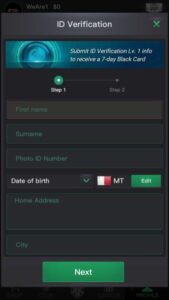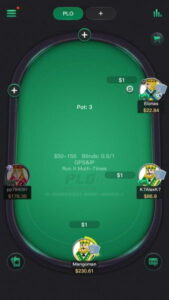 What do you think of the KKPoker app's interface, design, and features?
Software for KKPoker was created by AceKing IOM Limited. For their RNG, they have a Gaming Labs Certificate of Integrity (Random Number Generator). The Isle of Man government must verify this GLI certificate before it can be used. As soon as the verification is over, we'll update our review!
The KKPoker application has attractive graphics, the same as PPPoker. The software can be customized in a number of different ways. The app was created with mobile devices in mind. In terms of platform, KKPoker and PPPoker are similar. However, a few minor adjustments have been made. From the very first use, it is evident how the lobby, menu, games, and tables are organized. The KKPoker app has been created and optimized for cell phones, after all. Whether using an iPhone or an Android phone, the basic functionalities are simple to utilize.
The gaming on iOS with an iPhone X worked flawlessly during our testing. The KKPoker multi-tabling capabilities are useful for gamers that enjoy the action. On your device, you can simultaneously open up to three tables. Swiping will allow you to quickly switch between the tables. There was no lag during our testing, and the speed of various functions is good.
Any activity at the tables, including checking, wagering, and raising, is easy to catch and observe. You can buy various levels of VIP cards through in-app purchases if you wish to get access to statistics on the app. Players who want to learn more about their table opponents can benefit from using VIP cards. VIP cards cost from $6 to $66 a month for Silver and Platinum tiers.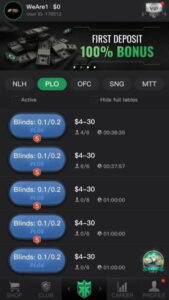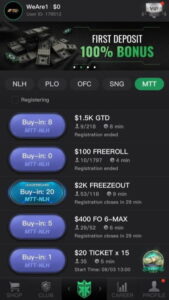 What kind of games and stakes are available on KKPoker?
Although KKPoker may not have as much overall traffic as more well-known websites, the competition is not as fierce. For this reason, we advise all poker players to check out KKPoker. No-Limit Hold'em action up to NL400 and Omaha action up to PLO200 can both be found pretty frequently. Players that play for little and micro stakes are most suited for the games. KKPoker regulations are less stringent than those of other poker networks.
There are occasionally higher stakes runs, but not yet frequently. In Asia, OFC is primarily played in the early evening (day time in Europe). 6+ Hold'em is a popular poker variation, particularly in Asia, and KKPoker also offers this short deck version of the game.
On KKPoker, you may play poker in the Holdem, PLO, PLO 5, MTT, 6+, and OFC game variants. OFC poker can be played with jokers or without them. There are also HU tables for Holdem and Omaha. You could check out the action on mobile poker apps because HU tables are very popular there.
On top of the tables in the international lobby, club owners can provide their patrons with private tables. As opposed to other popular poker sites, KKPoker allows users to simulate playing in a private poker room on their mobile devices.
What are the rake and rakeback amounts?
On KKPoker, the normal rake is 5% with a 3BB maximum. Levels NL200 through NL600 have a lower cap because there is a 2BB rake cap at those levels. The rake cap starts at NL1k and is 1BB. The rake in PLO is capped at 3BB. A reduced 3% rake with a 3BB cap applies to HU tables. For all tables, the rake has a no-flop, no-drop policy. The Weighted Contributed technique is used to determine the rake on KKPoker tables.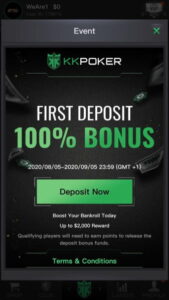 Does KKPoker do advertising campaigns?
For beginner players who aren't quite ready to play with real money deposits, KKPoker has something to offer. There are a number of freerolls going daily in their poker room where you can win actual money. Every week, you can take part in tournaments with a total of $25k in guaranteed prizes. On KKPoker, large tournament events with GTD prize pools are anticipated to grow in popularity. $6k in bonuses are awarded based on their Monthly MTT Leaderboard.
In addition to these specials and the rakeback offers made by clubs, KKPoker frequently offers welcome bonuses to new players. For instance, KKPoker provided new players with a $2k initial deposit bonus in August 2020. This deposit incentive was given out in $1 instalments for every $10 in rake, thus it effectively gave 10% more rakeback.
What about KKPoker deposits and withdrawals?
After creating an account, you can select the deposit method you like. Your choice of deposit options will depend on where you live and the laws there. Debit and credit cards, e-wallets like Ecopayz and Skrill, Bitcoin, Paysafecard, Astropaycard, and bank transfers are the most popular ways to make deposits. The deposit transactions will immediately show up on your balance.
Can you use tracking programs like PT4 or HEM?
Any third-party tracking software or HUDs are not supported by KKPoker. Poker is a game where knowledge is power, and games are often more enjoyable when tracking devices are prohibited. By selecting player profiles, several fundamental statistics may be seen. You can buy a VIP card to have access to additional player data. As in-app purchases, VIP cards are available for purchase.
How can I sign up for a KKPoker account?
Clearing your cookies and creating an account by clicking KKPoker is the first step. Fill in the boxes with your username, phone number, and other information. After creating an account, you will be directed to the program, which you can then download and install on your device.
Open the app, log in, and go to the profile section to finish the KYC process with your ID documents after completing these steps. Click on the top left of the screen to change your nickname and avatar. Do not forget to connect your email to the account by selecting "Bind Your Mailbox" under Profile > Settings.
You will notice a message stating that the app is not available in your location if you reside in a restricted nation where KKPoker is not yet accessible. If so, we advise looking through our other soft mobile poker games, including Pokio or Poker Bros.
FAQ