Who is Brad Owen?
Brad Owen is a professional poker player and poker vlogger from the United States. He was born in the year 1988.
Owen primarily plays low to mid-stakes cash games in the Las Vegas area. After recording himself while playing these sessions and filming footage of him preparing for them along with commentary, he uploads the videos to his popular channel on YouTube. As of when this article was written, he had a total of 260,000 subscribers.
Furthermore, he has only $14,409 in live tournament earnings, which is extremely low for a professional player. However, given that he's always put most of his volume into live cash games, it's understandable.
---🔥 Start playing on the softest tables in poker! This agent offers up to 55% Rakeback depending on your weekly rake. The team is available to you 24/7:
A
Telegram -
@FullHouseHelp
A
Whatsapp -
Get Started
As a player with this agency you get the best Rakeback,

guaranteed deposits and VIP service

for anything poker, catered to your needs. ---
In these so-called "meet-up games," which he and his close buddy and fellow poker vlogger Andrew Neeme organize on a regular basis, the two of them and their fans compete against one another in low-stakes cash games.
Career History
In 2012, He relocated from San Francisco to Las Vegas to play professional cash games. Four years later, he began uploading his poker vlogs to YouTube and, in 2017, placed 196th for $6,202 in the $1,500 WSOP Monster Stack event. That is the most money he has ever won in a single live tournament in his career. Lastly, his video "The BIGGEST Game I've Ever Played!!" goes viral, with over 1.8 million views in 2019.
All You Need To Know About Brad Owen's Career
Owen's Interest in Poker
In March 2020, 888Poker's YouTube channel published a video in which Owen retold the story of his professional poker career.
In it, he described his introduction to poker in 2003. His father got a job in the casino industry, so he purchased "Hoyle Casino" software to learn all of the casino games through simulations. Bradley Owen, a young man, enjoyed playing with the program for fun, particularly the simulated Limit Hold'em tournaments.
In 2012, he moved from San Francisco to Las Vegas with a $10,000 bankroll to play cash games for a living. It was initially going well for him, with him earning $3,000-$4,000 per month.
Join Fishy Tables on Exclusive Poker Clubs
However, he decided to return to California to be with his girlfriend. He spent all of his money there, forcing him to return home to his parents and get a job in accounting. Because he despised his new job, he saved up enough money for a new bankroll, quit, and returned to the tables to play full-time.

Poker has been working out for him again since then. He began vlogging in 2016. On December 2nd, 2016, he uploaded the first video to his channel, titled "Poker Vlog Episode 1."
Brad Owen in Live Tournaments
According to his Hendon page, Owen has a meager $14,409 in live tournament earnings. As we stated in the introduction, this figure is low because he has spent his entire career focusing on live cash games.
He has 5 live results recorded, two of which are from WSOP events. His page's first recorded cash is from July 2016. He finished 139th in the $600 NLHE Goliath event for $971 at the Planet Hollywood Casino's Goliath Phamous Poker Series.
In addition, he has two other tourney scores from the Run It Up Reno festivals. In October of 2018, he was in 10th place in the $125 ALL IN or FOLD event, winning $570 for his efforts. In October of the following year, 2019, he competed in the $600 NLHE Thursday Thrilla event and earned $1,500 for finishing in 22nd place.
Owen as Online Poker Player
Owen isn't a big online poker player.
During the 2020 coronavirus pandemic, however, he had no choice but to turn up the volume on the virtual felt.
He cashed in a number of WSOP Online events with good results; we previously covered his cashes, including his ITM finish in the $5,000 WSOP Online Main Event.
On WSOP.com, he used the screen name "MrMonkeyBear." However, there are no tracked results – cash games or tournaments – on that account or any other account associated with Owen.
Brad in Cash Games Streaming
When it comes to poker, this is Owen's bread and butter.
Play on Reliable Poker Platforms:
Most Reliable Poker Platforms
On his YouTube channel, you can watch him play live cash for a living in various casinos, mostly in Las Vegas. He typically plays in the $5/$5 and $5/$10 No Limit Hold'em cash games. He's only ever played for $10/$25.
He's also made several appearances on Live at the Bike's live-streamed cash games. In December 2019, for example, he took part in a $5/$10 NLHE cash game against famous Canadian poker streamer Jaime Staples.
He was featured on another LATB stream in August of 2018. This time, he was up against Andrew Neeme and "Johnnie Vibes" Moreno, two other poker vloggers.
Owen flopped the nut flush against Johnnie Vibes in a hand on that stream. On the other hand, Vibes was lucky to escape with an astute fold after Owen 3-bet his flop check-raise.
Owen has also appeared in live-streamed games for Run It Up Reno. In August 2019, he competed in a $5/$5 NLHE session against his friends Andrew Nemme, Jamie Kerstetter, and Jason Somerville.
World Series of Poker Appearance
Brad Owen has yet to win his first World Series of Poker gold bracelet.
So far, he has won two live World Series events. In 2017, he finished 196th out of 6,716 players in the $1,500 NLHE Monster Stack event for $6,202. That is his highest single-live tournament score to date.
In 2018, he finished 113th for $5,166 in the $2,620 No Limit Hold'em – The Marathon event.
He has, however, been far more prolific in online WSOP events. He cashed in an impressive 9 tournaments in 2020 when all tournaments had to be played online due to the coronavirus pandemic.
The best of those 9 scorecards was $13,160, which was more than twice as much as he had ever been awarded for finishing in a live tournament. In addition, he won it in the World Series of Poker Main Event, which, for the first time since 1971, was held with a buy-in of only $5,000 rather than the usual $10,000.
Owen ended up finishing 587th out of 5,802 gamers and earned $13,160 for his efforts.
Brad Owen's Popularity on Youtube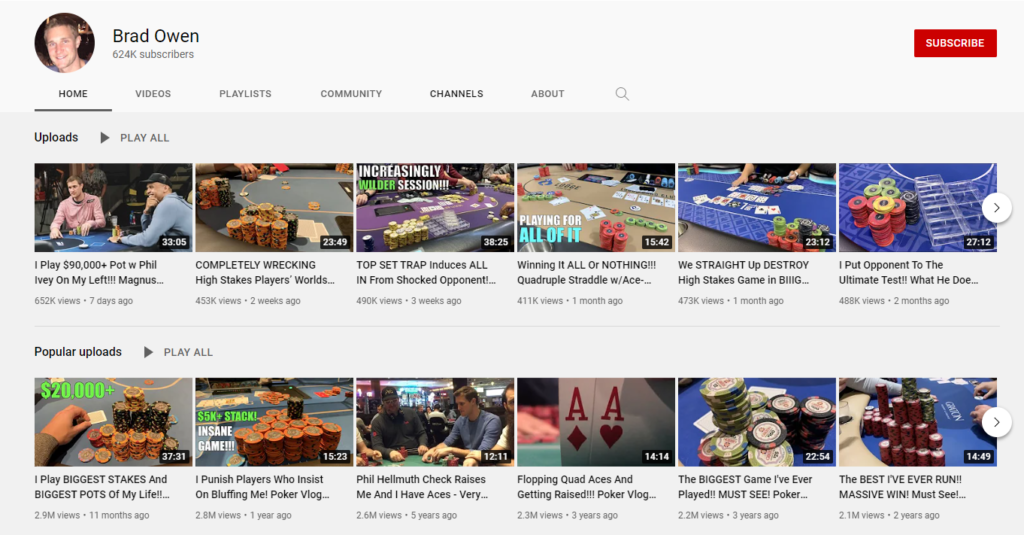 Brad Owen's YouTube channel has 260,000 subscribers as of this writing. Most of his content consists of him videotaping himself and playing low to medium-stakes cash games.
It was on December 2, 2016, that he uploaded his very first video blog. He traveled to Las Vegas's Red Rock Casino Resort & Spa, which is located away from the Strip and participated in a $1/$2 NLHE cash game, during which he incurred a loss of approximately $150. After that, he went to the $2/$5 table, where he ended up winning a respectable $10.
Owen continued to upload a few times throughout the month. In his 888Poker profile, he talked about how he had to hide the fact that he was recording his hands because casinos wouldn't let him. However, as his popularity grew, US casinos began inviting him to film his vlogs on their property.
In January 2019, he got his big break on YouTube. He participated in a $10/$25 NLHE session at the Graton Resort & Casino in Rohnert Park, California. He won $1,100 at the end of the game. The vlog he posted went viral, with over 1.8 million views.