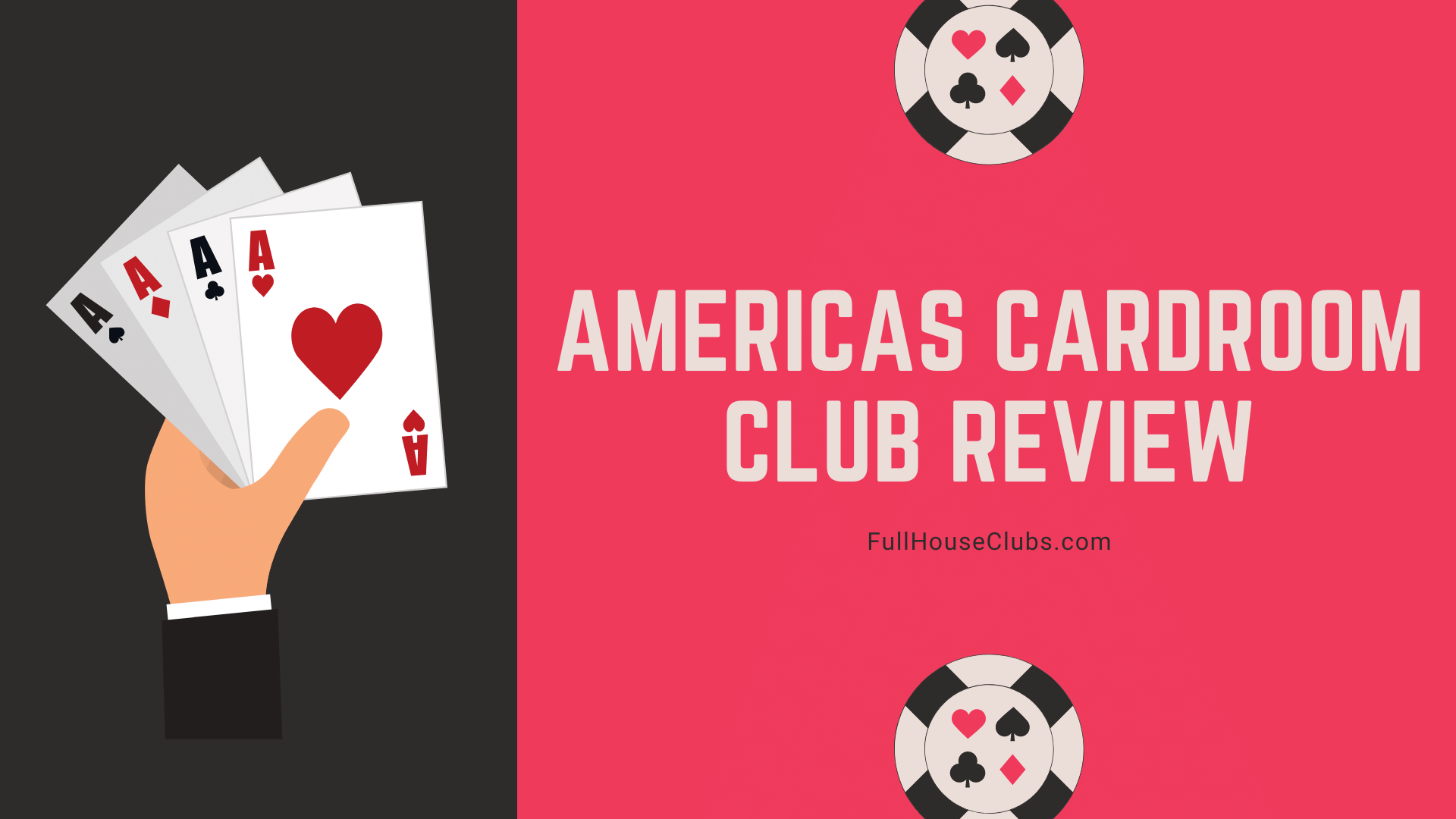 Pros
A huge selection of poker games that can be played; a US-friendly online poker room
A large selection of cryptocurrencies supported; a robust loyalty program in place
A dependable withdrawal process
An established website and software
Excellent table customization features
Very little competition; and enticing welcome bonuses
Cons
High withdrawal fees for all non-cryptocurrency transactions
Long withdrawal times
Outdated game lobby design
Absence of anonymous tables
It took us some time to get there, but we've now had a taste of what it's like to play poker at Americas Cardroom. So why not join us as we walk you through all of the poker room's features step by step if you're considering checking it out?
We have been putting off playing at Americas Cardroom for a while since we know people who have played there and continue to do so, and they consistently have positive things to say about the venue. On the other hand, if you've been around since 2001, we'd say you should know exactly how to play online games. And one of Americas Cardroom's best characteristics, as we discovered, is that it admits players from around 98% worldwide.
That's fairly amazing, but it's also a highly alluring proposition for a poker room to make. However, our initial impressions of the poker website were that it had a really peculiar display layout. Everything just seems very disorganized with its Twitter feed on the right side, a scrolling main part in the middle, and links offering drop-down choices that lead to even more drop-down menus. Though the internet portal was disorganized, we nonetheless continued with the download of the Americas Cardroom app.
As it turns out, we are happy we did. Everything will appear a little more comfortable and appealing once you are in the poker game lobby. That does not imply that the game lobby is the best we have ever seen. In other ways, it even appears a little dated. However, despite this, the poker room is still able to offer thrilling poker games, and there are always many available.
In light of this, let's examine the capabilities and built-in features at America's Cardroom.
---🔥 Start playing on the softest tables in poker! This agent offers up to 55% Rakeback depending on your weekly rake. The team is available to you 24/7:
A
Telegram -
@FullHouseHelp
A
Whatsapp -
Get Started
As a player with this agency you get the best Rakeback,

guaranteed deposits and VIP service

for anything poker, catered to your needs. ---
Americas Cardroom: Is It legal?
Since the firm that runs Americas Cardroom has been in operation since the 1990s, longevity is unquestionably in its favor. It has established a strong reputation as one of the top online poker rooms to date throughout the course of its years in business, with its withdrawal process frequently being cited as one of the highlights.
We were therefore extremely surprised to see that the poker room lacks a specific license. Some sources claim that it did have one from the Cyprus Gaming Authority, which is the nation where the platform is based. However, Americas Cardroom doesn't provide any detailed details regarding that license or any alternatives, for that matter.
As things are, it normally takes a lot to convince us to register with an unlicensed online poker casino, but something about Americas Cardroom definitely caught our attention. We also made the decision to sign up and play there because we have pals that do. The deposit and withdrawal processes never let us down, however, we always suggest signing up for such sites at your own risk.
Can I play at America's Cardroom here in the US?
If US players couldn't access this poker room, wouldn't it seem to be extremely harmful to its reputation? The good news is that US players are accepted on the website with open arms. Even the webpage contains a statement to that effect. Therefore, Americas Cardroom will serve you without hesitation if you live in the United States.
There is something to keep in mind, though, as not all US states are permitted to register and play at America's Cardroom. Delaware, Kentucky, Maryland, Louisiana, New Jersey, Nevada, and Washington are among them. It is possible to register if you reside outside of these states.
The fact that Americas Cardroom can offer online poker games to the US market is actually one of its key characteristics. Speaking of ourselves, we recently accessed the poker room from Florida and everything with our sign up, subsequent deposit, and poker activity worked without a hitch.
Join Fishy Tables on Exclusive Poker Clubs
The United States stands out as one of the countries that the poker room serves, but it is not the only one that can register. As was already mentioned, Americas Cardroom is able to offer its services to the vast majority of nations across the world despite not having an official license. Consequently, a sizable player base accesses its poker games.

America Cardroom Games & Software
The Americas Cardroom website uses the Winning Poker Network, as previously mentioned. This company has been in business since 2001 and continues to stake its claim to being the most dependable American network with the top poker rooms in the globe. Far be it from us to disagree, but if it truly intends to adhere to that, it will need to make a few minor updates here and there.
We are not criticizing Americas Cardroom's lobby; after all, we have witnessed far worse. But let's just say that it needs a little bit of a tidy-up to compete with certain others. Given that it offers a virtually unrivaled selection of games and tournaments, this hasn't stopped the poker room from filling up with players. Without a sure, the poker network merits high appreciation for this reason.
The customizing features that you can take advantage of are my favorite aspect of the poker software that is in use on the website. The screen background and the front and back of the cards themselves can both be changed whenever you're playing at a table. There are many different "themes," as they're known, to choose from, which definitely makes playing poker more fun overall.
We are also thrilled that the games in the lobby can be filtered in a comprehensive manner. With Americas Cardroom, you may switch between the many poker game kinds and choose whether you want to see All Games, high stakes, medium stakes, low stakes, micro stakes, or play money games. Not all poker rooms provide this function. Additionally, you can sort them based on whether they have a pot limit, fixed limit, or no limit. The lobby is set up in a pretty useful way.
However, there are so many statistics displayed in the lobby that you risk becoming overwhelmed by them. And not just any stats, but details that, from the perspective of a poker lobby, you might not even need. For instance, knowing how many players are waiting to join a table doesn't really give you any kind of advantage.
We thought the tables themselves and the gameplay that followed to be fairly nice, despite the lobby's somewhat archaic and somewhat perplexing arrangement. It's simple to check who the other players are at the table, monitor the game's development, and join a table with the press of a button.
The picture above demonstrates the excellent graphics and fluid gameplay you can expect once you reach a table at Americas Cardroom. The tables at Americas Cardroom have been a very pleasant experience for me. Each of the tables we've accessed has featured fluid gameplay and strong graphics.
It never lags, has any bugs, or has any other kind of technological issues. That, in my opinion, is a huge plus, as we can honestly claim that just one or two platforms offer software that meets the requirements that ought to be available right now.
Additionally, the poker room offers a variety of limits, so overall, there is something for everyone. Despite the fact that there are tables and tournaments aimed at this demographic, there isn't much high-stakes activity going on. This is not to suggest that it never occurs; it merely means that it is generally exceedingly rare.
It appears that things at Americas Cardroom these days are different from how they were a few years ago. More seasoned players may need to adapt their approach to compensate for the fact that players reaching the tables today are often cautious and tight.
Make sure you are aware of your position at the table and take advantage of it.
At Americas Cardroom tables, post-flop play is advantageous, and this is particularly true when playing No Limit Texas Hold'em poker. Additionally, it's frequently the case that a player raising from an early position is doing so for a valid cause. Call them out on it from a position of weakness and watch what happens.
Can I play Americas Cardroom anonymously?
To put it simply, playing poker anonymously is not an option at this poker room. Now, while we do believe that it should be a choice rather than something that is built into the software automatically, America's Cardroom doesn't even give players this option. As a result, everyone else will always see your login and gaming history.
While this isn't as annoying for certain gamers on sites with less traffic, the fact that this site has a lot of traffic does leave a bad taste in one's mouth. We like having the option available, even though some individuals may find this to be more of a personal preference while others don't really mind. And we'd like it much more if we knew we were playing games on a website that regularly saw a lot of traffic.
It is sad that this is the case at America's Cardroom since in such a setting, casual players are extremely readily targeted. There is a good chance that these players will eventually have a bad experience because of the high volume of traffic in this poker site. If Americas Cardroom isn't going to offer entirely anonymous play, it should, at the at least, offer a 50/50 split. At least in this way, individuals who prefer this type of gaming can indulge in it. If you are searching for an anonymous option, you would better check for Ignition Poker or other platforms on our website.
My Experience with Non-Anonymous Gaming
Although it wasn't really the case, we would want to state that our game session with the non-anonymous poker tables was absolutely exhilarating and thrilling. Although we weren't particularly aware of it, we were constantly aware that more skilled gamers were trying to take advantage of us. Without a doubt, there were many players at AmericasCardroom who were more skilled and experienced than we were. With so many players passing through, it makes sense to think that way.
Did that affect how we played? Not precisely, though it did prompt us to seek out a table with fewer people seated at it or, on occasion, to sit at a table alone and wait for others to join. Maybe it's just me, but when we are aware that we might be directly targeted by players trying to take advantage of less skilled poker players, we instinctively go into that mentality. As we've said, we didn't really see it happen, but in my opinion, Americas Cardroom ought to offer anonymous tables.
Downloads for MAC and Windows
For us, the initial download and installation went without any major issues. It moved rather quickly and without incident. However, when we went ahead and opened the software, it took a while to download an update. In fact, we had so much time that we were left idly waiting for a good three or four minutes. We understand that, in the big scheme of things, that is not a significant amount of time, but anyone who wants to get started playing poker soon will notice that there is a time constraint.
Even though this was the case, it's still a good thing that the software didn't activate our computer's anti-virus and anti-malware programs. It doesn't exactly inspire much confidence in the poker gaming you'll have when we've had that happen with software from other sites. The fact that one of them even managed to crash our computer twice gave us all the evidence we required. However, there wasn't anything like this before Americas Cardroom. Despite the installation taking a little longer than usual to set up, everything went quite smoothly.
Bonuses at Americas Cardroom
Bonuses were formerly something we never enjoyed receiving. In the beginning, we simply never really got anything out of them. But three or four years later, we are completely on board with obtaining discounts from our preferred online stores. Since moving forward with a welcome offer at one of my favorite poker sites roughly six months ago, we haven't looked back.
Because of this, we were delighted to learn that Americas Cardroom also offers a welcome bonus that new players can actually take advantage of. In fact, this website is offering you three sizable bonuses, starting with the Supersized 200% Bonus with any initial cryptocurrency deposit. Alternatively, you can get a 100% welcome bonus by making a deposit via a regular method. All you have to do to get either of these bonuses, which both have a $1,000 maximum bonus value, is to make your initial deposit and start playing.
In the image above, you can see the current offer from Americas Cardroom.
You don't have the bonus applied to your balance right away, as is typically the case with all online poker sites. Instead, you play poker there to clear it. For every 27.5 Award Points you are able to earn while playing for real money at Americas Cardroom, your bonus will be released in $1 increments.
But that's not all Americas Cardroom has to offer new players; you'll also get 20 Days of Free Cash up to $50. Simply open your card for the day by logging into your account each day after making your initial deposit. You can get rewards from them that range from $2 to $6 in cash.
The New Depositor Freeroll Access is the final promotion worth noting. After you make your initial deposit, an email containing the password for the freerolls for that month will be delivered to your mailbox. Every Saturday at 12:05 p.m. ET, these give you the chance to win cash without having to pay anything to play.
America's Cardroom Rewards Program
As part of Americas Cardroom's Elite Benefits Program, you can advance through something called Military Ranks. This functions as the VIP/Loyalty Rewards program for the poker room. This has six levels, starting with Lieutenant at the very bottom and ending with 5 Star General Level at the very top.
We really enjoy a good VIP program, therefore it's very enticing that Americas Cardroom has given its selection a little bit of a theme.
As soon as you make your initial deposit and begin playing, you'll automatically be promoted to Lieutenant. Speaking about ourselves, we moved up to Captain Level by moving one step past this level. At that rank, we had access to the Medals of Achievement section, numerous site freerolls, a greater Combat Point multiplier, and one or two more benefits. It goes without saying that the prizes get better as you ascend.
For instance, if you reach the General level, you will have a lot of money accessible for purchases, powerful Combat Point multipliers, and more. In our perspective, it's a highly interesting and cutting-edge VIP program.
Americas Cardroom Championships
It has always been our belief that knowing about tournaments is a good idea if you're looking for excitement when playing poker online. They give the game a unique edge, guaranteeing that you not only get to play some fantastic poker, but also something that stands out from traditional poker gaming.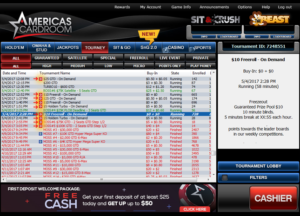 The graphic above illustrates the great array of tournaments that are offered by Americas Cardroom.
The variety of tournaments available to you at Americas Cardroom is just outstanding. The fact that you can categorize them in the lobby should tell you everything you need to know about the number of tournaments that are available. Depending on factors like whether a specific guarantee is provided, whether it's a satellite and more, you can divide them into high, medium, low, and micro tournaments.
We could be a little bit biased because we enjoy playing in poker tournaments. Nevertheless, there are so many options accessible at Americas Cardroom that you can choose one that suits you and enjoy playing it. We would always advise players to do this, but doing so in this poker room is a more deliberate choice.
It goes without saying that you shouldn't overdo it. After all, you must establish and adhere to a poker budget. However, tournaments are undoubtedly the best option for gamers looking for something a little more thrilling than ordinary poker cash games.
Speaking of our own tastes, we firmly believe that Americas Cardroom is a site that other websites should emulate and follow when it comes to tournaments.
Not only are there many events going on at Americas Cardroom, but they're also some of the busiest that we've seen. That's no minor accomplishment considering that not all poker players use online poker rooms to participate in tournaments. It puts things into perspective when you realize that this website occasionally draws up to 2,000 people to multi-table tournaments. This is especially true when you take into account how Black Friday shocked the US market.
Large overlays—some as large as $100,000—are sometimes seen at Americas Cardroom tournaments because to the volume of players participating in them.
The $1,000,000 guarantee event is one of the poker room's greatest offers. At one time, this was in effect every week, but that is no longer the case. Instead, it appears infrequently but continues to be a player favorite who frequents the website. There are still a ton of other options available to you, so there's no reason to be disheartened about that.
There is something for everyone when it comes to tournaments at Americas Cardroom because buy-ins start as little as $0.10 and rise to around $12,000 and above. The Sunday Special, which has a $200 + $15 buy-in, is something we really like. Usually, we end up entering the one that has a $125,000 guarantee. However, the tournaments portion at this site really stands out thanks to additional opportunities like the $1K CAGE, Freezeout $8,000, and $10 Hold'em Turbo among a plethora of others.
The Americas Cardroom Traffic
When we entered the Americas Cardroom game lobby, I immediately questioned the accuracy of the player count at the open tables. It was the first time we had ever witnessed such activity at a poker website. We mean, we've been to other places during busy times, but it seems like this is always the case at Americas Cardroom. It is one of the busiest businesses that serve US citizens since there is never downtime.
Now, it appears that Texas Hold'em poker is the most popular variation among players, with both 6- and 9-seat tables frequently filling to capacity. Given that Hold'em is essentially a favorite at most online poker sites, this popularity is not all that surprising. But that doesn't mean Omaha loses out on business—we routinely observe a significant section of the tables in this lobby filling to capacity as well.
The Winning Poker Network, which is used by Americas Cardroom as its software, isn't often a busy network, but this specific poker site has turned it into one. In reality, the network has grown to be the largest open network serving US gamers since Americas Cardroom started using it. Because of this, it continues to be among the top options for cash games in poker, especially for US players.
It doesn't happen often at this site for the daily average to fall below 1,000 cash players. And while 6-player tables actually win the prize for being the busiest, 9-seat tables still make up a substantial amount of the action. You're in the wrong poker room if you enter the lobby and see fewer than 20 6-player tables occupied. These are so well-liked and successful among die-hard gamers.
When you consider that Americas Cardroom isn't expressly giving the most recent software, that situation is one again extremely astounding. In comparison to other websites, it can even be viewed as being quite dated by certain individuals. The variety of available games and tournaments, however, almost outstrips that of every other poker room, so it doesn't seem to matter.
Americas Cardroom Mobile
What kind of poker player today doesn't love using their tablet or smartphone to visit a poker room? We have to admit that it ranks among our favorite pastimes. In fact, we value mobile accessibility so highly that we always ask if an online poker site has one available. We were therefore overjoyed to see that America's Cardroom indeed offers a mobile solution for users like me.
The mobile edition of Americas Cardroom will satisfy gamers on mobile devices (shown above). Easily access the website on your smartphone or tablet by going to play.AmericasCardroom.eu.
We feel it's vital to let you know right now that you cannot add a mobile app to your device's home screen. Instead, you must use the web browser on your device to access the poker website. However, since you'll continue to receive the same high-quality games and access to tournaments and other events, this is by no means a problem. You only need to sign in once the mobile page has loaded before continuing to use the lobby as usual.
Americas Cardroom mobile poker can be accessed from a variety of platforms, including Android, iOS, and Windows smartphones because there isn't a dedicated app to download. As a result, it does serve a larger clientele than many other online poker sites, which is a pleasant touch. We can honestly state that we had fun using our Android phones to play poker online. The games were simple to access, and the graphics were excellent. Overall, we believe mobile players will enjoy playing at Americas Cardroom on their phones and other portable devices.
Deposits & Withdrawals at Americas Cardroom
As is common knowledge, the first step before you can play real money games is to make a deposit into your poker account. This is why we are constantly searching for a poker room that accepts a variety of payment options. Aren't we all ultimately happier if we have options?
The image above demonstrates how simple it is to make a deposit at Americas Cardroom and the variety of payment options available.
We must admit that the number of cryptocurrencies that Americas Cardroom supports truly surprised us. You typically only get four or five options from websites, but this poker room offers you more than 60! We'll discuss that in more detail later, but for now, it's wonderful to know that this site supports so many different cryptocurrencies.
When we first went to the cashier page, we saw that our card options for making deposits were Visa, Mastercard, and American Express. The previously mentioned Bitcoin and other cryptocurrencies were added to them. The Ria Money Transfer and the regular Money Transfer choices completed the list of accepted payment methods. At Americas Cardroom, you may also use Person to Person transfers.
The good news is that this poker room doesn't charge any deposit fees either. One of our main complaints about some online poker sites has always been that. There are several payment options available to you, but each one carries a transaction fee on top of that. There is nothing that irritates me more. Yet this is not a feature that is available at Americas Cardroom. So, whichever method of depositing you choose, you won't be burdened with annoying extra fees at the same time.
We took advantage of the chance to deposit money using our Visa card in the poker room, and we had no issues doing so. The transaction went well, and the money appeared in our account right away for us to spend. The amazing thing about the poker room is that, before you proceed with a transaction, it also explicitly tells you of the minimum and maximum deposits. As a result, you can decide if this is appropriate for your intended deposit and, if not, choose a different payment option.
Cryptocurrency & Bitcoin
After making our first transaction with our Visa card, we decided to use our reliable Bitcoin Cash to make our second deposit at Americas Cardroom. We were unaware that finding it would not be as simple as clicking a finger when it came to doing so. You see, over 60 different cryptocurrencies, some of which we've never even heard of, are accepted for deposits at this poker room. Americas Cardroom is essentially a paradise for cryptocurrency aficionados, offering everything from Bitcoin and Bitcoin Cash to unique cryptocurrencies like Omisego, Bancor, and Edgeless, while other poker platforms like PokerBros or Juicy Stakes adopt only several most popular crypto.
Using bitcoins at Americas Cardroom is something we'd advise against. Absolutely! They are unbeatable when it comes to the need for quick deposits and withdrawals. Even though Bitcoin Cash is now one of the most well-known cryptocurrencies, this poker room also supports a number of other attractive cryptocurrencies. They all offer rapid transactions without any additional withdrawal or deposit fees.
Transferring cryptocurrencies from your own wallet to the poker room's wallet is all that is necessary. After that, you can immediately begin playing poker on the platform.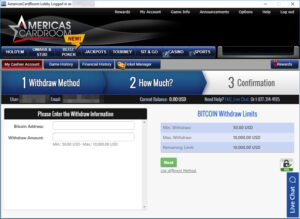 When you're prepared to make a withdrawal, you can anticipate getting your money back into your wallet in less than 48 hours, but this is frequently the case. It really is a great asset to have, particularly if you're a US player with limited payment options.
Withdrawals Happen Quickly But Watch Out for the Fees
When it comes to withdrawing, there are a lot less options accessible. For instance, not all of the card selections are usable. You must utilize a money transfer or a bank draft into your account instead. The only other option is to use a cryptocurrency, which you can only do if you initially made your deposit using that method.
A bitcoin withdrawal requires a minimum withdrawal amount of $50, whereas a bank draft or money transfer requires a minimum withdrawal amount of $100. If you live in the United States, you may get one free check withdrawal each month, but any more services will incur additional fees (other than the cryptocurrencies).
After making our first deposit using our Visa card, we were forced to use a Bank Draft, and we truly do not like websites that charge for withdrawals. When we play and win money, having to pay a fee to withdraw what is already legally mine is just not our cup of tea. Regardless of how we feel about it, some of Americas Cardroom's fees can be rather exorbitant. If we could change one aspect of the poker room, it would be the withdrawal costs.
However, if you're prepared to pay it or if you'd like to withdraw using a cryptocurrency to avoid it, you'll discover that the money is returned to you in a flash, at least for an online poker room that accepts US players. Most of the time, you'll get your money back in three business days or less, unless you choose the check option, which might take up to 20 business days.
Americas Cardroom Support for Players
We rarely look through the FAQ sections of online gambling websites since they are frequently less helpful to us than speaking with an expert directly. Unfortunately, that is also very true when it comes to Americas Cardroom. Although it frequently responds to questions that we wouldn't have thought to ask ourselves, much less a group of poker players, the FAQ section is accessible. The typical poker player doesn't seem to be concerned with questions like "what is the lowest screen resolution setting we can use?"
We found ourselves contacting the website's customer care personnel more than once because of this. When it comes to interacting with customer care, we quite enjoy using live chat. We have to admit that the Americas Cardroom solution is speedy and easy to use. We didn't feel like we were chasing our tails waiting for my responses because they were given promptly.
However, when we called the number once, it appeared like we waited a very long time before somebody picked up. Even though the phone line is toll-free and staffed around-the-clock, lax responses are nonetheless unacceptable. The staff can also be contacted through email, and responses to these are often provided within 24 hours.
Assistance via social media is one service that Americas Cardroom provides that not many other online poker clubs do. Twitter may be an even more effective method to use than the website's live chat feature because you frequently receive a response right away.
Rating for America's Cardroom
We'll be honest: It was almost like quantum physics to be able to explain the suspicious nature of Americas Cardroom. It is really challenging to determine the software's fish rating because it doesn't actually offer many online poker metrics. The average number of players per flop, for instance, can frequently be misrepresented in the lobby. When attempting to evaluate a site's fishiness, this is not useful.
The worst thing about using Americas Cardroom's poker lobby is probably this. The software can have been programmed by the owner to present incorrect information. So, matter how fascinating playing poker at Americas Cardroom genuinely is, not much can be done to learn the general appearance of the aquarium.
After figuring out a few factors, it appears that 9-seater tables typically have players reach the flop at a rate of 25–35% on average. Granted, this isn't a terrible result by any means given that the average flop value overall is between 15 and 20 times the large blind. Therefore, even though Americas Cardroom isn't exceptionally soft overall, it only seems fair to judge it to be slightly over average in terms of fishiness.
Summary
It is safe to say that Americas Cardroom is an excellently performing online poker room that is fully functional. Even though Texas Hold'Em players are qualified for a variety of advantages, those who aren't aficionados may be turned off. The easiest way to handle this situation is to give the Americas Cardroom free play games a try before making a final choice.
Overall, we don't have many issues to voice concerns about  America's Cardroom. There are many things to like about the poker room, so it is obvious why it has attained the stature it does now.
Let's just recap the game lobby first. Yes, the general lobby may look a little old, but the tables, customization options, tournament options, and more are everything we look for in an online poker room. Americas Cardroom gets appreciation for the variety of buy-ins and tournament guarantees it gives, as well as the different types of poker games it offers in its lobby.
Our biggest complaints initially surface when you consider the withdrawal procedure. Cryptocurrencies are free, but other types of transactions may have incredibly expensive fees. Given that most of these also have $100 minimum transactions, it certainly stick out as something the website might improve. Additionally, we would like to see the inability to play at tables with anonymity changed. Since not everyone enjoys playing at these types of tables, why not provide those who do at least a few options?
It's not a good idea to ignore the fact that traffic at Americas Cardroom is among the highest we've seen. One of the likely reasons the poker room is a favorite in the United States is that there might be some serious rivalry going on there. The website also appeals to a wide range of players because it allows for mobile device play. As a whole, we would unquestionably advise signing up and playing there.
FAQ for Americas Cardroom