Some introduction on Jamie Kerstetter and her Poker Game
Jamie Kerstetter is a professional poker player and commentator from the United States. She entered the world in the year 1983, in Monroe Township, New Jersey.
Kerstetter was a tax attorney before he decided to devote his time to poker. In live tournaments, she has won roughly $700,000. Three of those appearances came in the Main Event of the World Series of Poker in 2011, 2016, and 2018.
She uses the aliases "andthelawwon" on PokerStars and "JamieKerstetter" on Partypoker when she plays online. She has won nearly $800,000 in online MTTs.
---🔥 Start playing on the softest tables in poker! This agent offers up to 55% Rakeback depending on your weekly rake. The team is available to you 24/7:
A
Telegram -
@FullHouseHelp
A
Whatsapp -
Get Started
As a player with this agency you get the best Rakeback,

guaranteed deposits and VIP service

for anything poker, catered to your needs. ---
In addition to being a well-known poker player, she is also a respected member of the media. She has provided color commentary for both the World Series of Poker Main Event and World Poker Tour. Also, she has hosted the podcast for Run It Once Poker, called The Rake, and has appeared as a player on the CBS Sports show Poker Night in America.
Because of her accusations that Daniel Negreanu had tried to sabotage her career as a broadcaster in 2020, she caused a minor uproar in the online poker community.
Momentous Occurrences in Her Career
She begins competing in both offline and online tournaments on a regular basis in 2009.
During the 2012 WPT Borgata Poker Open, she placed 12th in the $3,500 No Limit Hold'em Championship (Re-Entry) event, winning $44,937. That is the most money she has ever won in a single live tournament.
She begins providing analysis for ESPN's coverage of the WSOP Main Event in 2018.
Jamie Kerstetter's Professional Life
Prologue
In the "Hero's Journey" series for Run It Once Poker, Kerstetter participated in an interview. She revealed in it that she had always been an avid sports fan. She particularly loved the sports of soccer and track and field. She studied English and Psychology at Rutgers and graduated. Following this, she attended the University of Michigan Law School and eventually settled into a career as a tax attorney, which she deeply disliked.
She did not, however, leave her job to focus on poker, as many rookie professionals do. Instead, she was terminated alongside other new associates at the firm. Kerstetter began playing live cash games for fun while working as an attorney. As her only source of income after losing her job, she began playing more frequently and investing in tournaments.
She eventually found work as an attorney again. On the other hand, she found that she had a lot more fun playing poker and winning money. After one year, she got bored and returned to waiting tables.
In-Person Competitions
As of the date of this writing, Kerstetter's Hendon page boasts a total of $694,286 in live tournament winnings. That total is the accumulation of 159 ITM finishes at live events over a 12-year period.
Join Fishy Tables on Exclusive Poker Clubs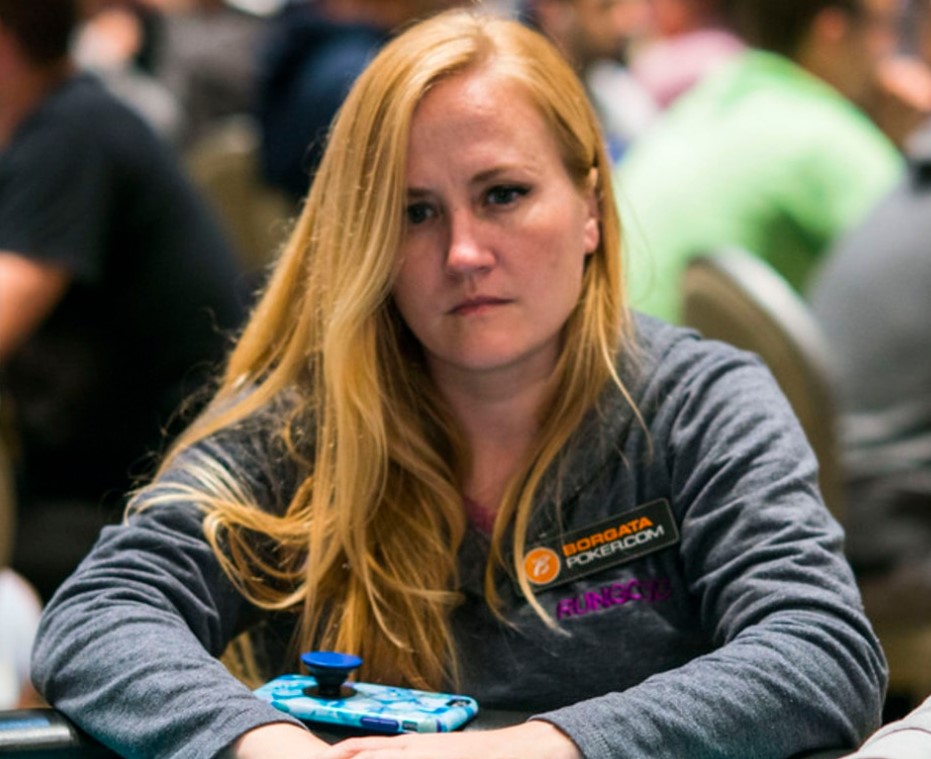 It wasn't until March of 2009 that her page began showing results. At the Foxwoods Poker Classic in Ledyard, Connecticut, she placed 47th in a $500 No Limit Hold'em tournament and won $907. Also in 2009, she made her first five-figure sum performing live. At the Summer Showdown held at the Mohegan Sun in Uncasville, Connecticut, in July of that year, she competed in the $2,150 NLHE championship event. She finished in eighth place. In total, she made $20,685.
She won $26,530 in the $600 Omaha Hi-Lo event at the Deep Stack Extravaganza III in June 2012 at The Palazzo in Las Vegas. Kerstetter earned $44,937 for finishing 12th in the $3,500 No Limit Hold'em – Championship (Re-Entry) event at the WPT Borgata Poker Open in Atlantic City that September. That is her personal best in a single live tournament.
While attending The Wynn Summer Classic in Las Vegas in June 2016, she placed seventh in the $1,100 NLHE event, winning $25,669.
Jamie Kerstetter in WSOP Events
Jamie Kerstetter has not yet won a gold bracelet at the World Series of Poker.
Despite this, she has had some success at the World Series of Poker, cashing in three Main Events. She earned $21,295 for finishing 590th in 2011, $32,130 for coming in 325th in 2016, and $15,920 for coming in 982nd this year.
Kerstetter has finished in the money in 44 World Series of Poker tournaments, earning a total of $214,116.
Real-Time Money Poker Games
As we mentioned before, Kerstetter began his poker career as a casual live cash player in New Jersey, where he was also working as an attorney. She claims that as a novice, she was able to win at $5/$10 NLHE cash games in Atlantic City. She had to rely on live cash poker as her sole source of income after she lost her job.
Between 2015 and 2018, she was featured on 22 episodes of Poker Night in America, a poker show broadcast on CBS Sports. She had multiple roles, including host and player.
She performed in an all-female "Ladies Night" line-up at the Seminole Hard Rock Casino in Hollywood, Florida, in season 5 (airing in 2017). Playing against her were Sam Abernathy, Kelly Minkin, and Cate Hall, all of whom are ex-attorneys, in a $25/$50 No Limit Hold'em game.
Play on Reliable Poker Platforms:
She appeared on "Friday Night Poker" on PokerGO in October 2020. In one game, she competed against film producer Lauren Roberts and all-time live tourney money leader Brynn Kenney at $5/$10 NLHE with a $10 big blind ante.
Online Poker Accounts
Kerstetter uses the aliases "andthelawwon" on PokerStars, "JamieKerstetter" on partypoker, and "and the law won" on the now-defunct Full Tilt Poker. She won more than $785 thousand in online MTTs across all of her accounts.
June of 2007 is the month of her first known online score. However, she only received her second paycheck two years after the first. In January of 2009, she placed sixth in a $22 NLHE Deepstack tournament on PokerStars, winning $216.
As of September 2013, she had made her most money online. She competed in the $5,200 WCOOP Main Event on Stars and placed 54th out of 2,133 players. There is no way that she made less than $26,663 from that.
She also had success at the World Series of Poker's online US event in 2020, where she finished in the money six times. As a result of the widespread spread of the coronavirus epidemic, all World Series games that year were moved to the internet. She earned $6,463 for placing 37th in the $1,000 NLHE Championship event, the largest payout of the six.
Who are her Sponsors?
From 2013 to 2015, Kerstetter served as an ambassador for the popular online poker room Partypoker.
As if that weren't enough, she's also done commentary for ESPN's coverage of the World Series of Poker and the World Poker Tour.
Presently, she is a co-host on the "The Rake" podcast for Run It Once Poker and an ambassador for the poker apparel company RunGoodGear.
Her scandalous accusations of Daniel Negreanu
Daniel Negreanu was criticized for allegedly flicking at an audience in August 2020. In response to the growing backlash, he famously challenged Doug Polk to a head-to-head match.
Meanwhile, Kerstetter took to Twitter to express her delight at Negreanu's public humiliation. She claims that Negreanu tried to stop her from becoming a poker broadcaster by asking networks not to use her.
I didn't name any. I don't think it would be wrong to do so, but I choose not to because I think people can be overly sensitive about this. It's not personal.

It's a matter of taste or preference and I like some and really don't like others

— Daniel Negreanu (@RealKidPoker) July 11, 2019
Kerstetter later called the heads-up challenge between Polk and Negreanu several times, always showing her support for Polk. Polk's victory over her by $1.2 million indicates her extreme satisfaction with the outcome.