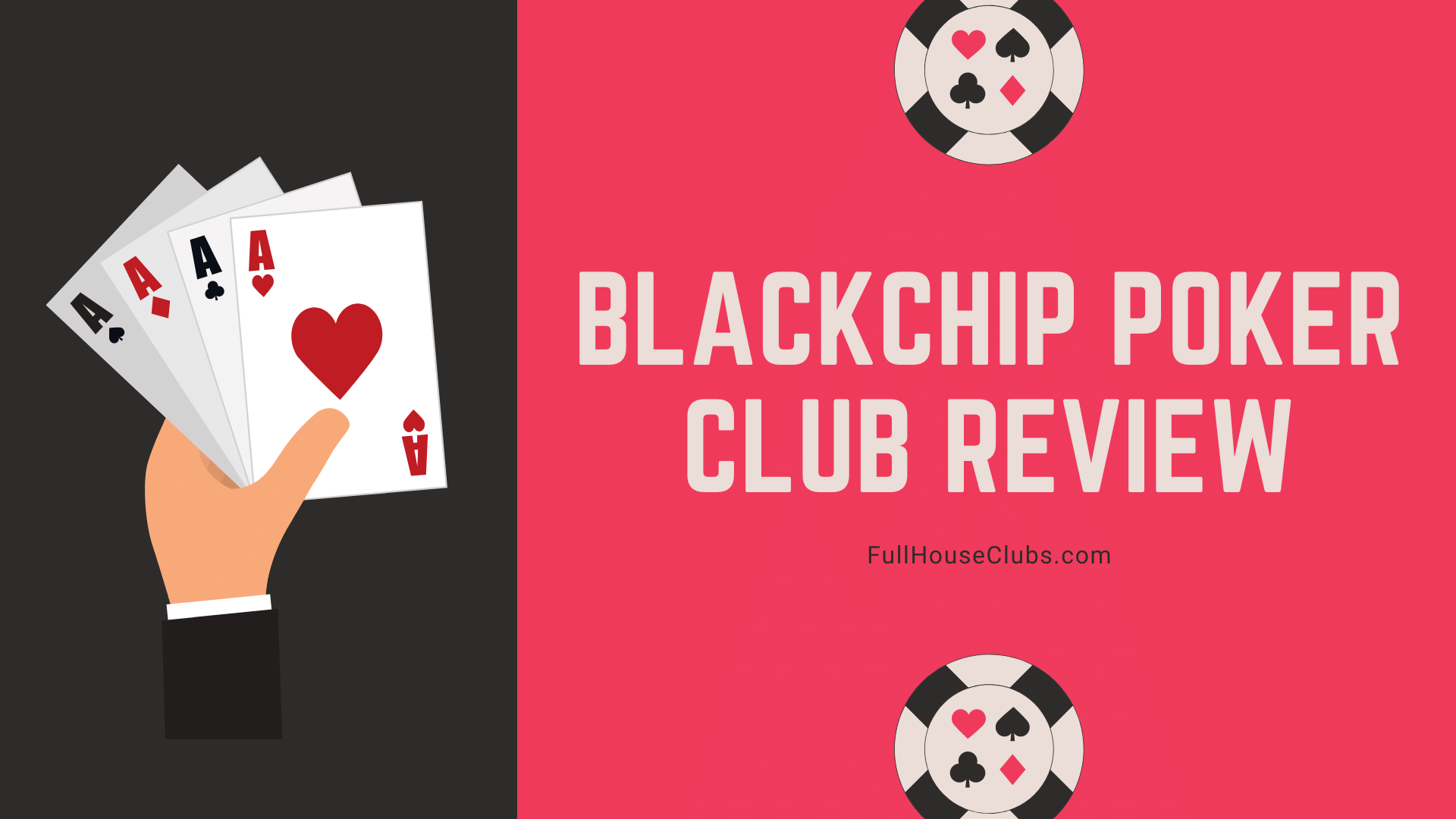 Pros
Rich Player Traffic
Exclusive Promotions
Get $1,000 free
US-Friendly
Cons
Mostly No Limit Hold'em games
Cashout fees are a bit high
The second-largest poker network, Winning Poker Network, which welcomes players from all around the world, includes BlackChip Poker in its membership. US players are included, which is advantageous to both parties. BlackChip Poker gains access to one of the largest poker player bases while providing these players with a top-notch poker room and first-rate support.
Considering that it has existed since 2008 and only migrated to the current WPN in 2012, this site has developed an impressive reputation over the years. By doing this, the poker room increased player traffic significantly, enhanced their software, and boosted their reputation in general.
Poker Options and Features
As one might anticipate from a website with the word "poker" in the name, Black Chip Poker has a fantastic selection of poker games:
Hold 'em: no limit, fixed limit, and pot limit;
Omaha and Omaha Hi/Lo;
7 Card Stud and 7 Card Stud Hi/Lo;
Blitz Poker;
Sit & Go tournaments
Tournaments: the player pools from all three casinos are combined for larger prize pools during tournaments.
There are tournaments with fixed prize pools. You can also participate in satellite competitions, the winners of which advance to a larger competition, finally advancing you to guaranteed prizes.
---🔥 Start playing on the softest tables in poker! This agent offers up to 55% Rakeback depending on your weekly rake. The team is available to you 24/7:
A
Telegram -
@FullHouseHelp
A
Whatsapp -
Get Started
As a player with this agency you get the best Rakeback,

guaranteed deposits and VIP service

for anything poker, catered to your needs. ---
If you only want to play with a particular group of individuals, you also have the choice of setting up private tournaments.
With a $5 million guaranteed prize pool, the Venom tournament is regarded as the largest progressive knockout event in online poker. The Beast is a free-to-enter race with progressive points. Every week, every cash table battles for the chance to win money. No matter if you win or lose, points are awarded based on stake amounts.
Stakes range from $.05 to $50, and pots might be $4 or more. Buy-ins for cash games, freerolls, and events start at less than $1.
A variety of the largest tournaments available are also available, including Progressive Knockout, Final Table Experience, Rebuy Tournaments, On-Demand Tournaments, Knockout, Time-Based, Multi-Table, All-in-or-Fold, Flip, and Re-Entry.
Additionally, Black Chip Poker provides weekly guarantees of $3.8 million! Depending on the style of the tournament, rewards range from 12% to 16% of the field.
BlackChip Poker Software and Games
The beginning of a software renewal at BlackChip Poker was brought on by the switch from Merge Network to Winning Poker Network. A new, more useful solution took the place of the old, outmoded program. It may be said that it lacks a little sophistication because its goal is to offer reliable solutions and high-quality services.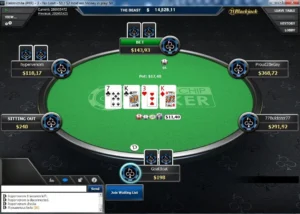 The only way to play BlackChip's games is to download the client, which you may do here. Since the transfer, the program has undergone other similar alterations in addition to the absence of an Instant Play version. Because of the removal of its Mac compatibility and the ongoing development of a mobile version, BlackChip is currently a Windows-only poker room.
Join Fishy Tables on Exclusive Poker Clubs
Nevertheless, gamers that can use the program can take advantage of a wide range of advantages. They can pick the seats they want, establish automatic buy-ins, use time banks to get through difficult calls, or even sign up for a tournament later than expected. In the end, the software's user-friendliness is demonstrated by the fact that players can easily select up to 40 tables for multi-tabling.

How does Black Chip Poker's user interface look?
The good news is this. Black Chip Poker's user interface is comparable to ACR's. That implies that you would obtain one reliable client, which is not particularly exciting but sufficient to do the work.
You also have an unlimited number of modification options, allowing you to create it how you like. You can simply find your way through the website, and the lobby is also very user-friendly. You can now visit the website using both MAC and mobile devices thanks to the SJH software.
It's interesting to note that for years, this brand has lagged behind its rivals. The Black Chip Poker app is now among the greatest ones on the market and is compatible with both Android and iOS smartphones.
Black-Chip Poker Competitions
At Black Chip Poker, you can find a ton of tournaments with guarantees of $1,000 to $5,000 virtually every hour, but they also go all the way up to $50,000 every Wednesday for the unusually low buy-in of just $100.
Even if you aren't in the US, Black Chip Poker boasts respectable tournament numbers. They are the highest you will find if you are.
the greatest tournament wagering requirements on the calendar.
Every Sunday features a $150,000 guarantee with a buy-in of only $200. Black Chip Poker is the only online poker room open to Americans, especially at that buy-in. Additionally, Black Chip Poker occasionally offers $540 "Million Dollar Sundays," which are exactly what they sound like.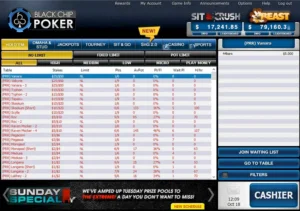 Black Chip Poker is the only poker site besides PokerStars that hosts tournaments of this size, however, they only do so a few times a year.
Since Black Chip Poker has seen an increase in traffic over the previous five years, the only other US-based poker room that can give significant guarantees is Ignition Poker. For normal competitions, their player base often consists of 300–1,000 people, which is excellent.
Bonuses for BlackChip Poker
Every online poker site that wants to draw in new players uses a welcome bonus as a defining feature. A tempting offer allows you to get a 100% match bonus up to $1.000 at BlackChip poker, specifically. Given the modest wagering requirements that are attached to this deal, it is fairly generous. For every 27.5 reward points you collect in both cash games and tournaments, the bonus will be delivered in $1 increments. You would need to rake $1 or pay $1 in tournament fees in order to receive 5.5 reward points. The bonus and any winnings must be cleared within 60 days or they expire.
Additionally, novice players are entitled to four free entries into the $250 New Depositor Freerolls that are held every Saturday during the first month. As for BlackChip's special promotions, you can use them later on in your poker career rather than trying to take advantage of them when you're still a beginner. In this sense, reload bonuses are common since they merely compensate you for timing your payments into your poker account. Another one of these promotions is The "Beast."
The players who have managed to accumulate the most rake are the victors of this twice-monthly progressive rake race. For BlackChip players, tournament series and other progressive races are also offered.
BlackChip Program Loyalty
Poker sites work just as hard to keep their loyal customers as they do to attract new ones. The 6-tiered loyalty program at BlackChip Poker essentially congratulates the player for being able to earn that many Benefit Points. There are four tiers on the monthly player level, going from "Player" to "Rounder," "Grinder," and "Veteran." Legend and Icon are the two tiers of the annual VIP level.
Elite Benefits Program
Based on the number of Benefit Points, or BPs, you earn each month, the Elite Benefits Program offers six different tiers. You receive 5.5 BPs for every $1 spent on event expenses. Every year on January 1st, your blood pressure counter is reset to zero.
In every ring game or tournament, you begin at the Player level as soon as you play your first hand for actual money. As soon as you begin playing, start accumulating points so that when you have enough, you can start unlocking Achievement Rewards.
You reach the level of Rounder once you have 750 BPs in a month. You'll receive greater benefits and Achievement Rewards at this level. You will now receive 1.5 Player Points (PPs) for every Benefit Point (BP) you earn and will have accrued enough Player Points for a $50 cash reward.
You reach the level of Grinder when you have 3000 BPs in a single month. At this level, every BP you get earns you two points. You can also purchase $300 worth of cash rewards.
After earning 7500 Bps in a single month, you can advance to the next level, Veteran. You can purchase prizes worth $600 here and get 2.5 PPs for every BP you earn. You can also use this site to earn PPs that can be redeemed for tickets to live events hosted by Black Chip Poker.
Legend is the fifth level, which you reach after collecting 100,000 BPs. Every BP earns you 3.5 PPs, and you may purchase cash prizes worth $1,500 or $4,000 as well.
Icon is the last one. An Icon is someone who accumulates 1,000,000 or more BPs in a single year. The advantage is that each BP earns you 5 PPs. Additionally, you qualify for more sizable cash bonuses!
Rakeback Initiative
A 27% Rakeback scheme is also available at Black Chip Poker. All new players begin in the Elite program, but they can send a request to switch to the Rakeback program by emailing support.
When you accomplish this, Rakeback will appear in the Loyalty part of the Rewards section on your account page.
Ring rake and tournament fees are added together to calculate Rakeback, which is then calculated by deducting any bonuses received.
Deposits & Withdrawals at BlackChip Poker
The majority of this BlackChip Poker-related component is made up of a few common payment options. Visa, MasterCard, cheques, money transfers, and e-wallets are all accepted. With the inclusion of Bitcoins to the latter, Neteller and Skrill are all potential choices for deposits and withdrawals. Additionally, several country-specific techniques are accessible. Before selecting a less ideal payment method, it is best to check with the cashier.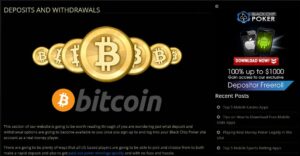 The $40 special debit card that the poker room offers its customers, which they can use at any merchant or ATM, is a very popular approach. The switch from one network to the other was advantageous for this part of the poker room as well. When making a deposit, the processing period is practically fast, however, MoneyGram withdrawals can take one to four days. The procedure has definitely sped up, but checks still take longer than other methods.
The main drawbacks of Black Chip Poker
Black Chip Poker is undoubtedly not perfect, though. The perplexing lack of a Mac software version or any sort of Black Chip mobile app, in my opinion, is the most heinous. At this time, it just feels tone-deaf and unacceptable to do that.
Players will disagree with me on this, but we oppose Black Chip Poker's pandering to the HUD base. They do nothing to safeguard amateur players or anonymize the tables. In fact, they actively endorse HUDs like PokerTracker and Hold'em Manager, which could placate grinders but eventually destroy the quality of Black Chip Poker games.
You can redeem your deposit bonus at Black Chip Poker every time you make $1. To move money from your bonus account, make sure to click the Redeem button.
Conclusion of the BlackChip Poker Review
When it comes to online poker, this website is regarded as one of the players' top alternatives and stands in the same row with such popular clubs as PokerStars, ClubGG Poker, and PokerBros. This even applies to US gamers that visit to take advantage of the top-notch software, a wide selection of games, and bonus opportunities. BlackChip Poker nevertheless manages to offer all of its players outstanding service in spite of its weaknesses.
FAQ for BlackChip Poker