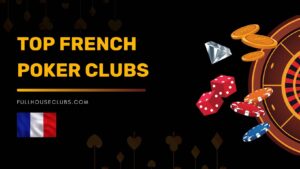 It's interesting to note that while talking about poker, France isn't usually a topic. In fact, the nation has a rich history of card games, and some even assert that poker was created there!
Modern poker and a medieval French game called Poque are very similar, and the similarity in the names alone is pretty clear.
Since hundreds of years ago, the French have had a close and lengthy relationship with gambling. The Queen was first included in the well-known deck of playing cards in France, which is where the change took place in the 1500s.
---🔥 Start playing on the softest tables in poker! This agent offers up to 55% Rakeback depending on your weekly rake. The team is available to you 24/7:
A
Telegram -
@FullHouseHelp
A
Whatsapp -
Get Started
As a player with this agency you get the best Rakeback,

guaranteed deposits and VIP service

for anything poker, catered to your needs. ---
After many hundred years had passed, France finally made a decision to legalize online gambling. The European Commission started looking into the French gaming market seriously in 2005, which paved the way for changes to gambling regulations.
After giving notice to the French government in 2006, the Commission formally demanded a change to the nation's current gambling regulations in 2007 in an effort to bring them closer to compliance with EU law. The eventual consequence was a law passed in 2009 that essentially allowed other European interests access to the French gambling sector.
Legalization hasn't come without challenges. It was criticized that new gambling firms were subjected to more onerous requirements than state-owned businesses already in operation.
In any case, just prior to the 2010 World Cup, the French government decided to legalize internet gambling. On numerous websites with government licenses, more than 1.2 million accounts were requested and secured in the first month. Revenues during this time period totalled over €83 million, more than twice what they were in the corresponding period in 2009.
Is poker permitted in France?
Like most forms of gambling, poker is legal in France, but there are rigorous rules that must be followed. You can play poker and a variety of other casino-style games in brick-and-mortar casinos and card rooms around the nation without worrying about legal repercussions.
Some of the most well-known land-based casinos in the world are actually located in France, and the majority of them offer poker in addition to other card games. If you only play at authorized casinos and card rooms, there is no legal barrier to playing poker because it has been determined to be a game of skill rather than chance.
Join Fishy Tables on Exclusive Poker Clubs
Since 2010, online gambling has also been permitted in the nation. Online gambling is now permitted in France as well. When playing poker from France, it is better to stick with legally sanctioned online casinos, as is the case in the majority of other nations.

You should make sure that the online casino you play at has an ARJEL license, which is issued by the French gaming regulator.
French laws and regulations
The French Gaming Act, also known as Law No. 2010-476, is the main statute governing gambling and the gambling business in France. The law, which was passed in May 2010, governs both traditional and online gaming.
Internet poker game operations are one of the three categories of online gambling that are eligible for licensing under French legislation.
Regulatory Body For Poker In France
The French Gambling Authority, an official gambling regulatory body, was established as a result of the French Gambling Act being passed (ARJEL).
The French Competition Authority (ADLC), the CSA (An Independent Authority to Protect Audiovisual Communication Freedom), and the CNIL are only a few of the organizations that could regulate the sector.
Age Limit For Gambling In France
In France, age 18 is the legal minimum to gamble.
Popular French poker tournaments
Since 2011, the World Series of Poker Europe has been held in France. The Partouche Poker Tour, the European Poker Tour Deauville, the World Poker Tour Grand Prix de Paris, and the World Poker Tour Amneville are all also held throughout the nation.
One of two World Poker Tour stops in France is the WPT Grand Prix de Paris, the other being the WPT Amneville. Every year in Paris, the Aviation Poker Club hosts the WPT Grand Prix de Paris. The total prize money awarded during the main event in 2012 reached $2,094,467.
The Amnéville Municipal Casino hosts the WPT Amnéville.
Play on Reliable Poker Platforms:
In Normandy's Deauville Resort, the EPT Deauville is hosted. The competition and the France Poker Series were amalgamated in 2012, during the ninth season. Then, over the course of ten days, more than 40 poker events were held.
French poker players' banking options
The following are some of the banking options available to French poker players:
Cards such as credit and debit
Services for e-wallets
Prepaid money orders
Checks and bank transfers
Another well-liked method for funding online accounts is instant banking, especially with casinos that have received formal government approval from France. To avoid potential issues with restricted payment methods, the majority of online poker players in the nation merely use e-wallet services.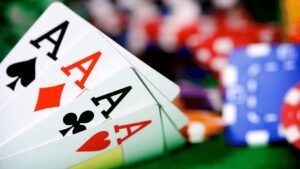 Currencies accepted in French Poker Rooms
The euro is France's official currency. This is widely recognized at brick-and-mortar casinos, card rooms, and online businesses that serve the French market.
Conclusion
There are undoubtedly worse locations in the world to play poker than France, despite the country's rather tight gambling legislation. All around the country, there are authorized casinos and card rooms, and there are a few online possibilities as well. In case you want to partake in the majority of gambling activities without worrying that you'll break the law we would also recommend you consider Spain, which has more gambling-friendly legislation.
It's also important to note that over the past few years, other forms of gambling, such betting on horse races and sports, appear to have developed and expanded. This might just indicate more accepting attitudes about gambling in general, which would only lead to more chances to play poker for money in the nation.