Olybet Poker is Estonia's most popular gambling and sports betting website.
Pros
Extreme campaigns, such as +$500,000 Leaderboards.
Weekly tournaments with prize pools of over $5 million.
Continual excitement is guaranteed.
Excellent for novices.
Cons
Not able to use a tracker
In other words, there are no Holdem HU tables.
Still no PLO5 to be had.
If there are too many talented players, they will be barred.
A Comprehensive Review of Olybet Poker (2023)
Olybet Poker is Estonia's most popular gambling and sports betting website.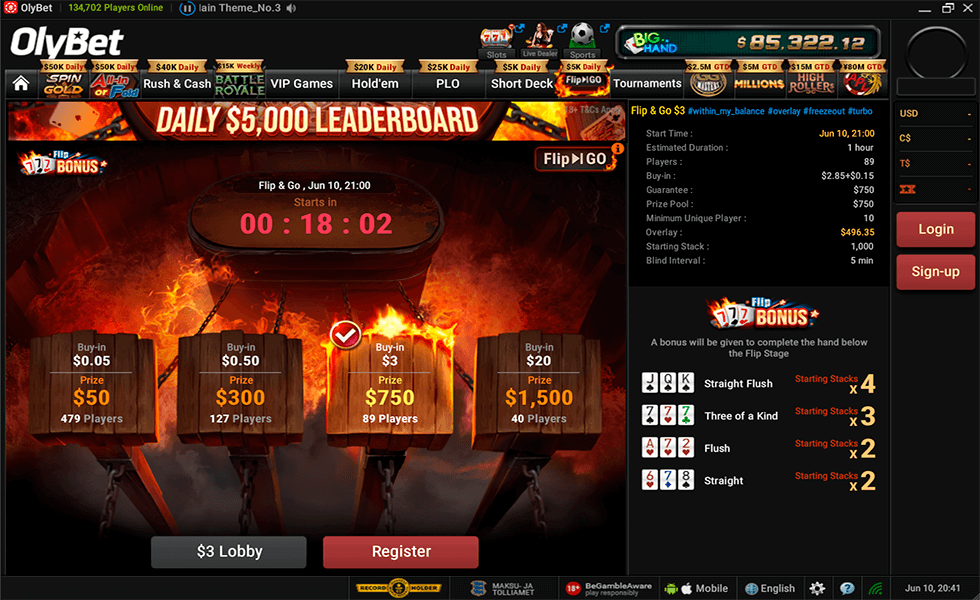 Olybet is a subsidiary of Olympic Entertainment Group, traded on the Nasdaq Tallin and owns and manages land-based casinos in Estonia, Latvia, Lithuania, Slovakia, Italy, and Malta. The residents of Estonia, Finland, Latvia, and Lithuania can currently access Olybet's online gaming services. Olybet, a poker site that was formerly part of the Microgaming network, will transition to the Olybet Network on April 30, 2020.
By joining the Olybet Network, Olybet now holds one of the world's largest player pools of any online poker site.
---🔥 Start playing on the softest tables in poker! This agent offers up to 55% Rakeback depending on your weekly rake. The team is available to you 24/7:
A
Telegram -
@FullHouseHelp
A
Whatsapp -
Get Started
As a player with this agency you get the best Rakeback,

guaranteed deposits and VIP service

for anything poker, catered to your needs. ---
Olybet was established in 2010 with the goal of providing its customers with a safe and entertaining online gambling environment. To accomplish this, they made the right decision by joining the Olybet Network, where they can use features like straddling for any quantity in cash games and buying a stake from other tournament participants directly within the client. And if that weren't enough, Olybet connects you to the world's third most popular poker network.
Profitable Extravaganza!
This is a very generous offer for new players: a bonus on your first deposit of up to $2000.
This applies to your initial deposit and will be paid out at a rate of $5 per $25 raked. In the poker client, go to "My Promo" and "Welcome Bonus" to view the current status of your welcome bonus.
You can start playing cash games or big events as soon as the bonus is activated.
Why do so Many People Use Olybet?
Gain access to a rewarding rewards program with a generous sign-up bonus and rebates
Consistently massive tournaments
Extensive variety of exciting new additions and improvements to the gameplay
Nonstop real money gambling
There are a lot of Asians playing.
Variations of fast-paced cash games include: All-in, Quick, and Cash
How does Olybet Poker Look Like?
The Olybet poker client is virtually indistinguishable from the standard Olybet client because it bears the company's distinctive colors and logo. As a multitabling tool, it is crucial that all of the software's features work quickly and reliably. In a few short moments after logging in, you can select your preferred game format by navigating the lobby.
You can view ongoing promotions and tournament series in the lobby. Check the progress of your promotions in the My Promo section. To dig deeper into your table play and previous hands, you can access PokerCraft's stats and analysis features from the lobby.
Join Fishy Tables on Exclusive Poker Clubs
Olybet Player Traffic and Its Games
On Olybet, you can play Holdem and Omaha games around the clock for micro, low, mid, and high stakes. These tables offer games with blinds anywhere from $0.05/0.10 to $100/200 at the VIP level. Evenings and mornings are also busy for multi-table tournaments (MTTs), with players able to choose from a wide range of tournament formats.

Since the Olybet Network is so well-liked by Asian players, you can find some of the most relaxed cash games during the peak hours in Asia right here.
In-game options like these can't be found on any other major poker network: At the tables, you're free to mark from any situation to just about any sum, rabbit hunt, or use any combination of emojis you like. The straddling option is widely used in Omaha, so you can expect some large pots to be played in PLO.
How About Monitoring Tools like HEM?
The network prevents users from accessing any third-party software that could be used as a helping tool, and players are not given access to their hand histories. At first glance, this may not seem like the best choice for multi-tabling players, but it aids in maintaining a positive expected value for the games being played.
Olybet Network does not permit tracking software, so there are no "robotic HUD grinders" at the tables. When playing poker, instead of using a HUD, you can look at each player's profile to see their VPIP and recent stats.
Rake and Rakeback Offers in Olybet
Olybet's rake is determined using the PVI Contribution method. Player Value Index aims to maintain a stable poker ecosystem on the network by adjusting rake calculations according to a player's winnings. Due to a reduction from 10% to 8%, tournaments are now a great option for any player.
Depending on the stakes you play at, the maximum rake for Texas hold'em cash games can be anywhere from $3 to $20 USD. The rake for PLO cash games is 3% with no limit.
You may be familiar with the Fish Buffet cashback program if you've did play on the network before. If you sign up for an account at Olybet, you will automatically become a member of the cashback program and have full access to Fish Buffet without having to do anything else. Playing the tables in Fish Buffet earns you Buffet Points, which can be exchanged for experience and a boost in level.
The more you participate, the greater your potential gains. Approximately 100% Rakeback is available in Fish Buffet at the highest stakes.
Is There Any Restriction on Playing Olybet Poker?
Olybet's headquarters are located in Tallinn, Estonia. As of right now, players from Finland, Estonia, Latvia, and Lithuania can enjoy online poker through their site.
Olybet Advertising and Marketing
There are some fantastic initial offers available to new members of Olybet. There is a 100% first deposit bonus up to $2,000, and it's split into 25 separate bonuses of $5 each for every $25 in rake you generate. In addition to the welcome bonus, many other promotions are available for a wide variety of games, including a 100% Rakeback Fish Buffet Cashback program and a $100 tournament ticket gift package.
Even more exciting is the action at the VIP tables, where the stakes are astronomically high.
Olybet players have access to the GGSeries, a series of tournaments with guaranteed prize pools totaling in the thousands of millions of dollars. Over fifty (50) WSOP Gold Bracelets will be awarded during the summer of 2020 at the WSOP Online Bracelet Series, which will run from July 19, 2020, to September 6, 2020. These huge tournament series and guaranteed prize pools should continue on Olybet for the foreseeable future.
Paid-in and -out Sums
Olybet's players can choose from a number of convenient deposit and cash-out options. Payments are processed quickly both when making deposits and when cashing out. Keep in mind having a good account is verified if you want to boost your everyday deposit limit. Then, send a message to help@Olybet.com requesting higher deposit limits. Olybet's most popular deposit and withdrawal options are as follows:
Neteller
Bitcoin
ecoPayz
Visa
Mastercard
Conclusion
Due to its access to one of the largest poker networks in the world, Olybet is an indispensable poker room for players in Finland and the Baltic states. Everything a casual poker player could want is here, including generous promotions, cutting-edge software with innovative features, and a sizable pool of casual competitors. To get in on the action, sign up with Olybet right away.
Frequently Ask Questions