Pros
One of the few real money poker applications with a license.
Several poker clubs share a central cashier.
Weekly discounts.
Cons
No support for trackers
One cash game table per participant is the maximum.
Pokio is the first native real-money mobile poker app with a Malta Gaming Authority gambling license (MGA). Pokio, which was introduced in 2017, provides cash games and tournaments for poker players who want to take their favorite game with them wherever they go. The user interface on the Pokio platform is quite complex and has been meticulously created to enhance the player's experience. Pokio is run by a Maltese business called Qufan Internet Technology Ltd., which employs numerous executives with iGaming industry experience.
Pokio was made to be a social poker app where you may enjoy a game of cards with your pals. The fact that Pokio's games are played almost exclusively on smartphones sets it apart from online poker sites made for PCs, even though it is more like standard poker operators than the other mobile poker apps. Want to play Heads-Up against legendary players like Viktor "Isildur1" Blom or Ilari "Ziigmund" Sahamies? Sign up with Pokio to find the tables they're at, and we'll take care of the rest!
To help you get started with Pokio poker games, we have compiled all the necessary information in a Q & A format.
---🔥 Start playing on the softest tables in poker! This agent offers up to 55% Rakeback depending on your weekly rake. The team is available to you 24/7:
A
Telegram -
@FullHouseHelp
A
Whatsapp -
Get Started
As a player with this agency you get the best Rakeback,

guaranteed deposits and VIP service

for anything poker, catered to your needs. ---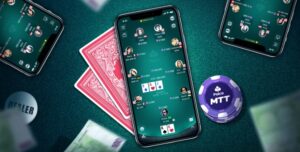 How does Pokio function?
Pokio has one key distinction from the other real money poker applications, although sharing a similar operating architecture with them in terms of the various unions, clubs, and agents (referred to on Pokio as "circles"). Due to Pokio's Maltese gaming license, players from all over the world are able to play P2P poker games on their poker app using a variety of in-app deposit & withdrawal methods.
As a result, Pokio Poker is a practical option for players who prefer to use their credit cards to fund their accounts rather than Bitcoin or e-Wallet transactions. To abide by Malta's gaming regulations, Qufan Internet Technology Ltd holds player monies on separate bank accounts.
Pokio has made it easy for everyone to start their own club and join a circle, which is the term used for unions, in order to expand player pools. With the help of many players from various clubs that are part of the same poker community, you may get together with your pals to play some real money social poker games.
The Nordic nations like Norway, Sweden, and Finland are included in Pokio's current rings. However, once Pokio has a sufficient number of users, we anticipate that there will be more Pokio poker circles and clubs around the world. Diamonds can also be used by players inside the poker app to make extra purchases like VIP privileges. If you dislike losing (as many players do! ), you may also purchase all-in insurance on Pokio to receive your equity-based portion of the pot. By doing this, you won't have to worry about the cards that are still to be dealt.
On Pokio, playing cash games or tournaments is essentially quite easy. You request the Pokio Club ID from the club owner, submit an application to join, buy some chips using the Pokio app, and then begin playing on your phone. One of Pokio's amazing benefits is the ability to use your deposit on any Pokio club you choose thanks to the shared wallet function for all clubs. You pay a little rake to play the game, and if your club owner has chosen to offer rakeback to their club members, they will give you a weekly rebate. Simply go to the wallet part of the poker app and ask to be paid the desired amount if you want to withdraw and enjoy your wins.
Join Fishy Tables on Exclusive Poker Clubs

Best Pokio Clubs
Pokio is largely separated into circles, which are assemblages of clubs that share some promotions and a player base. In comparison to single operators, like BlackChip or Ignition Poker, this enables more movement at the tables.
Players cannot join circles; they must join clubs in order to participate in games in Pokio. Players are recommended to join a club on each of the app's circles since they will have access to most games if they do so. Each circle has its own exclusive offers, club benefits, and other things.
Ireland Poker. One of Pokio's oldest clubs that is also among its best.

Euro Poker Club. At the PLO5 Tables, compete against Viktor "Isildur1" Blom at the PLO5 Tables for Ultimate Bragging Rights.

Good Game. Become a member of the largest poker club in the Mediterranean today. Available are fantastic launch promotions.
Außenseiter Club. Excellent Hold'em and Omaha action at Micro and Low Stakes.

Showdown Poker Club. Super PLO5 Action In The Evening. Finland's Biggest Poker Club.
Luck of the Irish. One of the original United Poker Clubs members is Luck of the Irish.
Time to Play. Live Event Buy-Ins and MTT Leaderboards.
Excellent action at all levels. the App's largest player pool.

Poker Brotherhood. Single-club just getting started. Keep it beneath the radar; it has great potential.
King Pampo's Palace. A United Poker Clubs Circle property! There are occasionally some really bizarre games available. You can play against well-known players like Manig Loeser and Ilari "Ziigmund" Sahamies!
Why is Pokio gaining so much traction?
Pokio has been a part of numerous poker tournament circuits and events, including the Cash Game Festival and the King's of Tallinn tournament, both of which were held in various parts of Europe. Pokio has a lot going for it, including regular amazing promos and other features that will help users love the app. Here are the main reasons why we think it will succeed:
All of Pokio's gamers can make quick deposits using credit cards and eWallets.
You may compete with players from around the world and locate famous athletes like Ilari Sahamies and Viktor Blom playing in specific teams; entering the action with them can be a memorable experience!
Pokio is a real-money poker room for professional players who enjoy some of the most popular game formats played on Pokio, despite the fact that the rake isn't as low as on some of the international major names in poker and the overall quality of play is considerably softer.
Pokio features social aspects in its gameplay, and if your opponent happens to catch any gutshots or 2-outers against you on the river, you can hurl some tomatoes at them!
What's the appearance of a Pokio club?
You may view all of the clubs where you have memberships in the app's Club section. You may observe the general talk and games in the club's lobby by clicking on the name of the club. With a few clicks, a suitable game is simple to find. Once you have the Pokio Club ID, joining a club is similarly simple. For our players, we have identified the clubs with the finest activity, so be sure to read the club descriptions at the conclusion of this review.
Once you have decided on a club to play at, sign up to become a member and select the "Games" option in the club's lobby to get a list of all the tables with the game type, participants, and stakes you have selected. A filter can be used to locate the tables for a certain game format.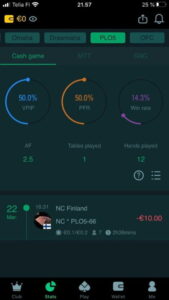 What about the app's features, design, and interface?
As we evaluated the system, we discovered that Pokio software has been meticulously designed to be as simple to use as possible. It was simple to use all of the buttons for checking, raising, folding, and selecting your betsize. You can play real money poker games on Pokio with confidence knowing that the site is run in the players' best interests because it holds a Maltese gaming license. Thanks to a proper RNG, the games are fair (Random Number Generator). In the long run, playing on Pokio, everyone will receive an equal distribution of favorable and unfavorable cards.
Clubs: are all the clubs a player has joined. Stats are the player's statistics across all game types.
Play: This tab's further parts are designated as Cash Game, MTT, and SNG.
Wallet: The cashier who processes requests for deposits and withdrawals.
Me: The account settings and user information.
The gameplay on an iOS device, the iPhone 8, that we used for testing was quite enjoyable. It's really simple to find your favorite poker game. It's simple to locate the relevant buttons when playing because the entire poker program and the tables have a gorgeous green motif.
Each player's turn is indicated by a light on the table, and you can see a flag next to each one of them to determine the country from which they are playing.
A HUD window will appear when you click on a player at the table's moniker.
This HUD displays important player statistics like VPIP, PFR, and Win Rate. It's simple to check your own stats in several game formats: Simply access the app's main display and select the "Stats" tab from the menu at the bottom of the screen.
You may choose whether your phone vibrates or makes a voice signal once the action is on you. The portrait view has been developed to display you the most crucial information at the poker table. We found that having the ability to run it numerous times was really beneficial for lowering variation, risk, and bad beats. If there are two or more players and you are all-in with a chance of winning between 50-98%, you can run it many times.
With an all-in insurance, you can also receive a guaranteed reimbursement. It is also possible for you to add a custom avatar. Pokio does not support third-party trackers like Holdem Manager and HUDs, which is actually a good thing to maintain a healthy poker ecosystem.
Once you have registered as a user, we advise examining the key parts of the app, Club, Stats, Play, Wallet, and Me, to become familiar with all the necessary features. During testing, we found all of these features to be fairly intuitive. If you ever experience any difficulties when using the poker app, you may contact the Pokio support team at help@pokio.com.
What about the amount of tables, games, action, and chip value?
All deposits, withdrawals, and chip purchases at the tables are made in EUR, which is also the currency utilized at the tables.
Pokio offers all of the most well-liked poker game variations in addition to some quite uncommon ones. These include No-Limit Texas Hold'em (NLHE), Pot-Limit Omaha (PLO), 5-Card Pot Limit Omaha (PLO5), Open Face Chinese (OFC), as well as the uncommon variation of Sviten Special, often known as Drawmaha, which is incredibly well-liked among Swedish players in particular. The most common game type on Pokio is 5-card Omaha overall. When you sit down at a cash game table, there aren't many grinders at most limits.
In addition to these cash game variations, you can sign up for a number of MTTs or SNGs that run every day to play some quick poker games. Depending on the action, a table can include two to eight players. For those who want to play poker mano-o-mano, heads-up tables are also an option.
Pokio Poker doesn't have a single-player pool where all the players would be competing at the same tables, similar to other real money poker apps. You may join and test out as many clubs as you like until you discover one that feels like your poker home, even though everyone essentially plays on the same app. In order to determine the best action offered across all Pokio clubs, we tested out the various clubs.
We strongly advise signing up for several clubs so that you never run out of exciting activities.
The amount of money required on Pokio is significantly reduced when you keep in mind that you can use the same balance to play at all the clubs you join!
Pokio club owners can join circles, which are the game's version of unions, to increase the size of their player pools. As a result, you have access to the player pools of other clubs in the same circle. Although Pokio player traffic is now a little lower than that of other mobile poker applications, it is rapidly increasing because of Pokio's excellent marketing initiatives.
What are Pokio's rake and rakeback rates?
The normal rake on Pokio is 5%, with a cap that varies based on the stakes you play at (0.3BB–6BB). You receive weekly rakeback from us to make up for the larger cap in terms of BBs at micro & low stakes, where the cap is bigger at lower levels and really low at higher stakes. The rake structure incorporates a no flop, no-drop policy and is determined using the Weighted Contributed technique, as is customary for online poker operators.
Depending on the circle, any club owner on Pokio may offer their players a maximum rakeback. Each week, club owners pay player incentives straight into players' accounts. Even if you had a bad week, your club owner still gives you some extra money to play with after the week is done.
Are there any Pokio Club promo campaigns?
Promotional bonuses? Oh, you're in the correct spot! Poker clubs in Pokio regularly run promotions for players, including guaranteed tournaments, freerolls, the Pokio Super Summerfest series, and other fun events. Your player awards on Pokio will increase in value as you play more. On some clubs, you can play against famous players, and the majority of Pokio clubs reward their devoted players with perks like a weekly rakeback payment.
How do I deposit money and withdraw money on Pokio?
Pokio has a substantial financial advantage because it owns a Maltese gaming license: it may provide a direct cashier for processing deposits and withdrawals inside the app. Please be aware that the methods may vary depending on where you are since some may not be accessible in your country. As many other poker apps (PokerBros Club, ClubGG Poker Clubs, etc), Pokio accepts crypto: Bitcoin, Eth, and others.
The following are some of the payment options that Pokio provides:
Visa
Mastercard
Skrill
Neteller
ecoPayz
MuchBetter
AstroPay
Paysafecard
Klarna
Interac
Simply click deposit under the Wallet tab on Pokio, follow the on-screen directions for the method you've selected, and you'll get your money in no time!
How can I register a Pokio account?
The Pokio app must first be downloaded from either the Google Play Store or the Apple App Store, depending on the sort of smartphone you own, whenever you're ready to test Pokio. Once the app has been downloaded to your phone, click Register and enter the username and password of your choice.
How do I use the Pokio app on a computer to play?
Although the Pokio software is designed to be played with smartphones and is optimized for those devices, it is also playable on a PC by installing an Android emulator. To get started, simply download the Pokio app from Google Play and launch it on your desktop computer using an Android emulator.
Pro's remarks
In terms of mobile poker apps, Pokio is somewhat like the "green hippo." Even if it isn't the most well-known, it does have certain advantages, including games that are very welcoming to casual players, quick and straightforward deposit and withdrawal processes, and a pleasing interface.
Although there aren't as many running tables or clubs to choose from as there are on other, more well-known apps, once the action games start, you want to make sure to get to the table before it fills up! Pokio is unquestionably a game that fans of Omaha must try. On Pokio, may the flops be with you!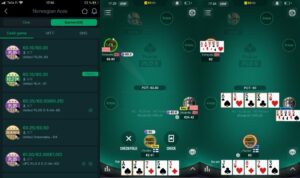 Pokio CEO Manuel Lopes interview (2020)
Here is brief interview with Pokio's CEO. He has recently been mentioned in a lot of news articles in trade journals. It's time for Pokio CEO Manuel Lopes to share his thoughts on real money poker applications and how Pokio's roadmap is changing the game for the sector. Let's get started right away!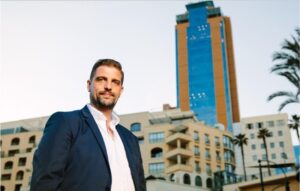 What would you think are the key distinctive qualities that set Pokio apart from the competition?
Pokio is just more entertaining and social than other online poker sites. You can interact with other players in Pokio by throwing objects at them, sharing poker matches quickly on social media, and inviting friends to join you at the table. We additionally benefit from and enjoy greater security thanks to our B2C EU Gaming license compared to competing apps. All of our payment methods are approved, and the regulator frequently inspects our funds, which are kept in separate accounts. Pokio protects players' money so it is not in the hands of dodgy agents or middlemen.
What direction do you think the user experience of mobile poker apps will go in 2020 and 2021?
We believe that society will continue to take precedence in the future. In comparison to conventional online poker sites, real money poker applications like Pokio target a slightly different demographic. Millennials engage with social media platforms and follow their friends on them for roughly 70% of their spare time. In that way, I think mobile poker apps will also advance.
What impact do you think the Coronavirus outbreak will have on the popularity of poker software for mobile devices and online poker in general?
Since the virus outbreak, we've seen a huge increase in the number of gamers signing up and playing in Pokio. Given that live poker games are currently being discontinued and that many of us no longer find normal poker sites to be appealing, it makes perfect sense. Poker games on apps are gentler and a lot more fun. Pokio has also been accessible to give live game venues and organizers an alternate platform to carry on with their business online with a record-breaking quick setup time.
Since you don't play against the house when you play online poker, your money tends to linger longer than it would if you were playing casino games, thus we think the online poker business as a whole would profit from these times of seclusion. The way is being set by applications, and Pokio will work to establish high standards for the sector.
Do you have any greetings to offer those who are thinking about relocating to Pokio?
I would unquestionably advise them to give it a try. Players who have never used our real money social poker software before have provided us with a great deal of excellent feedback. You'll discover that Pokio is very user-friendly and active 24 hours a day. A wonderful environment and a number of tournaments and promotions are always available. Where else can you throw a tomato at Ilari "Ziigmund" Sahamies or Viktor "Isildur1" Blom?
Pokio FAQ