Pros
Long-standing and experienced brand
Excellent table personalisation choices
A wide selection of tournaments
Welcoming welcome offer
Instant play and download game lobby
Mobile compatibility
A good poker room for low-stakes players
Safe, secure, and fair website
Cons
Low traffic volume
Adequate but not excellent poker software
Low tournament guarantees
Withdrawal fees
Why not check out what the poker room offers by reading our comprehensive evaluation of it after using the Everygame Poker platform and taking advantage of everything it has to offer? Once there, if you're willing to, start playing poker on your own.
The quantity of traffic that Everygame receives now belies the fact that it is one of the oldest online poker platforms. This might be a result of the software that is still in use appearing to have made little progress since its introduction in 1996.
We at FullHouseClubs certainly don't consider ourselves to be poker snobs in any way, but we would certainly anticipate that a website with the longevity of Everygame would update its technology and software. Do not misunderstand us; playing in the poker room may still be a fun gaming experience. Just because there are so many options available to poker players today doesn't change the fact that everything seems to be trapped in the past.
Now, this isn't meant to paint Everygame in a completely terrible light right away because it still offers some really great features that users may make use of. However, it's probably not the best place to visit if you're searching for anything contemporary.
---🔥 Start playing on the softest tables in poker! This agent offers up to 55% Rakeback depending on your weekly rake. The team is available to you 24/7:
A
Telegram -
@FullHouseHelp
A
Whatsapp -
Get Started
As a player with this agency you get the best Rakeback,

guaranteed deposits and VIP service

for anything poker, catered to your needs. ---
Without further ado, let's look at everything that Everygame Poker can offer ardent poker fans.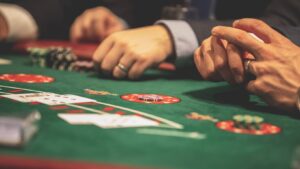 Everygame Poker: Is It Valid?
We typically strongly advise against using an online poker room that does not have a valid gambling license. And we're aware that a lot of other people share the same perspective. Despite this, we have found ourselves setting up for accounts at a few poker sites without a license and playing there.
We didn't have to worry about that with Everygame, and neither do you.
A logo link is shown at the bottom of the website to demonstrate that the poker room has a gambling license from the government of Curacao. You may check to see if the license is active and learn more about it by clicking on this link.
Curacao eGaming isn't the biggest and best licensing jurisdiction, of course, but there are still a few guidelines that operators must follow. Because of this, Everygame may be regarded as a trustworthy and legal poker site. This means that you won't experience any problems with payments or withdrawals because regulations demand that Everygame be very open and honest about its payouts and other things.
Can I play poker on Everygame in the US?
We were in the U.S. state of Illinois when we first opened the Everygame website and created an account. We completed our registration, downloaded the software to our laptop, and made a deposit without any issues. For players from Illinois and the majority of other US states, that's all good and well.
Join Fishy Tables on Exclusive Poker Clubs
However, if you live in the US, there are some state limits that you need to be aware of. Maryland, New Jersey, Washington, New York, Kentucky, Missouri, or Louisiana residents are not permitted to register for an account at Everygame and participate in the poker games it offers. It is not possible to register if you are a resident of any of these seven states, but it is feasible if you live in another US state.

Additionally, it's accessible to non-US citizens residing in the authorized states. Another factor contributing to the Everygame poker room's longevity online is the fact that players from a wide range of countries can access and register there. Read more about poker in the US.
Games & Software by Everygame
Both download and quick play options are available for the poker software at Everygame. Downloading the software on our desktop has always been our first option our of these. We do not need to open our browser, type the website address, log in, and search for the games. You can start using a download option by just double-clicking and logging in.
As previously mentioned, the Everygame software is offered on the Horizon Poker Network, which was founded in 2006. But as things stand, it doesn't appear like the software has undergone any type of upgrades since then, either cosmetically or internally. This is unfortunate because Everygame appears to be falling behind other poker networks and websites in the present day, where they are offering cutting-edge services.
That is not to imply that its lobby does not offer a respectable selection of poker rooms that may be accessed. These are divided into Texas Hold'em and Omaha, two different games. Texas Hold'em is available in No Limit, Pot Limit, and Fixed Limit, whereas Omaha is only available in Pot Limit. Buy-ins vary from $0.02/$0.04 to $5/$10. In these situations, tables with six or eight seats are available.
As an alternative, you might go to one of the Sit 'n Go tables for Hold'em or Omaha varieties. Buy-ins for these range from $0.05 to more than $20. You can also play these games in multi-table, single-table, heads-up, or satellite forms.
Each poker choice has a variety of tables and events available, but Everygame's general software, especially in the download edition, might use an update. As previously mentioned, low stakes players will probably be more interested in the possibilities offered at the poker room than high stakes players.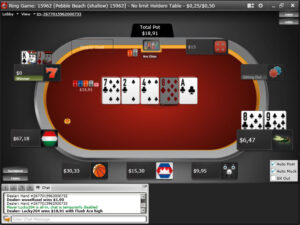 The ability to alter the tables' backgrounds and other features has proven to be incredibly useful for us. Given that playing online poker is primarily about trying to win games and money, this may not be of much significance to many players. We do, however, prefer it when the visual aspect of things is also strong. Even though the program may be a little antiquated, we have to admit that the options for the color of the table felt, the card display, and more are rather appealing.
Remember that the Everygame download version is the only way to access the customization options. Therefore, if you only play games that require instant play, you won't have access to such options. You can easily customize how the tables look by selecting different colors and card styles using straightforward drop-down choices.
Is it Possible for Me to Play a Game Anonymously?
Everygame Poker does not offer anonymous tables, despite the fact that several online poker rooms have made the decision to do so. Because of this, you can always see the usernames and playing patterns of the opponents you play against across all tables.
This might also be a factor in Everygame's failure to achieve the lofty heights that some of its competitors have. Some players enjoy the peace of mind that comes with knowing they can access an online poker table without being pursued by more seasoned players. This won't be in effect unless anonymous tables are used.
Additionally, while some poker rooms provide varieties of the game that let you transfer to a different table after you fold, like Tiger Gaming's Boost Poker, Everygame does not. Therefore, anonymity is not really possible on this site. Now, even though we are not the best poker players out there, we are also not the worst, so this hasn't had much of an impact on us. So, if I knew that someone was especially targeting us, I'd be aware of it and seize the chance to escape and return the next day.
However, not all players will be able to recognize such, which is why non-anonymous gaming can be a disappointment for such players. This is one feature that may be included if Everygame ever undergoes a software update or change, and many people believe it ought to be.
Our Experience with Non-Anonymous Gaming
We consider ourselves quite fortunate that we haven't been a target of Everygame's harassment. It's highly likely that not everyone can agree, and because of this, Everygame may have lost some clients.
Having said that, there is very little room for high-stakes players to actively engage in seeking out a lesser player to target because traffic in this poker room is currently relatively low. Low stakes players, who frequently participate in friendlier poker play, can consequently access tables and take part in amiable games of their preferred poker variation.
When we played poker at Everygame, we always thought it was more disturbing that there weren't as many tables that were full. The fact that we never once worried about gaming at a non-anonymous table puts things at the platform in perspective. Of course, this is fantastic. Nobody like being singled out by other players in a poker room, so for some players, Everygame's reduced volume of visitors may actually be a plus.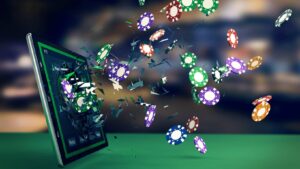 Downloads for MAC and Windows
Starting the download of the Everygame Poker desktop application is simple. In actuality, it's a fairly easy procedure that doesn't involve any particularly challenging steps. Simply go to the Everygame website and select the appropriate "Download Free Poker Software" button.
As soon as you click that button, the file will begin to download to your desktop. Once it has finished, which will take approximately 10-15 seconds, you may open it to start the installation. The poker software download and installation both went rather quickly, which pleased us because waiting for stuff to install is one of our pet peeves. Then, if you haven't already, you merely need to create an account before you can log in.
The first thing we'll note about the Everygame Poker software is that when we opened a file, our computer's anti-virus program began to check it for viruses for the very first time ever. We had no trouble signing up and getting to the cashier and tables the first time we loaded it up. We were able to utilize the many functions of the download program in this way. But when we went back to it the next day to play a little more poker, the program twice crashed our computer. We attempted to open it as a computer administrator, and the same thing occurred, indicating that there isn't actually anything right with it.
Perhaps the software has to be a little bit more up to date. Perhaps there are certain flaws that stand out while connecting with a Windows device of today if it hasn't received an update since 2006? Whatever the situation, we had to make the choice to access the poker games using Everygame's alternate instant play mode.
At Everygame Poker, Using Instant Play Games
As we may have already stated, we are not very fond of instant-play online poker rooms. We don't know why, but we really like having everything available to us right on our desktop. But with Everygame, everything does appear much more contemporary thanks to the quick-play version of its game lobby. One advantage of playing poker in this manner is that.
But it's not much when you consider how much better the immediate play mode's game lobby interface is overall. Although this is the case, the software remains the same as what the Horizon Poker Network offers. Therefore, when you access a table, your screen will still have the same outdated appearance. And let's face it, nobody really like being reminded of a time when gaming wasn't as advanced as it is today, do they?
Everygame Bonuses for Poker
Receiving unique deals from our preferred online poker sites has really grown on me. In fact, it's one of the first qualities we look for nowadays because of how important it is. And if the welcome package for new players isn't satisfactory, it's possible that we'll leave and find another poker-playing website. Perhaps we are truly very snobby about the whole thing!
First tip: As a new player on the Interrops platform, you'll be eligible for the 200% up to $1,000 welcome offer. This can still be of great use to you even though it is only released in $5 increments once you have accumulated enough player points through competing in tournaments and playing video games.
You can use the extra money to play in any of the many different buy-ins and tournaments available on Interrops. This is excellent if you have never played other types of poker because you will at least be utilizing bonus money instead of your own deposit.
However, Everygame Poker offers a welcome bonus, so we quickly decided to register with the site. As long as your initial deposit there is $25 or more, you will receive a 200% bonus on top of that. It's good to know that this has a $1,000 maximum reward because it can substantially enhance your bankroll once the money is delivered into your account.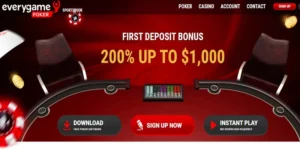 The image up top displays the current Everygame Poker offer that you may get right now!
Another great benefit of the welcome offer is that you have three months to clear the bonus monies. When the prerequisites for Frequent Player Points (FPP) are successfully met, bonus money is awarded in $5 increments. Once you have 83.335 of those points, you will earn a $5 bonus.
The wonderful thing about Everygame Poker is that it also offers a ton of continuous benefits for loyal players. This includes the Loyalty Levels program on the website.
Poker rewards system in Everygame
Online poker rooms that offer exciting loyalty perks have our full support. Regular players are encouraged to keep making deposits and playing poker there thanks to it. The website offers an instant rewards system for Everygame users known as the Loyalty Levels.
Each level of the VIP loyalty program has a predetermined number of tiers; the lower levels have one tier, while the higher levels have an increasing number. The primary idea behind it is to finish all the levels' tiers in order to go on to the next one. How do you finish them, too? By accumulating the previously mentioned Frequent Player Points (FPPs). Your prizes for doing so will also grow as you go up these tiers and levels.
Speaking of our own experiences, I've really considered the Everygame Loyalty Levels to be one of the most thorough incentive programs at an online poker site. There is no compulsion to continue making deposits and playing in order to maintain your position. You won't drop down a level unless you don't accumulate enough FPPs in a two-month timeframe. And only if you are a level 10 or higher will this occur. Given this, we discovered that Loyalty Levels have a lot to offer; in fact, I'd highly recommend it as a selling point of the Everygame Poker website.
Poker Tournaments on Everygame
We really enjoy playing in poker tournaments. For us, they offer more excitement than playing a few hands in one cash game before moving on to another. Tournaments give you a little bit of an advantage in games, which is something we love.
The variety of tournaments that the website hosts help to partially make up for the fact that Everygame Poker's software may not be the best in the world. There are many of them available for you to enter and take part in, with a range of buy-ins to suit whatever spending limit you are comfortable with. These tournaments are naturally kept apart from the other games, but the dropdown menu makes it simple to find them.
Each tournament at Everygame has a unique title, and the details for each are presented below this in plain sight. In order to register as a player in the one you find most intriguing, you can navigate to it and simply click the "Register" button. At Everygame, things are as straightforward as that.
Tip 2: While it may seem apparent, every online poker room that offers freerolls is essentially offering you a free ride to learn more and possibly win without taking a hit to your own balance if you lose.
The winner of a freeroll poker tournament will always receive real money prizes, and you can participate these events without having to pay a buy-in.
Every day at Everygame Poker, they take place with a variety of rewards. If you win, you won't receive huge payouts from these, but even an addition of $50 or $100 to your account balance is cause for celebration, right? We enjoy participating in Saturday night's $50 Weekend Warrior at Everygame. However, there are also monthly $1,000 Depositor Freerolls and a $25 Daily Workhorse.
You can display tournaments that fit a given format, number of seats, limit, or buy-in fee by using the filters on the left side of the screen. The ability to effectively filter tournaments and games to only show the ones you're really looking for is something we truly like about the Everygame Poker platform. It's a technique I've used frequently in the poker room.
Traffic for Everygame Poker
The traffic at Everygame isn't really something huge, we have to be very honest about it. With buy-ins of up to $10/$20 for pot limit and no limit tables, it's a pretty ideal arrangement for players who are playing for little sums. But when you add these stake limits to the fact that Everygame uses the Horizon Poker Network, you'll see that the poker room's traffic starts out stable and never really increases from that point.
The majority of traffic at Everygame Poker, in my opinion, is largely concentrated around its low-stakes games. Higher stakes players might not have as much luck on the platform locating such a thing, and even if they do, it's likely that there won't be many (if any) other players looking for the same kind of table.
This poker room is somewhat less appealing to players, in comparison to other services like Ignition Poker or GGClub, because of the outdated downloading software it uses. Even while quick play is an option and does have a slightly more contemporary feel, it's likely that poker players visited the site before it was made accessible, saw the download version, and had second thoughts about playing at Everygame.
Every time I've played at Everygame, I've observed one or two tables with four or five individuals actively playing. Beyond this, though, there are just a few or occasionally even one player ready to begin for the remaining ones. For instance, this is a terrific scenario if you're a beginning player or simply prefer low-stakes games with fewer players. I would have to urge anyone who enjoys playing games outside of these restrictions to explore elsewhere for a more exciting selection of possibilities.
Mobile Everygame Poker
We'll admit that when mobile poker first began to gain popularity, we jumped on the bandwagon. Several online poker venues also did so. However, it's only normal to want to join anything if you notice that it's gathering momentum. However, there isn't any kind of software to download with Everygame. Which is probably a good thing if it were to resemble the desktop computer software download.
As seen above, a mobile device such as a smartphone can access Everygame Poker. Simply open the website in your browser and log in using your credentials.
Accessing the lobby and taking advantage of what's on offer will be simple for Android and iOS users. Fortunately, the layout is fairly similar to what you would get if you decide to use the Everygame website's quick play mode. You will therefore see the same filtering choices, games, and tournaments. Everything is clearly organized, making it easy to move around.
Additionally, we would argue that the software performed even better on our Android phone than it did on our desktop PC.
Strong graphics are displayed effectively on our screen, adding to the aesthetic appeal of the experience. Overall, playing on a mobile device at Everygame Poker can be more enjoyable than installing the software on a computer.
Withdrawals & Deposits for Everygame Poker
We are all in favor of having a selection to choose from when making a deposit at an online poker site. We have found that quite a few websites have various alluring features but then make us feel constrained by the types of payment options that are available to us.
When making deposits at Everygame Poker, this wasn't a problem. Now, since I was based in Illinois when we first joined and went to the cashier page to make a deposit, I had three options available to me. Everygame accepts Bitcoin, Bitcoin Cash, and Litecoin. We might also use a Money Global transfer or a Visa or Mastercard credit or debit card.
Speaking for me, I always choose to use a Visa card to make our deposits. However, as more poker sites started to accept bitcoins recently, we started experimenting with this technique. We have used both our Visa and our Bitcoin Cash, which we own, to make deposits on the Everygame platform. The benefit of choosing the former is that you can conduct transactions of up to $2,500 and have access to a larger range of deposit limits. In contrast to credit cards, you can deposit up to $1,000 using this method.
Now, users can use other techniques at Everygame as well, although they're only accessible in some nations. For instance, we were unable to deposit using Neteller or ecoPayz from Illinois, although this could have been possible from a different location, such as Ireland. However, using our Bitcoin Cash had the additional benefit of allowing us to deposit and withdraw without paying any extra fees.
Cryptocurrency & Bitcoin
Payments made using cryptocurrencies appear to have migrated into our online poker experience. We used to be fairly opposed to them because we were so accustomed to using our Visa card for every purchase. But once we realized how simple it was for us to deposit and receive money using our Bitcoin Cash, we were pretty much sold. One of the few online casinos that allows players to deposit using cryptocurrencies is Everygame, which operates today. All three cryptocurrencies—Bitcoin, Bitcoin Cash, and Litecoin—can be used for this and offer immediate deposits. Additionally, utilizing one of these will never incur any additional costs; this applies to both deposits and withdrawals.
If you already hold one of those cryptocurrencies, all you have to do is choose it from the cashier page, input the desired deposit amount, and you'll be provided the wallet address where you should transfer the money. Utilizing Bitcoin Cash or one of the others is just that straightforward. And even though the website says that using this technique can delay your withdrawal by up to 48 hours, our withdrawals have always been credited to our cryptocurrency wallet within 15 minutes of our request.
Even while we enjoy testing an online poker room's various payment options to see how easy they are to use, if we want to keep playing there in the future, we will always utilize Bitcoin Cash. One of the benefits of playing at Everygame Poker is undoubtedly the fact that it makes life more simpler.
Recognize the Withdrawal Fees
If you're not using a cryptocurrency for your withdrawal request at Everygame, you can anticipate additional fees to be applied to your request. When this happens in online poker rooms, it is always a little unfortunate. Despite this, we still had a few options for payment methods available to us when it was time to submit a withdrawal request.
We would always advise using cryptocurrency wherever possible due to the higher fees. We took full advantage of the fact that Everygame is one of those websites that does accept cryptocurrency users and that we could deposit and withdraw using Bitcoin Cash without having to pay any additional fees on top.
If you don't have one of them, you'll frequently have to pay a fee of at least $50 on top of your withdrawal request. Depending on the mode of payment you have selected, this may actually be higher.
Another benefit of using cryptocurrency for transactions is that they frequently go through quite quickly. In other cases, it can take you five or more business days to get a check or another type of withdrawal. Again, different payment options for withdrawals will be accessible in various nations. For us, the payment options included a bank draft, check, Money Global, or cryptocurrency.
After quickly receiving a withdrawal via Bitcoin Cash, we made the decision to try the Bank Draft option as a backup. However, it simply took too long for us to finish. Even though mine was completed after 15 business days—the maximum allowed—it was still too long for me. You can actually expect to wait up to 20 business days for this to be finished.
Support for Everygame Poker Players
We find the Everygame Poker support to be a really peculiar area. You can visit a FAQ area, but it doesn't actually provide much information on money questions, account questions, or other issues related to the procedures you would typically go through at the site. Instead, it covers subjects like the anti-collusion and safe transaction policies or the cancellation of tournaments policy. Therefore, rather than being a FAQ area, it is more akin to a set of categories for terms and conditions.
As a result, we frequently found ourselves seeking assistance from the customer service department. Fortunately, the team is available around-the-clock, with live chat being the main tool used for this.
Two email addresses are also provided, one for poker-related questions and the other for general payment-related inquiries. Additionally, toll-free phone numbers are available for North America initially, followed by one for Germany, Austria, and Switzerland and a Regular Number for the rest of the world.
The live chat feature has always been the simplest and most practical to use in our experiences with customer service. Response times to emails are typically excessively long, and Everygame is undoubtedly impacted by this, similar to other leading brands.
Poker Rating for each game
When it originally started providing online poker games years ago, Everygame may have had popularity at one point. But as more powerful and interesting poker sites have emerged in recent years, that popularity has decreased. This indicates that there won't be many regulars playing poker on the Everygame Poker website.
When you enter the poker lobby, it's likely that a number of the players are those who have recently won at a casino or sportsbook and are seeking for something else to do on the poker platform. Although this is a regular occurrence for websites that offer a variety of gambling options, Everygame appears to have more of them than several other sites I've seen. In fact, Everygame may be thought of as the home of less-experienced poker players.
You can identify players who consistently hang around at tables at Everygame because the games there aren't anonymous. These players are already familiar with the Everygame program and games, so you may maneuver your way around them or, if you prefer, go ahead and engage them head-on.
However, since they're not frequently searching for specific players to target, but rather some good ol' fashioned poker activity, you'll typically have a lot more success fighting against random poker room participants.
Conclusion of the Everygame Poker Review
Since it has been around for more than 20 years, Everygame Poker is one of the most trustworthy poker sites for players from the US and other countries. Other US-focused online poker rooms may not necessarily have a gaming license, but this one does. This website provides a virtual environment with the best bonuses and promotions for gamblers all over the world with a respectable level of player diversity and traffic.
Therefore, how do we actually begin to draw a conclusion regarding Everygame? It's evident that it's not the best online poker room, is what we mean. This definitely wouldn't be the case if partyPoker was still offering poker services through it. But even though it's still a part of the Horizon Poker Network, its downloading software seems doomed to a life in the past.
We appreciate that the poker room supports and takes a variety of cryptocurrencies for both deposits and withdrawals. However, the fees associated with the various other withdrawal options are a little crazy and something we would prefer to avoid. Obviously, those who don't use cryptocurrency will have to pay these fees, which is never a good thing. Unlike in poker clubs, the support is centralized and very straightforward, with no agent system.
Additionally, given that Everygame Poker's traffic isn't what it once was, we can only infer that the site is capable of supporting lesser-stakes players and isn't really a place where one should go for high stakes action.
Overall, we think it's great that Everygame has been around for so long, and we always appreciate an online poker club with a long history. The problems start though after you sign up and have to deal with things like outdated technology and software breakdowns. If you enjoy playing poker on your smartphone or in an instant play environment, Everygame is a pretty good place to play thanks to its variety of bonuses and VIP program. For us, though, the lack of contemporary features is just a little bit too much.
Everygame Poker FAQ