About Antanas Guoga or "Tony G"
Antanas Guoga, also known as Tony G in the poker world, is a man of many hats.
He is an Australian-Lithuanian poker pro who was born on December 17, 1973, in Kaunas, Lithuania. A known businessman, politician, and philanthropist. In addition to serving as the Public CIO to Vilnius Mayor Remigijus Imaius, he was a member of the European Parliament for the Liberal Movement from 2014 to 2019.
Important Career Dates
Tony G established Pokernews.com in 2002.
2005: He wins £260,000 in the £5,000 Main Event at the European Poker Championships in London.
2006: AntanasGuoga defeats Mike Matusow to win the WPT Bad Boys of Poker II event.
TonyBet, a club of online poker, and sports betting site, was founded in 2009.
2011: He is named World Lithuanian of the Year.
2019: Tony G finishes fourth for €799,045 in the €250,000 No Limit Hold'em – Super High Roller event at the WSOP Europe in Rozvadov.
2021: He wins two consecutive Super High Roller Bowl Europe short deck events in Cyprus. He won the second event, the $100,000 No Limit Short Deck Hold'em, for $1.196 million. That is the most money he has ever won in a single live tournament in his career.
The Career Of Antanas Guoga aka "Tony G"
Start of his Poker Interest
Guoga was born and raised in Kaunas, Alytus district (Kalesninkai), Lithuania, and moved to Melbourne, Australia, when he was 11 years old. However, before the big move, he won the Lithuanian Rubik's Cube championship. Before attending college, he worked various jobs after graduating high school, including repairing sewing machines and washing cars. During these years, he also enjoyed spending time with his family by participating in games of chess and poker.
---🔥 Start playing on the softest tables in poker! This agent offers up to 55% Rakeback depending on your weekly rake. The team is available to you 24/7:
A
Telegram -
@FullHouseHelp
A
Whatsapp -
Get Started
As a player with this agency you get the best Rakeback,

guaranteed deposits and VIP service

for anything poker, catered to your needs. ---
Guoga majored in accounting and finance in college. Guoga worked as an assistant to Bill Buchanan, the CEO of Australian Mortgage Brokers, before joining a Citibank-managed Hong Kong investment bank.
Guoga founded PokerNews.com in 2002 and began winning his first cash games in live tournaments. He gained international attention when he began competing in the WSOP in 2004.
Tony G at the World Series of Poker
Guoga has finished in the money in 20 World Series of Poker (WSOP) events, resulting in a total win of $1,886,714, despite the fact that he has never won a WSOP bracelet or ring.
He was able to cash in for a total of $172,120 at the 40th Annual World Series of Poker in 2009 after finishing 10th in the $40,000 40th Annual No-Limit Hold'em Event. This accomplishment allowed him to cash in. At the summer World Series of Poker held in Las Vegas, he won the most money with this hand.
Furthermore, Tony G finished fourth in the €250,000 No Limit Hold'em – Super High Roller event for €799,045 in October 2019 at WSOP Europe in Rozvadov, Czech Republic. It's his largest WSOP cash to date.
Participation in World Poker Tours
Tony G's WPT cash is more than double his WSOP cash. He finished second in the 2004 WPT Grand Prix de Paris, earning $411,315 in cash.

Tournament Wins
Tony G's most notable victories in other tournaments include:
Join Fishy Tables on Exclusive Poker Clubs
August 2005: Won the £5,000 + 50 Main Event – No Limit Hold'em at the European Poker Championships in London (England) for $456,822.
July 2006: Own the title for the Intercontinental Poker Championship Grand Final in Las Vegas (USA) for $150,000.
November 2006: A total of $451,700 in the Betfair Asian Poker Tour's $4,800 + 200 Championship Event – No Limit Hold'em was won by Tony.
November 2007: Win a total of $205,000 in the $10,500 Moscow Millions Main Event – No Limit Hold'em (Russia).
November 2008: 2nd place in the PartyPoker.com $75,000 No Limit Hold'em – Final. $150,000 for Premier League Poker III in London (England).
May 2009: A total of $552,239 was awarded to the player who finished in third place at the €25,000 + 500 No Limit Hold'em – European High Roller Championship held in Monte Carlo during the EPT-5 Grand Final.
In January 2010, he finished fifth in the A$100,000 + 500 $100,000 Challenge 2010 Aussie Millions Poker Championship in Melbourne, Australia, earning $92,296.
August 2010: $120,000 first place at the $20,000 Episode 10, The Poker Lounge, Cardiff (Wales).
September 2010: $131,479 for second place in the £15,000 No Limit Hold'em – High Rollers Event WPT London (England).
January 2012: In Melbourne, at the 2012 Aussie Millions Poker Championship, he earned a total of $249,133 by finishing in fourth place in the A$100,000 + 500 No Limit Hold'em – $100,000 Challenge event. This earned him a total of A$100000 (Australia).
April 2012: Fifth place in No Limit Hold'em Premier League Poker V at PartyPoker.com in Vienna (Austria) for $100,000.
May 2017: In Las Vegas's Aria High Roller #59 tournament, the prize pool for first place was $353,280. The event was $24,000 + $1,000 No Limit Hold'em (USA).
August 2017: $353,682 for second place in the €25,000 No Limit Hold'em – GPC Super High Roller 8-Max in Rozvadov (Czech Republic).
July 2018: $46,223 for 4th place in the €25,000 + 750 No Limit Hold'em – Super High Roller Championship in Velden, Austria.
August 2019: €237,250 for first place in the €25,500 partypoker LIVE Short Deck Hold'em event.
August 20, 2021: He wins two Super High Roller Bowl Europe events in Cyprus in just a few days. Following his victory in the $25,000 No Limit Short Deck Hold'em event, which earned him $382,500, he went on to take first place in the $100,000 No Limit Short Deck Hold'em event, which earned him $1.196 million. This is his best score in any live tournament he has ever competed in.
Internet Presence in Poker
Cash Game Live Streaming
Tony G's most famous appearances on high-stakes televised cash games include the following:

PartyPoker's "The Big Game" in 2007. (including some nice play with Phil Hellmuth)
Premier League Poker against Tom Dwan in 2009.
Celebrity Cash Games in 2016; all winnings donated to his foundation
PartyPoker's "The Big Game" in 2018, where he won $500,000.
2019: €2,000/€4,000/€4,000 Montenegro Triton cash game.
Online Poker
Tony G has uploaded videos of his online poker sessions to YouTube under the username "Poker Professor." However, that channel has been closed due to multiple copyright violations.
Antanas Sponsorships
Tony G became a sponsored pro for partypoker in 2010, and he has since competed on their behalf at the World Series of Poker, the World Poker Tour, and the PartyPoker Premier League.
However, after developing his own platform, TonyBet, he left partypoker to work as a sales representative for his own company. Tonybet, sadly, will close in July 2020.
Scandals About Tony G
Paradise Papers Allegations
As a result of an investigation conducted by the International Consortium of Investigative Journalism in November 2017, Guoga was identified as one of the politicians implicated in the allegations that were contained in the "Paradise Papers."
He was also revealed to be the founder and former shareholder of iBus Media Ltd., the Isle of Man's largest poker news site PokerNews.com.
Banned in Russia
Guoga was denied entry into Russia in 2017, to which he responded on Facebook. Although Russian officials have not commented, Guoga believes he was barred because he has been a vocal supporter of anti-Russian policies, even trolling a Russian diplomat during a European Parliament hearing.
Furthermore, he has publicly criticized Russian President Vladimir Putin, whom he despises, and he has made public remarks about Russian hacking and attempts to influence elections worldwide. Nonetheless, Guoga believes he has nothing to apologize for and appears unconcerned about the ban.
Taunting During Poker Games
Tony G, known for his bad manners, including trying to annoy his opponents at the table, once openly lied to Phil Hellmuth about playing blind. "Of course I lied," he quipped after admitting that he did look at his cards. "It's poker."
Play on Reliable Poker Platforms:
In 2006, he competed for Australia at the Intercontinental Poker Championships, and one of his opponents was a Russian player named Rick Perry. During their match, he essentially intimidated Perry into playing poorly, and Australia won the tournament. In the end, Perry gambled everything on an unsuitable horse named King-Jack.
Among Tony G's taunts: "You're a champion? "Come on, Russian, get out. It's time to go," "Is this how you play?", "You made the call with King-Jack?", "Where did you go to school?" The entire brawl can be seen here:
A Sneak Peak Of Antanas Guoga's Private Life
Personal Life and Hobbies
Guoga is heavily involved in sports promotion in Lithuania, particularly basketball, which he has enjoyed since childhood.
As a significant sponsor, he contributed a sizeable amount toward the €500,000 application fee that the Lithuanian Basketball Federation needed to submit in order to compete as a wild-card team at the FIBA World Championship in Turkey in 2010.
Despite initially failing to qualify for the championship, they were eventually chosen through their wild card application and won the bronze medal.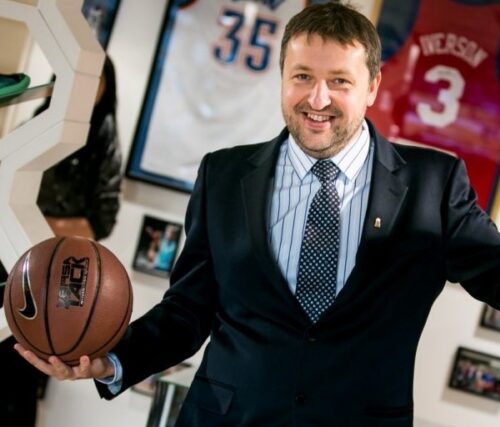 They wore jerseys with the word TONYBET printed on them. He managed the national team from 2010 to 2012 and sponsored them for the championship.
Tony G was the primary sponsor of the professional basketball club BC Prienai and served as vice president of the Lithuanian Basketball Federation.
Aside from basketball, he is also the vice president of the Lithuanian Rowing Federation, a position he has held since 2014.
Guoga is well-known for his charitable work. Guoga is the only Lithuanian member of the European Parliament on Richtopia's list of the world's top 200 philanthropists and entrepreneurs.
He's participated in numerous charity poker tournaments and frequently donates a portion of his winnings to charitable organizations and trusts.
Guoga participated in Celebrity Cash Kings in 2016 and donated his entire winnings (€109,000) to Vilnius University, Bd Turgus and Maisto Bankas, two of Lithuania's best charitable organizations.
The A. Guoga Foundation is his own charitable organization.
"I expected to be rusty, but the juices flowed, and I sent them off on their bikes. I ended up winning more than €100,000; my charity foundation is overjoyed," he said.
Business and Net Worth
The "Tony" Brands
Guoga began establishing the "Tony" brands in 2009 with the establishment of TonyBet. The international betting company now has the UK and Estonian gaming licenses, allowing it to access the entire European poker sites.
Betsson, a Swedish company, paid €6 million for the TonyBet business in Lithuania on September 8, 2016. Tonybet will cease operations in July 2020.
PokerNews and his other Owned Poker Media
Guoga created PokerNews.com by purchasing the domain name for $6,000, hiring two programmers to set up the site, and writing all of the content himself. He's also the primary owner of several popular poker websites, including Pokeraffiliateworld.com and Pokerworks.com.
Blockchain Centre Vilnius
Guoga launched Blockchain Centre Vilnius in 2017, with the goal of providing technical, legal, and financial advisory services to help blockchain start-ups achieve their business objectives. According to LinkedIn, it is the "first blockchain technology center connecting key stakeholders in Asia and Europe."
More Business Ventures
Guoga also owns Rate Detective, an Australian life insurance company, and trading business in London, in addition to his other businesses. He's also a big real estate investor.
Tony G's Net Worth
His total worth is much higher than his tournament and cash game winnings would suggest due to his many other activities outside of poker. The Lithuania Tribune estimated his net worth to be more than $36 million in 2014.
Love Life
In 2014, Guoga tied the knot with Aistė Šlapokaitė, a former student of psychology who had previously worked as a photo model for Armani Jeans, Prada, and Max Mara. The wedding was held in Vilnius, and many notable figures from the world of poker, including Guoga's longtime friend Warren Lush, were in attendance.
View this post on Instagram
The couple first became acquainted at Šlapokaitė's 30th birthday party, which was held in a nightclub in Vilnius. The couple currently has four children: two sons of their own, Guoga's son and daughters from previous relationships, and their two daughters. Herkus was born in Brussels in 2015, and Tauras, the second child, was born in Vilnius in 2016.