In terms of European online poker rooms, Guts Poker is something of a newcomer.
Pros
iPoker Network has steady foot traffic.
Mobile devices with a browser-based gaming experience free of bugs
Accelerated cash outs
Cons
The lack of support for trackers
The Outlawed Form of Custodial Poker
Guts Poker: An In-Depth Review this 2022
In terms of European online poker rooms, Guts Poker, compared to other established online poker such as xPoker, Pokerrrr2, and 888Poker, is something of a newcomer.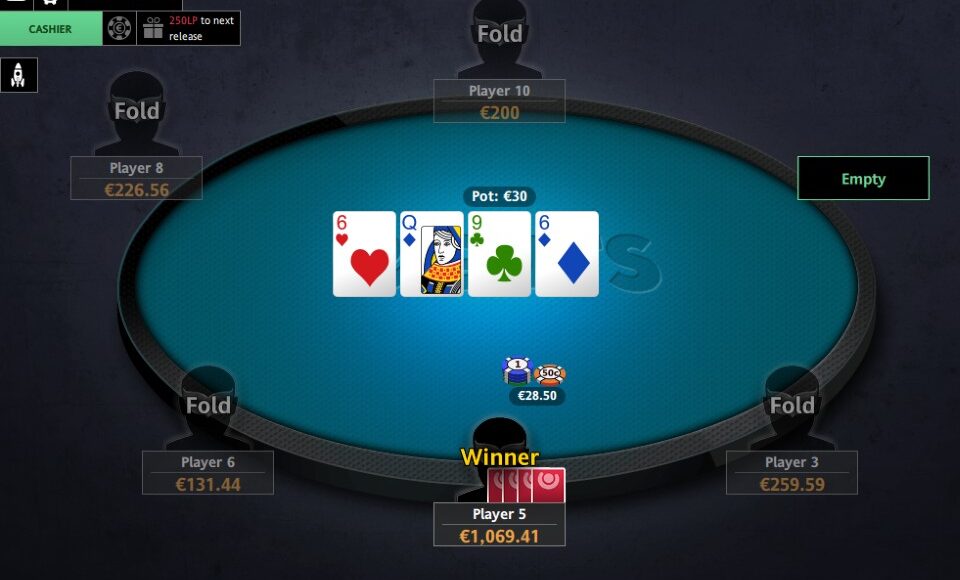 Gaming Innovation Group (GIG) founded the company that would later become the brand in 2013. As word spread, it became well-known as a safe, high-traffic, and widely-attended online poker room. Guts Poker, along with GIG's other gambling brands Kaboo, Rizk, and Thrills, were acquired by the Swedish group Betsson in 2020 thanks to the success of GIG's subsidiary, Zecure Gaming Limited.
Betsson integrated Guts Poker and its own Betsson Poker software onto the iPoker Network in May 2020. Due to sharing a player pool with a number of prominent online poker brands, Guts Poker saw a substantial increase in traffic as a result of this change.
---🔥 Start playing on the softest tables in poker! This agent offers up to 55% Rakeback depending on your weekly rake. The team is available to you 24/7:
A
Telegram -
@FullHouseHelp
A
Whatsapp -
Get Started
As a player with this agency you get the best Rakeback,

guaranteed deposits and VIP service

for anything poker, catered to your needs. ---
Guts Poker has been around for a while, but it's steadily amassing a larger and larger player base. They made the switch to the iPoker Network because of the generous sign-up bonus and improved selection of games available there.
Sign-Up Procedures
Follow these simple steps to sign up for Guts Poker:
Follow this link to visit Guts Poker.
Get the client or press Play in Browser.
To sign up, a mobile phone number is required for verification purposes.
Proceed to account activation.
Have a poker game.
Welcome Rewards and Bonuses Just For You
The €1,000 welcome bonus that Guts Poker offers to all new players is one of the main draws of joining the site.
This is not a regular 100% bonus on your first deposit. In fact, this is a freebie that will be added to your poker account the moment you pick an alias. After that, you'll get €5 of the bonus for every €25 in rake fees you pay. To sum up, the more you play, the more you'll win.
The fact that the bonus is paid out in cold, hard cash rather than chips or tickets is just icing on the cake. You have 60 days to use the bonus and there are no wagering requirements.
To say the least, it's impressive, right?
Join Fishy Tables on Exclusive Poker Clubs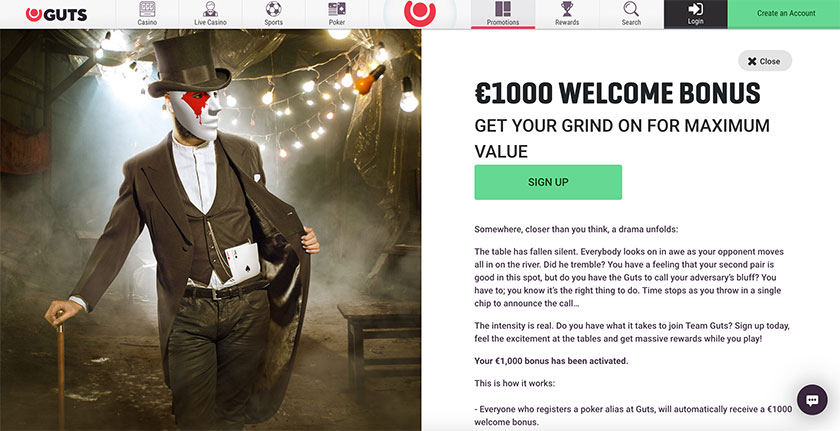 So Why is Guts Poker so Well-Liked?
The transition to the iPoker Network, as we mentioned before, has been crucial to the development of this name. Aside from these, however, there are additional factors contributing to its widespread acceptance:
Many exciting games to choose from
Strong competitions
Constant footfall
An outstanding monetary bonus to start off with
Thanks to iPoker's expansion, there is now a massive player pool.
Graphical User Interface of Guts Poker
Guts Poker was launched in 2004 and has since moved to the Party Poker Network (MPN). Guts Poker was previously hosted on the MPN, but with its planned shutdown in 2020, the service has transitioned to the iPoker Network.
Now, in addition to the traffic boost we've already discussed, joining iPoker has also provided Guts Poker with a sleek client and browser-based platform. It has beautiful visuals and a plethora of options for personalizing your tables.
The lobby and its games are ridiculously user-friendly, and the mini-view of multiple tables is a nice touch. The multi-player mode runs almost flawlessly.
Guts Poker only supports the Windows operating system and has a single downloadable client. The client can be used on a Mac as long as a Windows emulator is installed.
Now, let's talk about mobile gaming. You can play any game on any device with just a web browser. Despite the fact that some players require a specialized app to play, it's great to have a browser-based option that is compatible with both iOS and Android devices.
There are no major flaws in the user interface that we have encountered.
Player Traffic and Fun Activities in Guts Poker
Since the switch, monthly active player counts on the iPoker Network have consistently increased. As technology has progressed since the MPN days, so too have its gaming options.
Currently, there are between 3,000 and 4,000 players online during non-peak hours. There are times, like weekends and evenings, when that number can rise to over seven thousand. Large tournaments can attract even more players to the table.
You have to admit, for a newcomer, those are some eye-popping numbers. This means that it is relatively simple to locate a game on Guts Poker at any time of the day or night.
Then, how do we proceed with the games? The minimum buy-in for the various Texas Hold 'em, Stud, and Omaha games is only €0.01.
There are also many tournaments to choose from. So many tournaments are happening daily that we won't even begin to list them here. For the sake of brevity, let's say that the Sunday Main Event is worth €50,000. Nice.
Twister Spin & Go tournaments with multiplier-determined random prizes are also available on the platform. There are no surprises here, just standard Sit & Go tournaments with fast-growing prize pools, as seen on every platform these days. Age of Gods has a 285k euro prize pool for $1-10 buy-ins as of our most recent count.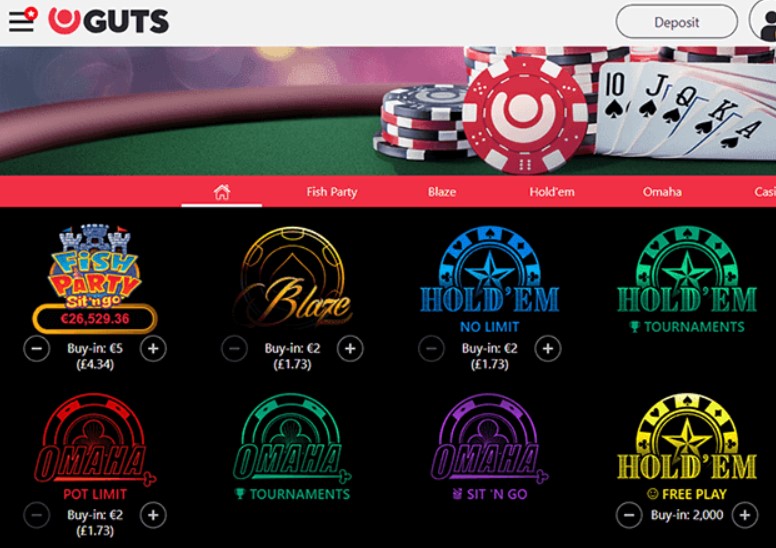 HEM or similar tracking software: Is it allowed?
Guts Poker allows its users to make use of Heads Up Displays (HUDs), in contrast to the policies of the vast majority of online poker sites.
With the PC client's support for real-time statistics for the vast majority of HUD programs, this site is a magnet for serious poker grinders. As a result, the games can be challenging at times, but that doesn't make the platform any less lucrative.
Rake and Rakeback
The rake is a standard fee taken by every online poker site. However, 30% Rakeback isn't something you'll find on every site.
In poker, the rake ranges from 5% to 6.67% of the pots won. Okay, but how do you get 30% of that back?
In a nutshell, it's all about how many points you have accumulated. Gain access to higher loyalty program tiers on Guts Poker as your point balance increases. You'll get a bigger cut of the pot as you level up.
Those points are earned by participating in cash games, and the progression is as follows:
10% for the silver level (from 0 to 499 points)
15% for the gold tier (500–999 points).
At the Platinum level (1,000-2,999 points), you'll get a 20% bonus.
The cutoff for the diamond category is three thousand points or more, at 30%.
Getting to 3,000 points will require a lot of games, but it's not impossible.
Is Guts Poker Legal In Every Country?
Anyone wanting to sign up for an account on Guts Poker must be at least 18 years old or the legal age in their country to gamble. The minimum age of 19 is enforced in some Canadian provinces.
As an added restriction, only players from certain countries can join. Thus, online poker sites by countries are regulated and imposed. Guts Poker does not accept new registrations or active accounts from users located in these regions: Amerikaner Staaten (and its dependencies, military bases, and territories, including but not limited to American Samoa, Guam, Marshall Islands, Northern Mariana Islands, Puerto Rico, and U.S. Virgin Islands).
The following countries and territories are not included in this list:
South Sudan, Spain, Sri Lanka, Sudan, Suriname, Svalbard, and Jan Mayen, Afghanistan, Algeria, Angola, Anguilla, Antigua-and-Barbuda, Argentina, Aruba, Australia, Austria, Armenia, Azerbaijan, Bahamas, Barbados, Belgium, Belize, Benin, Bermuda, Bhutan, Bonaire (Sint Eustatius and Saba), Botswana, Bouvet Island, British Indian Ocean Territory, Bulgaria, Burkina Faso, Burundi, Cambodia, Camer, Swaziland, Sweden, Switzerland, Syria, Tajikistan, Tanzania, The Faroe Islands.
The French overseas departments and territories of Saint Barthélemy, Saint Helena (Ascension and Tristan da Cunha), Saint Kitts and Nevis, Saint Lucia, Saint Martin, Saint Pierre and Miquelon, Saint Vincent and the Grenadines, and Saint Vincent and the Grenadines.
Svalbard and Jan Mayen, Samoa, Sao Tome and Principe, Schleswig-Holstein, Senegal, Serbia, Seychelles, Sierra Leone, Singapore, Sint Maarten, Slovakia, Slovenia, Solomon Islands, South Africa, South Georgia and the South Sandwich Islands, Uganda, United States Minor Outlying Islands, Uruguay, Uzbekistan, Vanuatu, British Virgin Islands, Wallis and Futuna, Western Sahara, Yemen, Zambia, and Zimbabwe, Timor-Leste, Togo, Tokelau, Tonga, Trinidad, and Tobago, Tunisia, Turkey, Turkmenistan, Turks.
Guts Poker Campaigns and Promotions
The site's most prominent promotion is the €1,000 welcome bonus Guts Poker offers new players.
Aside from the standard Spin & Go tournaments, Guts Poker also offers Twister Spin & Go competitions. Also, you can complete daily missions for a chance to win rewards like tournament tickets.
The weekly Twister series has a €12,500 prize pool. Participating players in Twister tournaments at set buy-in levels are ranked according to their performance. Results are tallied at the end of the week, and the top performer receives 20 tickets to the €50 Twister draw.
Periodically, the site may offer special deals; when it does, members will be notified by email. The game's primary selling points are the Twister series and the aforementioned bonus.
How to Cash In/Cash Out?
Guts Poker has a simple deposit process. Generally speaking, the following techniques are accessible:
Trustly, Visa/Mastercard/Maestro, Zimpler, PayPal, Paysafecard, Skrill, Neteller, SoFort, EcoPayz, and a plethora of other online payment systems.
Deposits start at just €10. It is possible to contact customer service and request an additional payment option be made available if you are unable to locate it on the site.
Withdrawals are also a breeze, making Guts Poker stand out from the competition. There are a lot of online poker sites where the withdrawal process takes forever, but not this one. Withdrawals from Guts Poker are typically processed within hours. The time it takes to receive funds after payment has been processed varies.
As examples of withdrawal procedures, we can mention:
Trustly, Visa/Mastercard/Maestro, Zimpler, PayPal, Paysafecard, Skrill, Neteller, SoFort, EcoPayz, and a plethora of other online payment systems.
The smallest amount that can be withdrawn is 20 euros.
FAQs on Guts Poker