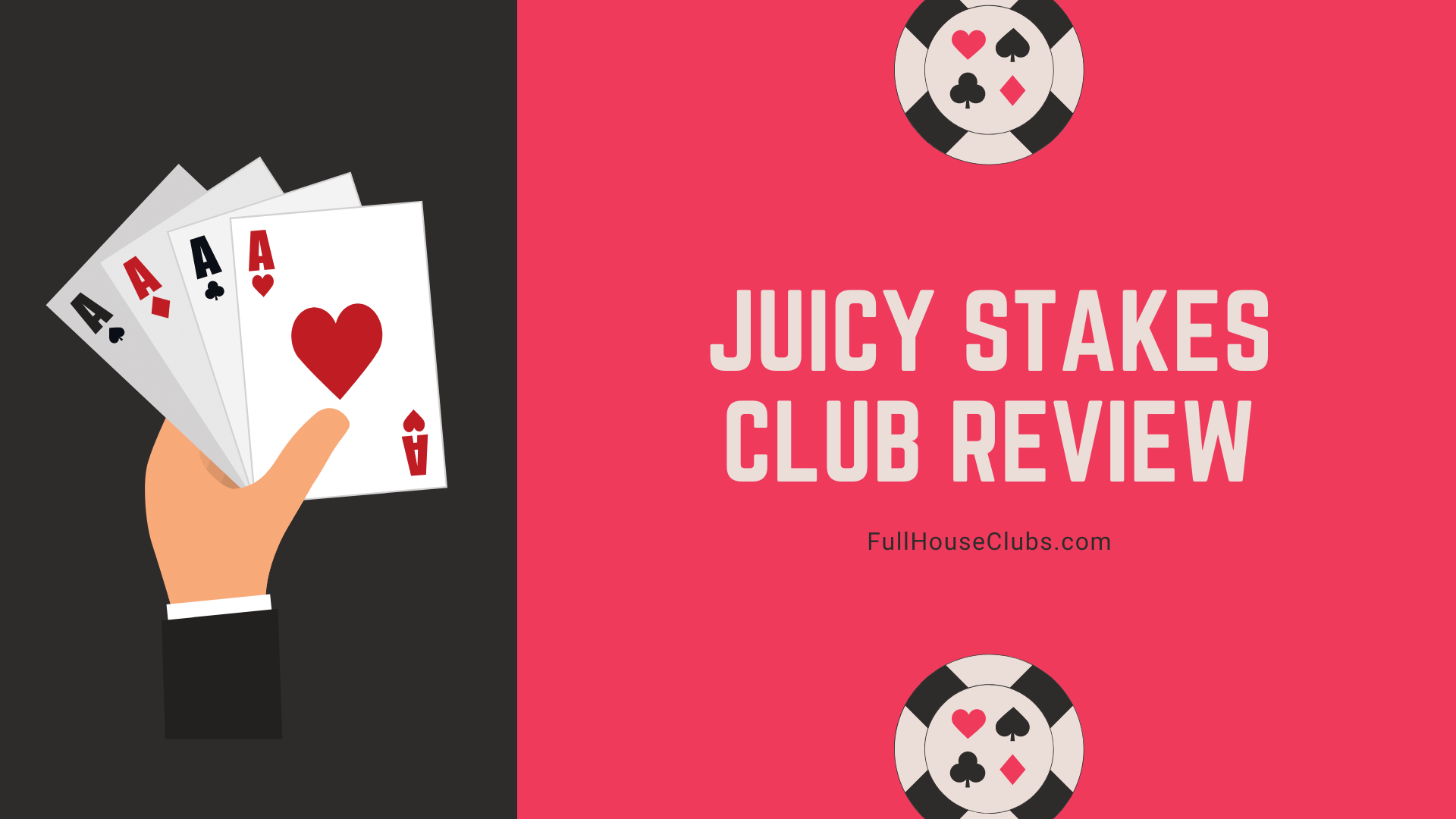 Pros
Acceptance of US and Australian players
A large number of well-liked payment options
A wide range of tournaments, including freerolls
Compatibility with mobile devices
Rewarding bonuses and promotions; both instant play and downloadable software
A good selection of other casino games
Cons
Protracted withdrawal processing times
Fewer poker variants
Low stakes
Moderate player base
Join hundreds of other players at Juicy Stakes Poker to enjoy one of the top poker sites on the internet. Play on a well-designed website that supports both downloadable applications and immediate gameplay. There are numerous promos and prizes offered, including a $1000 poker welcome bonus.
Although Juicy Stakes Poker is not among the most well-known poker sites in the world, its offerings are comparable to those of some of the more well-known choices. The website's growth has continued after its 2013 launch. It is authorized and controlled by Curacao, one of the region's top online gambling authorities.
Juicy Stakes Poker offers a wonderful selection of poker games and tournaments in addition to a number of casino games that are run by reliable software developers. a welcome poker bonus that will match your initial deposit 200%, up to $1000.
We will discuss the ins and outs of the Juicy Stakes Poker website in this article. You may discover more about the operator's bonuses, games, software, banking options, legality and anonymity of playing poker, and more, by reading our guide.
---🔥 Start playing on the softest tables in poker! This agent offers up to 55% Rakeback depending on your weekly rake. The team is available to you 24/7:
A
Telegram -
@FullHouseHelp
A
Whatsapp -
Get Started
As a player with this agency you get the best Rakeback,

guaranteed deposits and VIP service

for anything poker, catered to your needs. ---
Before opening an account at Juicy Stakes Poker, we suggest that you read this instructions. It will provide you with all the information you need to determine whether this website is right for you or whether you should look for a more suitable alternative. Read on!
Juicy Stakes Poker: Is It Legal?
When choosing a poker website, the legitimacy of the site should be your top priority. This is also the first consideration for us when considering whether to submit a review for a particular website. The extra risk of playing with an unregistered operator is one you should never consider.
You can play on this website with confidence knowing that Juicy Stakes Poker is a secure site. The operator possesses a Curacao license, which is very typical among websites that cater to US players.
The longevity of Juicy Stakes is another factor that supports its credibility. Since the website launched in 2013, it has been providing top-notch games for more than seven years. You may be confident that this poker site is legitimate because scammy poker sites don't last very long.
The brand is registered in Curacao, which also has regulatory authority over it. All of Curacao's authorized websites are 100 percent safe, and it is a well-known name in the online casino community. Since every game on the website has undergone RNG testing, you can be sure that every result is impartial and random for every player.
Juicy Stakes has collaborated with Cybersitter and Gamblers Anonymous as an additional level of protection and accountability, providing players with more assurance about their security and providing them with a choice for any gambling addiction concerns.
Join Fishy Tables on Exclusive Poker Clubs
Can I play juicy stakes poker in the United States?
Because Juicy Stakes is an offshore website, it is regarded as somewhat safe by players in the United States. Naturally, the laws and regulations of your state will determine whether you are permitted to play online poker or not, so it is recommended to consult an attorney or educate yourself on the most recent online gambling restrictions in your state.

Most US states have not yet passed legislation governing gambling on foreign websites. That means it is neither forbidden nor forbidden to view and play on these websites. Players who used offshore poker sites in states where the legislation does not clearly declare that this type of behavior is banned have not been detained or prosecuted.
Juicy Stakes Poker is one of the most well-liked websites among US poker players, which should reassure you further. American players who enjoy playing poker have created a significant number of accounts on the website. Nevertheless, there are some limitations to the site, and it is prohibited in several states.
Poker software and games from Juicy Stakes
We discovered when exploring the website that Juicy Poker offers good navigation and an easy-to-use platform that will make things simple even for new gamers.
You have two options for playing poker: you can play it instantaneously in your web browser, or you can download software if that option makes you feel more comfortable. You will see the same amount of games and promotions in either case.
You can choose from a number of alternatives by selecting poker in the top bar. For a list of all the cash games, visit immediate play. You may view all current tournament formats in the tournaments sections. Every single day, Juicy Stakes hosts tournaments, including freerolls and events just for players from the US and Australia.
Within a few clicks, you may locate anything you're looking for thanks to the simple navigation. Both the downloadable program and the website's overall design are tasteful and sophisticated.
In terms of the games, Juicy Stakes provides Texas Hold'em, Omaha, and Stud variations of poker.
Texas Hold'em is the most widely played poker variation worldwide, and thanks to a wonderful poker software platform, playing online at this site is one of the better ways to play because the software is so reliable and simple to use.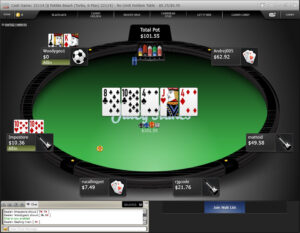 A typical Juicy Stakes Poker Texas Holdem table may be seen in the image above.
At this top-tier online poker site, you can play Omaha Poker, one of the many various variations. Although this variation isn't as well-known as the one listed above, there are still plenty of available tables for you to check out, and because this poker site is so busy, there are always enough of opponents for you to face off against!
The last poker variation available at Juicy Stakes Poker is stud poker, which offers players a timeless classic with an intriguing framework and gameplay. If you've never played the game before, you'll be able to pick it up relatively quickly. If you've never played the game before, be sure to give Juicy Stakes Poker a try.
Although these are the three most common variations of poker, several of their rivals, such as 5-Card Stud and Razz, have more to offer.
Both games come in a variety of formats and with various stake limitations. Both casual and high-stakes poker players can play within the limits.
Only the minimum and maximum limits for each poker cash game at Juicy Stakes are shown in the table above. You should be aware that the operator provides a variety of various boundaries for each game, though.
Low-stakes games, for instance, go from $0.02/$0.04 to $0.25/$0.50. Depending on the game type, medium stakes start at $0.50/$1 limits and go all the way up to $3/$6 or $4/$8, respectively. High limits typically range from $5/$10 to $10/20, while $50/$100 can be used to play Fixed Limit Hold'em.
Was it Possible for Me to Play Juicy Stakes Poker Anonymously?
Juicy Stakes regrettably does not advocate promoting anonymous gaming like, for example, Ignition Poker. That implies that other players may see who you are, watch your movements, and perhaps evaluate your gameplay. Even though this is obviously not guaranteed to occur, it would still be lovely to be able to enjoy a game of poker without constantly being concerned that someone is watching you from behind.
In recent years, poker players have tended to value anonymity highly. Today, a lot of poker sites provide SNAP games and other unique tables that make it harder to keep track of the players. Juicy Stakes hasn't yet made these kinds of games accessible, though.
Our Experience with Non-Anonymous Gaming
Did Juicy Stakes' non-anonymous poker games present any issues for us? No, not in the least! There aren't many professional poker players on Juicy Stakes to begin with, despite the possibility that other players could have targeted us and exploited our data for analysis. We didn't actually feel like we were being followed.
Of course, some more serious players could have a problem with being unable to play anonymously. However, the fact that Juicy Stakes' playfield is at most mid-level and that few players even pay attention to their opponents' strategies remains.
Downloads for MAC and Windows
Juicy Stakes offers the ability to play poker via their downloading software. The installation procedure doesn't take too long, and the software may be downloaded rather rapidly. You will need to wait about ten minutes in total from the time you click the download button until you are prepared to sit down at your first poker table.
Juicy Stakes Poker's downloaded version isn't compatible with all computers, as some players have claimed, but we saw no such problems. You won't have any trouble starting the software as long as your computer is functional and has the most recent operating system installed.
Both Windows and MAC systems can download the Juicy Stakes software. You should be able to play even on some older PCs because the system requirements are not too strict.
It should go without saying that the software offers all of the same games that are available on the website's browser version. It all depends on your preferred style of playing online poker.
Juicy Stakes Poker's Use of Instant Play Games
With Juicy Stakes Poker's instant play option, you may avoid downloading anything and play poker on the site right from your web browser. To view all of the available games and tables, simply click poker in the top bar and select immediate play.
While some players prefer to play poker using the website's built-in software, others genuinely prefer to download it. Both categories of players were graciously catered to by Juicy Stakes. The fact that this is unusual among poker websites should be noted. Most only present one of two possibilities.
We can't claim that the instant play option or the software significantly differs from the whole experience. The graphics and visuals are essentially the same, and all of the same games and promotions are available.
First tip: When playing poker, we like to download the program. Although using downloading software makes things appear more streamlined and structured, we are not arguing there is anything wrong with playing directly in the browser.
Both Windows and MAC PCs operate flawlessly with Juicy Stakes' instant play poker. Poker and other casino games can also be played on mobile browsers, but we will cover that in more detail in our Juicy Stakes mobile area later on.
Poker Bonuses for Big Stakes
A casino website is only as good as its bonuses, so the saying goes. Bonuses can occasionally be a double-edged sword, though. They could appear appealing at first and give you a lot of extra money, but they might also have strict rules that are hard to follow, including hefty wagering requirements.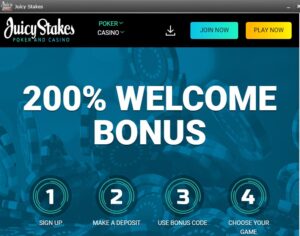 Currently, Available Offers at Juicy Stakes Poker are displayed in the image above.
Juicy Stakes is offering a 200% match bonus up to $1000 to all new players. As a result, your initial deposit will be eligible for a triple bonus, which is more lucrative than the bulk of poker websites.
When you make your initial deposit, don't forget to click the Bonus Code button and type in the code 1000JUICY. Simply click the Redeem Bonus button after that, and the extra money should appear in your account shortly after.
On the website's cashier page, under the Pending Bonus area, you can check the status of your bonus. The smallest deposit allowed is $25.
The bonus is obtained by accumulating Frequently Played Points (FPPs), and the money is disbursed in $5 increments. For each player, obtaining 83.335 FPPs will grant access to a $5 prize.
Games and competitions involving real money are how the points are obtained. For each $1 of rake in a regular game, you will receive one point. On the other side, you will receive seven points if you pay $1 for the competition. The cashier tab also displays the bonus amount earned and the number of FPPs.
Of course, the bonus won't remain forever. You will have 90 days from the time the money is unlocked to utilize it. All leftover bonus money will then be forfeited. While this welcome bonus is active, you cannot utilize any other Juicy Stakes bonuses.
Second advice: The bonus requirement is a little bit too high. It is not worthwhile to get that many points for a $5 incentive. Furthermore, although you are technically eligible for a $1,000 bonus, it is quite unlikely that you would ever receive that much. This might be one of those casino bonuses that sounds better than it is, which is why we are concerned.
Rakeback Deal
If you've never heard of the phrase "rake" in poker, it refers to a tiered commission fee that each poker site (house) charges players for hosting the games. Rake, then, is a nominal portion of each hand's pot that goes to the casino.
You can now receive up to 36% of your weekly rake contribution back thanks to the Juicy Stakes Rakeback Deal. Given that few poker sites provide Rakeback promotions and those that do do so at significantly lower percentages, this sum is extremely substantial.
Under the VIP Status section of your profile, you may check the status of your rakeback. Using the rake calculator on the internet, you may also determine your rakeback. It's also important to note that players that use Rakeback receive more FPPs than those who don't.
Non-Deposit Bonus
We were genuinely shocked to find a no-deposit bonus on the Juicy Stakes promotional page because poker companies rarely give these.
To obtain this bonus, all you have to do is exchange your Gold Chips; neither a deposit nor gameplay is required. Specifically, 100 FPPs can be accumulated to equal one Gold Chip in order to obtain FPPs. The following three non-deposit bonuses are available to players:
100 gold chips cost $25, 400 gold chips cost $100, and 20 gold chips cost $5.
The bonus is awarded in $5 increments, and each $5 bonus requires 83.335 FPPs to be obtained.
FPP Race
Juicy Stakes offers a weekly FPP Race with a $4,000 prize pool as a way to thank its most devoted players. Obtain as many FPPs as you can to advance in the rankings. Only the top 100 participants receive rewards, and the winner will receive $420 for having the most FPPs.
Various Promotions
Some of the website's ongoing promotions include the bonuses we just mentioned. Juicy Stakes, however, also provides a ton of other limited-time incentives that you can frequently take advantage of. Since the specifics of these specials are subject to change, discussing them would be pointless. Instead, check the website's promotions page to discover what's presently being offered. Similar to what you can find on poker clubs like pokerrrr2 or Club GG poker.
Poker Juicy Stakes Rewards System
The FPP race that we have described is the only reward scheme that Juicy Poker currently offers. Poker games provide players points, and at the conclusion of each week, the top 100 players receive cash prizes.
Additionally, FPP points can be converted into Gold Chips, which can be used to buy no-deposit promos. The only thing you can really do with FPP points is to accumulate enough of them to use the benefits.
Juicy Stakes doesn't provide any VIP or loyalty programs at the time of writing.
Pristine Stakes Poker Competitions
Every day of the week, a variety of multi-table tournaments are offered at Juicy Stakes. The majority of them have modest buy-ins of under $50, and some even have buy-ins as low as $1. Of course, there will also be a table fee, which is typically 10% of the buy-in.


The aforementioned graphic demonstrates the wide variety of tournaments that may be entered on the Juicy Stakes Poker website.
While low-level players will have several options, high-rollers might try their luck somewhere else. $500 to $4,500 worth of prizes are up for grabs.
Juicy Stakes Poker offers a huge number of daily freeroll poker tournaments with guaranteed prizes of up to $100, so if you want to play poker online for free and without risking any of your own money but still want the chance to win a real money cash prize, this is one place where you can do just that.
Juicy Stakes offers a wide range of additional competitions, including sit-and-gos, satellites, all-in-or-fold games, and more. These competitions have stakes that vary from $0.50 to $200. The lower stakes games include a broad range of setups, including short-handed (6 players), eight-man, or full ring tables, while the higher stakes games are often played in a heads-up format with two players (9 or 10 players).
Traffic for Juicy Stakes Poker
Although Juicy Stakes is not as well-known as some other poker sites (PokerBros or BetOnline), it nevertheless receives significant traffic. This website will be perfect for you if you're not seeking for high-stakes gaming. When it comes to high-stakes tables, you might have to wait a long for them to fill up.
Although the majority of the opponents are mid-level, you shouldn't be shocked if occasionally some professionals show up and completely destroy you. As they frequently frequent higher-limit tables, sticking to low-limit games will give you a good opportunity to succeed even if you are a novice.
Juicy Stakes Mobile Poker
Over the past few years, mobile poker has become more and more popular, and this trend doesn't seem to be slowing down. In order to provide their mobile poker players with a seamless and engaging experience, Juicy Stakes built their mobile platform to the greatest technological standards.
Screenshot of a mobile device showing a Juicy Stakes Poker table.
There is no software or app that you must download in order to play. A mobile browser may be used to quickly access all the games and tournaments, and the platform is fully compatible with all well-known mobile operating systems, including iOS, Android, Windows, and Blackberry. You may play poker on Juicy Stakes on your tablet, which we highly recommend, in addition to smartphones, of course.
Juicy Stakes Poker Withdrawals & Deposits
Before joining a poker site, we always double-check its payment choices. Even though there are many payment options, it's a good idea to check the deposit and withdrawal limitations as well as the time frames for cashing out.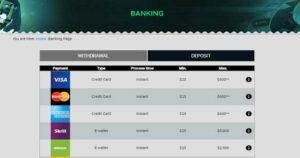 Juicy Stakes Poker offers a variety of payment options for deposits and withdrawals, as the image above illustrates.
Of course, the procedures may vary depending on the nation, but American and Australian gamers can find a wide variety of practical banking alternatives that they are accustomed to.
The maximum credit card deposit is $600, while first-time depositors are only permitted to deposit up to $499.99. Additionally, Cash Transfer deposits are limited to four per month and one per week.
It should be noted that although Juicy Stakes doesn't charge any fees for withdrawals made using Skrill and Neteller, the e-wallet provider itself may. Additionally, the mentioned costs are added to the minimum and maximum deposit limitations for checks and bank transfers.
Support for Juicy Stakes Poker Players
We understand that you may have a lot of inquiries concerning the Juicy Stakes poker website. Most of them should be covered in the FAQ section we've included below, but you can also try contacting Juicy Stakes directly to get the scoop from their customer service team.
All players, including those without an account yet, have access to a live chat service that is open round-the-clock. You may also contact support@juicystakes.eu by email. Juicy Stakes does not currently provide telephone assistance.
Summary of the Juicy Stakes Poker Review
If we had to sum up our assessment of Juicy Stakes in the simplest possible terms, we would say that while it is a reliable website with a lot to offer poker players, there are a few drawbacks that many players won't appreciate.
There is a huge variety of cash games and tournaments. Every day, multi-table games and sit-and-go tournaments are held, as well as daily freerolls with large payouts. The same is true of promotions and bonuses. You'll start off with a big poker welcome bonus, but you can also participate in a weekly FPP race, convert your points into no-deposit bonuses, and more.
Software may be downloaded and installed quickly and is of the highest quality. Additionally, the animations and graphics are rather good. The website functions flawlessly on all current devices and is mobile-friendly.
The fact that there aren't many players who play at high-stakes tables is something we don't enjoy. Those that do might have to wait a while before there are enough participants. Low-level players seeking a balanced playing field may appreciate the medium player pool, but big rollers will leave the site shortly.
The bonus conditions are a little bit too demanding, and the processing timeframes for withdrawals are quite long at 48 hours.
We hope you had fun reading this review and that it was helpful in determining whether or not you wanted to play on Juicy Stakes. Please feel free to ask any questions you may have in the comments area below.
Juicy Stakes Poker FAQ