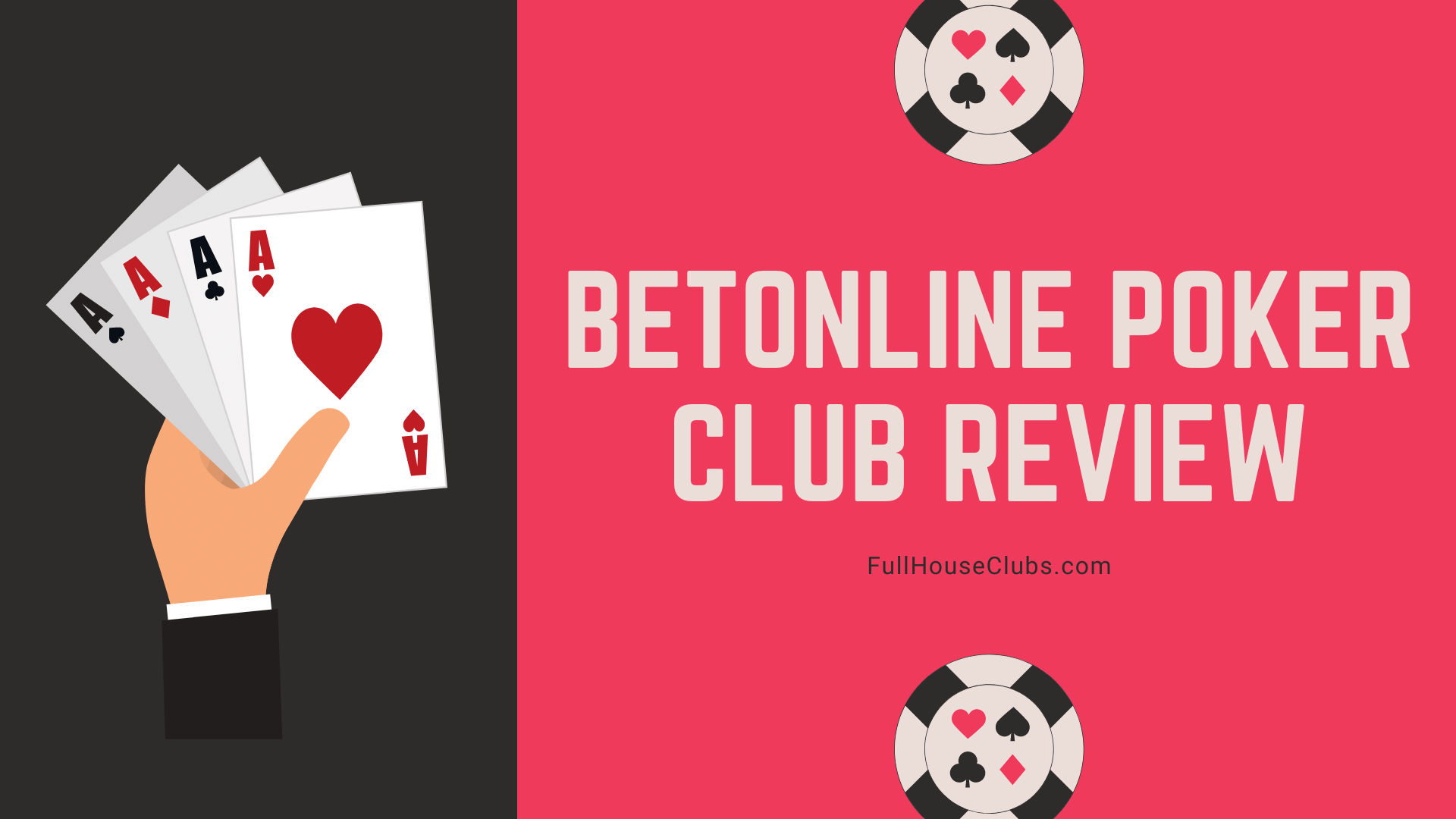 Pros
Welcoming American players and having a perfect mobile app with interesting features.
Top 3 in US player traffic;
Proprietary poker software since 2016;
Heavily pushes banking via cryptocurrencies;
Licensed in Panama;
Up to $1,000 in welcome bonus cash
Cons
Card deposit fees;
Withdrawal fees for bank wire transfers and Moneygram;
Paypal rejection
One of the top poker sites in the US market, according to many, is BetOnline Poker. Despite the fact that the poker brand has been present since 1991, their online poker operation didn't launch until 2011. That hasn't turned out to be a terrible thing because the brand was able to quickly climb the popularity ladder by capitalizing on the problems with Black Friday at the time.
BetOnline, which had its beginnings in Costa Rica but was quickly expanding as an online sportsbook, entered the market in 2001. It wasn't long before everything was shifted to Panama, where it is still based today.
Initially, the poker platform had an agreement with the Chico software company; however, in 2016, this agreement was not renewed, and a new proprietary poker client was instead introduced. Because Connective Games created it, BetOnline's popularity increased even more, and it continues to be a favorite in the American market.
Join BetOnline and start playing to benefit from enormous bonuses, thrilling tournaments, freerolls for new players, and profitable challenges.
---🔥 Start playing on the softest tables in poker! This agent offers up to 55% Rakeback depending on your weekly rake. The team is available to you 24/7:
A
Telegram -
@FullHouseHelp
A
Whatsapp -
Get Started
As a player with this agency you get the best Rakeback,

guaranteed deposits and VIP service

for anything poker, catered to your needs. ---
BetOnline Poker: Is It Legal?
Since moving to Panama in 2004, BetOnline has held a gambling license from that nation, and it is this that guarantees all of your poker gameplay is done in a secure and honest setting.
With players having access to a sportsbook, casino, racebook, and more in addition to poker, the platform is fairly flexible in the forms of online gambling that it offers, and as a result, it regularly sees a stream of different players.
Furthermore, given that it has been around for such a long time and is currently among the top 3 US-friendly online poker rooms, BetOnline must be doing something right.
Can I play online casino games in the US?
Regulations are in place in some US states, including New Jersey, Pennsylvania, Delaware, Nevada, and Washington, to protect the interests of their citizens. In addition to these places, BetOnline welcomes American poker players.
In the past ten years, it has been pretty challenging to determine which online poker rooms are secure and legitimate for US players to register with and play at. When Black Friday swept the nation, things were a little disorganized.
Despite this, only a few of the top poker networks were ejected from the nation, which wasn't really enough to have a significant impact on online poker. US gamers can continue to engage in legal and permissible activities on BetOnline.
Join Fishy Tables on Exclusive Poker Clubs
The Department of Justice (DoJ) made it clear in 2013 that poker and casino games were exempt from the Wire Act's provisions. Legal state-based online poker was intended to become a reality with this campaign, and it actually happened. Since then, the Wire Act has been reinterpreted, albeit it is unclear how this may effect existing laws.

However, BetOnline continues to be a legitimate online poker site where US citizens can register and play.
Poker software and games at BetOnline
At BetOnline, using proprietary software has done wonders for the website. Even if the Chico network wasn't particularly high-quality, the poker room was able to succeed in this area after the 2016 revamp.
Some have referred to it as among the best on the US market, at least in terms of functionality. The fact that Connective Games created it has a lot to do with it, and while it took me a little while to appreciate the proprietary software, I've now arrived at a point where I enjoy everything that it has to offer.
When BetOnline used the Chico software, we can still remember how different it was from what it is today after switching to a proprietary platform. Naturally, as with any piece of software, you must consider your individual preferences as well as how well it serves poker players as a whole.
Personally, we approve of the current state of BetOnline's software. The fact that this software was created just for the poker room makes playing feel more unique than it did when we originally didn't at first.
You do have a number of customization choices available if you don't like what you see when you first open one of the tables. This includes the option of changing the carpet's and the table's actual felt's color.
We actually always find these customization possibilities to be appealing. Don't ask us why, but when playing poker, we always find it beneficial to look at visually appealing surroundings.
Along with that, there are other personalization choices available, such as the ability to choose the color of the playing card backs and the type of sounds you want to hear when playing.
While the lobby generally offers the same table information, pot sizes, and flop percentages as BetOnline previously provided, it has been greatly improved in many other ways.
You can always view the usernames and balances of everyone you're playing against at BetOnline, as the graphic above demonstrates.
For us, the first and possibly most significant of them is how quickly it operates, delivering 55–65 hands per hour for tables with 10 or more seats and up to about 75–80 hands per hour for those with only 6 seats.
Additionally, BetOnline has a Buddy List that you can use if you end up befriending other gamers there.
Whenever they are online, you can join them or invite them to play a game or two with you after adding certain players to this. This tool is quite helpful because you may simultaneously designate opponents that you don't want to play against again.
In general, there are one or two concerns that must be resolved. If a poker site's software is top-notch, that is a sign of a highly committed poker site, in our opinion. Although it would never be regarded as the best product available in the business, BetOnline's proprietary software is pretty beautiful indeed.
The program clearly maintains a high degree of speed when it comes to the games, and the graphics are also excellent. However, if you're seeking for something extremely top-notch, BetOnline might not be able to meet your requirements.
No Anonymous Gaming at BetOnline
BetOnline differs from several other poker rooms in that it does not offer anonymous gaming, thus it may be one of those things that depends on your own preferences as a player. Therefore, this is obviously not the platform for you if you're the kind of gamer that loves to play poker while remaining anonymous.
We never found it very bothersome that others could see our username, balance, and a few other details. It's not like they can see anything unique about us because we use a username.
Non-anonymous tables are still a big appeal for players who rely on their HUDs, and they might be useful if you like to keep track of your opponents and prior opponents. However, it might also be used against them, with certain players possibly being followed or taken advantage of.
Gameplay that isn't anonymous isn't a big deal.
When it comes to online poker, we always have a tendency to favor sites that allow for anonymous play, yet BetOnline still manages to keep us as a client. We have played there for years, and throughout that time, we have never experienced harassment from other players in any form.
This is not to imply that it hasn't happened to other players in the poker room, so if you're at all hesitant about playing this way, we always advise exercising general caution. It follows that those players who often play and have a tendency to profit from the inexperience of other players may potentially take advantage of that. Playing poker anonymously would stop that right away.
Once more, much of this boils down to personal preference. Even after launching its own software in 2016, BetOnline's position on this kind of arrangement hasn't changed since it initially started doing business. Since the website is unlikely to change the anonymity of poker play, your judgment is really the only factor here. The website will still provide you exhilarating gameplay.
It depends on whether you enjoy playing with pals or not because anonymous tables would also make a Buddy List very useless.
Downloads for MAC and Windows
It's true that you don't always have to play poker games using a web browser. If you'd like, you may just download the poker client to your desktop computer. This software may be downloaded for free and works with both Windows and Mac machines.
Our Windows laptop quickly downloaded the file, and it functions flawlessly there as well. If you decide to play this manner, it has the same setup as the web-based poker room, so nothing should stand out as unusual.
Freely Provided Play Instant Poker on BetOnline
With BetOnline, players are not required to download the essential poker software on their PCs, as is the case with several other online poker platforms.
Instead, the website freely provides the option to download the software or play games through your web browser. Since having software on our desktops isn't necessarily something we enjoy having, we find this aspect of the poker room to be quite alluring. I find it much easier to access the site using our web browser and navigate to the tables that way.
You won't be missing anything because the lobby's web browser and program download versions are identical to one another.
Bonuses at BetOnline Poker
With so many poker providers offering their services to customers, the online poker market has recently grown quite competitive. Due to the fact that there are two subpar poker rooms for every good and trustworthy one, many gamblers have chosen inferior online poker providers as a result.
The rise in offers and bonuses, which are a direct result of the increased competition, is the only thing that has come out of this positively. New player welcome bonuses are not an exception.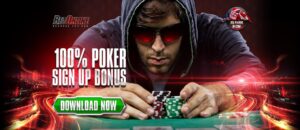 Although the BetOnline poker bonus has undergone a number of changes over the years it has been in operation, it now boasts one of the better deals to take advantage of. All you have to do to qualify for this poker bonus is sign up and make your initial deposit. That is not difficult at all.
Although the BetOnline poker bonus has undergone a number of changes over the years it has been in operation, it now boasts one of the better deals to take advantage of. All you have to do to qualify for this poker bonus is sign up and make your initial deposit. That is not difficult at all.
Bad Beat Jackpot
The Bad Beat Jackpot tables at BetOnline are among the game's most cutting-edge features. This is how the Jackpot functions.
Imagine you are using Quad Jacks or better at one of the approved BetOnline Bad Beat Jackpot tables when you suddenly lose. You will "leave home" empty-handed and dejected in any other typical poker room. But in the Bad Beat Jackpot room, everyone at your table wins, including you.
The exact amount that each person at the table will receive is as follows:
17.5% of the pot goes to the hand winner; 35% goes to the player who lost;
The sum was shared between the players at the table for a 17.5% share, and 30% was seeded into the following Bad Beat Jackpot.
Since this prize is progressive, it has the potential to reach absurdly high jackpot amounts. For instance, the inaugural Bad Beat Jackpot hit a staggering $322,000 in February.
$5,000 Freeroll for New Players.
The $5,000 New Player Freeroll is another alluring element of BetOnline's poker room. There is a slot allotted for each new BetOnline customer in the $5,000 New Player Freeroll event on Sunday.
It's really simple to get your ticket for the event on Sunday at 8 PM (Eastern time). Making your initial deposit at BetOnline is all you need to do in order to get a spot in the free roll event.
The BetOnline Poker Tiers
While it's true that many online poker rooms opt to let players unlock different sums as they play and advance through different stages, this isn't the case with BetOnline.
You simply play real money pot games or participate tournaments to gain Comp Points instead of using a tier system. As we already explained, all it takes to unlock the first $10 of the bonus is to earn 5,000 of these Comp Points. The more bonus money you play with, the more of it you can unlock and release.
This could be better or worse than having a tier system in place depending on the type of player you are. In general, it's really simple to issue a few $10 incentives during the first few of days of playing.
As previously indicated, players who play for greater stakes are likely to benefit more from this welcome bonus than those who play for lesser stakes.
The site's reward program may use some improvement. This is not to argue that anything is specifically awful; in fact, it is just the opposite. Other poker rooms, however, will likely satiate the more ardent players looking for a venue with excessive value. In this regard, BetOnline provides a nicely balanced – there's that word again – output.
Having said that, these problems are relatively small. Nothing will prevent you from enjoying yourself and all that BetOnline has to offer. In reality, BetOnline has a lot to be proud of because not many poker rooms can claim to provide a better time than this platform.
Poker tournaments at betonline.com
You may view all of what BetOnline has to offer in this category by selecting the "Tourneys" option in the lobby. What at first seemed like a minor extra benefit to the platform has developed into quite the draw for poker players.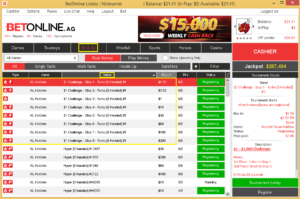 The graphic above demonstrates how easy it is to access tournaments at BetOnline and how you can immediately see all pertinent information in the lobby area.
The tournament section of BetOnline offers both normal and last-minute registration possibilities, so there is a little something for everyone. For each tournament, all pertinent details, including the number of participants per table, the existence of a guaranteed prize, rebuys, and more, are presented.
Although BetOnline undoubtedly caters to our preferences for online poker tournaments, there is truly something here for everyone. We prefer the following when we access tournaments:
Six-seat tables, guaranteed prize pools, satellite opportunities, a late registration option, and re-entry privileges.
For its tournaments, BetOnline does include several extra features. As we previously stated, this website pretty much offers something for everyone to do.
Additionally, prior to entering a competition, you can view additional crucial pieces of information. This provides details about players that have signed up for the tournament already, when registration closes, when the tournament begins, the required minimum number of players, and the current prize money.
Since we all love poker tournaments so much, I think BetOnline's tournament offerings will be a big pull for me when I visit the poker room.
Highlights of Our Daily BetOnline Tournaments
In fact, BetOnline has a wide variety of tournaments, making it challenging to pick highlights from them due to the volume of activity there. Every hour, five to six tournaments will be taking place, with a variety of buy-ins and prizes available for each.
According to the tournament schedule, some of our individual personal highlights are as follows:
• $1,200 guaranteed Hold'em with 10 minute blind levels and 5,000 beginning chips
• Daily Dozen $1,500 guaranteed with a maximum of three entries per player $1,000 guaranteed Turbo Hold'em with a $11 buy-in
On Sundays, BetOnline offers larger payouts.
Without its Sunday events, which often provide the highest payout guarantees for players to take advantage of, online poker wouldn't be the same. These are among those that BetOnline offers, with some of the highlights including:
• $20 for 20 seats in the $60,000 GTD Sunday Main Event.
• Sunday Second Chance: $40,000 GTD – $12 for 12 seats
• Sunday Main Event Mini: $22 for $12,500 GTD.
It is true that other online poker sites, like Bovada, typically provide higher guarantees than BetOnline, so you might want to seek elsewhere if you're looking for larger chances than $60,000.
However, there are benefits to the BetOnline tournament schedule, including unlimited re-buys, late registration up until the last minute, and other benefits. One of the biggest pulls for gamers on this site are undoubtedly the tournaments.
Winning Jackpot Competitions
When you've reached the pinnacle of happiness, BetOnline launches its Windfall Jackpot contests. These are essentially the website's take on Sit and Go jackpot choices, offering 3-player games with totally arbitrary prize pools.
Although there is a slim chance of winning up to 2,000 times your buy-in in some of these events, the average prize payout is 2 times your buy-in.
In Windfall Jackpot tournaments, extremely quick blinds are in play, and each player starts with 500 chips. This helps to guarantee that every Windfall game is finished in five minutes or fewer.
In an effort to give its players a little something more, BetOnline has implemented windfall jackpot alternatives. After all, having something new to access and enjoy is always a terrific idea.
Naturally, how are the prize pools chosen if they are random?
Well, the start of a tournament involves the use of a random system. This system has seven stages, and all buy-ins are subject to a 7% rake. But in essence, the kind of reward pool that will be offered is decided by a random number generator.
Despite the fact that some of these Windfall Jackpot tournaments might last up to 12 minutes, they are typically so intense that they end in less than five. The best kind of fast-paced, swift-action, though probably more suitable to casual gamers than to those with a lot of experience.
A Windfall option can be purchased for a fee ranging from $3 to $30.
Traffic For Poker Online
In the past, especially when it first began, BetOnline's traffic volume has been suspect. However, over time, interest in the poker room has significantly increased, and it is because of this that it fluctuates between second and third position in terms of US poker traffic. It engages in intense competition with Americas Cardroom and Bovada, frequently giving one or the other a run for their money.
Because it no longer has lower-quality visuals and now offers a greater variety of games, the revamp of its poker software undoubtedly did it some favors as well.
Don't forget that the site's assortment of tournaments has also significantly increased traffic by attracting more visitors who wish to participate in one or more of these.
Naturally, different hours of the day will draw different types of players, but BetOnline's game lobby makes the volume of activity obvious.
2,000 players are typically present when accessing the BetOnline site during peak hours, traversing its lobby, and participating in its tables and tournaments. It's better because most of these will also be used to fill the cash games on the website.
This is true for both the Hold'em and Omaha poker variations, with many tables being completely full. Every day, a sizable number of games are in play, drawing large crowds of gamers to participate. The majority of these are available as $0.50/$1 stake games.
However, nothing diminishes the appeal of larger stakes games, which frequently have a big number of players.
Although we tend to favor 6-Max tables, it's important to remember that BetOnline also offers a number of Full Ring cash table games, which are also in high demand. In fact, there have been a few occasions when I've observed such games having both full tables and a long line of players wanting to sit down.
Although it's possible for Bovada or Americas Cardroom to replace BetOnline frequently enough to affect visitor counts, this is typical in such a competitive market.
Mobile poker at BetOnline
Like many other poker clubs (Ignition Poker, PPPoker, Everygame Poker)You can also play mobile poker here. All you have to do is download the free software on your device. Users of Apple, Android, and Blackberry mobile devices can access the mobile version of the website using their device's web browser to scan a QR code or download the necessary file.
This is because a US poker room will never be accepted into the Google Play app store's selection. However, BetOnline continues to provide you the option of mobile gambling despite this.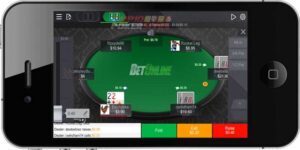 The screenshot above demonstrates how easy it is to use a mobile device to enter the BetOnline poker room.
The next step is to choose a table to join after looking over the various poker games that are offered.
When you download BetOnline's desktop software, you essentially receive the same layout that is on display. We believe that this greatly simplifies things.
We use a Samsung Android phone, and we have found the app to be quite helpful while we are away from home. It is incredibly responsive and compatible. We also like how the graphics and everything else stand out in the same way.
It is true that there are less customization choices available than with desktop applications, but this is not a major drawback. We usually consider it to be an extra benefit rather than a need for playing poker.
It was actually the second mobile poker alternative to become accessible in the US, and in my opinion, it stands out from the competition due to a few features that many of the others lack. For easier depositing and withdrawal, it provides features like multi-tabling, chat bubble functionality, and an integrated cashier.
However, the major exclusives that are related to this brand's mobile app are that it offers multi-table functionality for up to four tables as well as the ability to enter tournaments. It also has an advantage over some other apps in that you can take part in Sit & Go options, and for me, that is a big pull.
BetOnline is undoubtedly a terrific place for those who like to play mobile poker over other forms of the game.
BetOnline Mobile Poker Exclusives
BetOnline made the decision to include mobile poker in its selection of services in 2017, and it has turned out to be pretty appealing for many website visitors.
It was actually the second mobile poker alternative to become accessible in the US, and in my opinion, it stands out from the competition due to a few features that many of the others lack. For easier depositing and withdrawal, it provides features like multi-tabling, chat bubble functionality, and an integrated cashier.
However, the major exclusives that are related to this brand's mobile app are that it offers multi-table functionality for up to four tables as well as the ability to enter tournaments. It also has an advantage over some other apps in that you can take part in Sit & Go options, and for me, that is a big pull.
BetOnline is undoubtedly a terrific place for those who like to play mobile poker over other forms of the game.
Withdrawals & Deposits for BetOnlinePoker
BetOnline has never shied away from being able to provide its users a variety of depositing options. However, the choices available to you will vary depending on which nation you are in.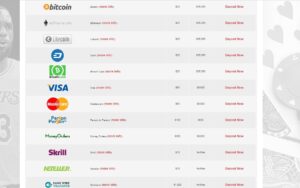 As seen in the graphic above, BetOnline doesn't offer many payment options to US players, although a few cryptocurrencies can be utilized to make deposits.
You'll discover that your options are much more constrained as a US gamer than they are in many other countries. You may access your depositing choices, which mostly consist of credit cards and cryptocurrencies, by navigating to the site's cashier page. E-wallets, bank transfers, and other similar methods will be available for use in other nations.
As for us, we happen to be great supporters of utilizing Bitcoin for online gaming. Although not everyone agrees with our assessment of the advantages of cryptocurrencies, as Bitcoin users, we can heartily endorse it.
Bitcoin typically allows you to transmit more sums than you can with other payment options because it is quick, anonymous, and cost-effective.
The use of credit cards or substitutes instead
Not everyone has cryptocurrencies and may not want to utilize it to fund an online poker account. Fortunately, using a credit or debit card as an alternative is an option. Banks sometimes refusing to process deposits at online gambling sites, but BetOnline doesn't seem to have as many problems with this as US customers have.
Online gambling sites will often always accept card payments, and many players still prefer doing so. The common problem with using cards to deposit money is that the platform will almost always charge you more. This cost at BetOnline is 7.5% of the amount you deposit. Utilizing the cryptocurrency technique is the only genuine workaround for this.
Because you can only deposit up to $500 with a credit card, Bitcoin also sticks out to me as being a superior alternative because it allows for deposits up to £50,000.
Cashier's checks, person-to-person transfers, and bank wire transfers are further options you have.
Payouts for BetOnline Poker
Although BetOnline has had problems with payouts in the past, it is now on par with many of the best sites in this regard.
You will be able to withdraw in any of the available cryptocurrencies, and typically you will be able to withdraw using the same method that you deposited with.
The benefit of withdrawing money from BetOnline is that if you use a cryptocurrency, you may expect to get your money as soon as the website approves your request. Before using Bitcoin for it, our withdrawals through bank wire transfer were always handled in a totally professional manner, therefore I've never had any problems using this technique.
Is BetOnline a secure site for Bitcoin payouts?
There really is just one viable response to this query: "Yes!". Although it may appear that we have a strong prejudice in favor of adopting this payment method, can you really blame me when you consider all of Bitcoin's advantages?
There are no fees associated with depositing or withdrawing money using Bitcoin;
You can deposit and withdraw more money than you can with most other payment methods; • All Bitcoin transactions are anonymous;
It offers the quickest method of both depositing and withdrawing money, with payouts occurring within 24 hours.
These are just a few of the primary benefits of using Bitcoin, there are many more. Why wait up to 15 days for a bank wire transfer when we can just as easily utilize a Bitcoin transaction that is completed in less than 24 hours? (and usually within 15 minutes).
If BetOnline didn't also support cryptocurrencies, it wouldn't provide as many possibilities. In fact, the platform advertises them as a way to avoid having to pay card fees on its deposit page.
A player will always be satisfied and more inclined to play at BetOnline again if their withdrawal is processed quickly. Therefore, it makes sense that the website would gain from providing such a payment option, especially given that US players have historically had trouble making deposits.
As a Last Option, Wire Transfer
Even if a player made a deposit using a credit or debit card, BetOnline won't let them withdraw using one. So you must use the wire transfer option if you don't utilize cryptocurrencies. Even though this option takes the longest to process—up to 15 business days—you can still withdraw up to $24,900 each transaction. Fees will be assessed once more in accordance with the amount you are attempting to withdraw, which must be at least $500.
Support for BetOnline Poker players
The BetOnline poker room consistently has one of the best customer service systems. While it's rather usual to find platforms that offer player support, it's relatively uncommon to find one that does it as well as BetOnline.
Being able to use the live chat feature is something we pretty much demand from every gambling website, and fortunately, BetOnline gives you access to it from any window, whether using the downloading software or the web browser version. If you click on it in the downloaded version, you will just be redirected to the website.
Actually, the customer service staff is available around-the-clock. Although it's always hoped that you won't need it, for me, it's comforting to know that it's available—just in case.
BetOnline Score
One of the bigger and more established poker rooms still open to US players is the BetOnline website. I've been playing poker there for a while, witnessing the demise of the Chico network before the proprietary software launched.
It goes without saying that I have also witnessed its significant growth over the years, with the traffic for cash games having recently become more congested. BetOnline had a flurry of activity when it first opened, and its games are still rather loose by comparison.
It's sorry to say, but during the past two or three years, there has been a noticeable decline in the number of players with US bases. The fact that BetOnline's poker tables have been seeing single-digit flop percentages is also a result of depositing issues.
Only since BetOnline also offers casino games and sports betting in addition to poker, does the poker room's clientele continue to grow. They tend not to be as experienced with gameplay because the majority of its players today transition over to the poker side of things from the casino or sportsbook.
As things stand, these players are undoubtedly searching for a different kind of thrill to spend their money on.
The benefit of BetOnline is that you can still view a lot of data about the various games, tables, average pots, and other things.
No matter the poker game or tournament you're playing in, BetOnline will always show you the pertinent game stats.
Understanding why the statistics have changed in this manner is not difficult. Poker players from all over the world flocked to BetOnline when it first started to offer the game online. But it appears that the platform is now mostly used by players who prefer switching between casino, sportsbook, poker, and other alternatives. Since these players, on average, have less poker experience than other players, this obviously affects the average pot, flop, and other factors.
Review of BetOnlinePoker in summary
It's realistic to claim that there isn't likely a single online gaming platform out there that will give users an entirely satisfactory experience. One or two of such components might not function well enough for you.
It's the same as BetOnline. Currently, in our humble opinion, BetOnline runs as one of the top online poker sites. Yes, it faces fierce competition from other websites, like Bovada, particularly when it comes to the US. However, you can think of BetOnline as providing some features that Bovada doesn't, such as a lot more complete mobile poker experience.
Yes, it won't appeal to everyone in the same way, but the website has discovered a wonderful balance that many other poker sites are unable to.
Everyone's interest is piqued by BetOnline's special deals, welcome bonuses, freeroll promotions, and demanding and lucrative tournaments. Players may still have fun even when they lose thanks to features like the Bad Beat Jackpot, which can reach incredible amounts.
One of the most dependable and secure pieces of software is used to run the game. It ensures that each player will be treated fairly and that they will all have an equal chance of winning the pot.
Overall, BetOnline does a great job of serving the US market, offering a tempting welcome bonus of up to $1,000 and allowing seamless poker play through a web browser.
BetOnline Poker FAQ