It's just the nature of things to leave traces of your triumphs, whether in poker or in life. There are many individuals that have gone before you to accomplish something. Why not take advantage of their experience rather than having to reinvent the wheel? Do you like what you hear? Let's take a look inside our Upswing Poker Lab review, what its features are and how they can help you win more often.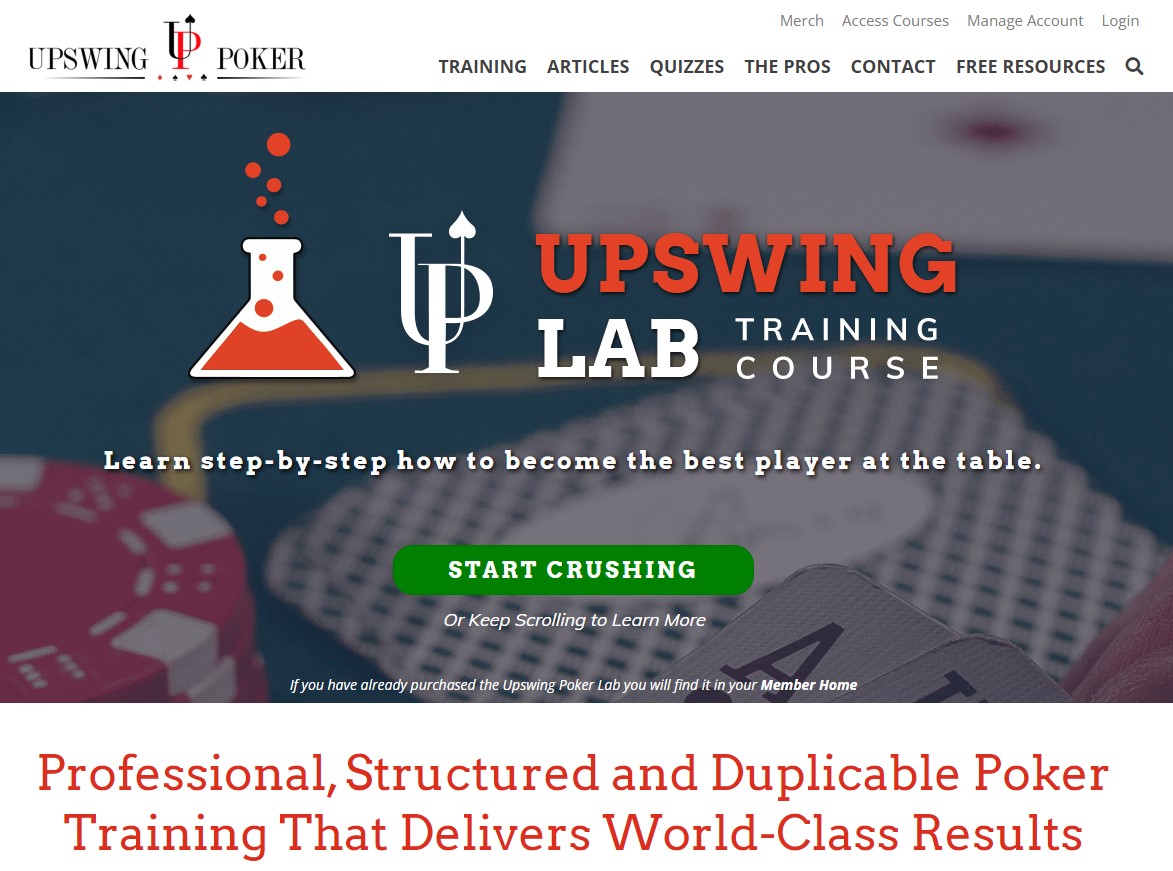 Suppose you set your sights on becoming a world-class tennis player. Having Roger Federer as your mentor is a huge boon. However, it is common knowledge that Roger is not easily accessible to the general public. The same holds true for excelling as an investor. He would probably say no if you asked Warren Buffett to be your mentor.
But in poker, all bets are off.
---🔥 Start playing on the softest tables in poker! This agent offers up to 55% Rakeback depending on your weekly rake. The team is available to you 24/7:
A
Telegram -
@FullHouseHelp
A
Whatsapp -
Get Started
As a player with this agency you get the best Rakeback,

guaranteed deposits and VIP service

for anything poker, catered to your needs. ---
Aspiring poker players can learn from the best of the best worldwide, including those who have consistently been winning at the highest stakes for over a decade. That service is provided without the usual exorbitant fees. Doug Polk is a leading victor in No-Limit Texas Hold 'em games and is among these elite poker players. The poker training site owned by Doug Polk, called the Upswing Poker, has a Poker Lab where you can learn all the fundamentals to become a poker monster.
With this Upswing Poker review, we hope to assist you in determining whether or not it is worth your money and time to invest in them.
In just a few short months, newcomers can learn to consistently win at micro and low-stakes online poker tables with the help of Upswing Poker Lab. You can use this information to win at higher stakes poker games like $1/$2 No-Limit Hold 'em at your local casino. The point is that the knowledge you gain from studying the Upswing Poker Lab materials will be sufficient to win +80% of the poker games you encounter, both online and off.
It's true that thousands of users have used the site's poker education resources to become crushing pros.
Tutorials made by professionals
Upswing Poker Lab Modules have all been written by seasoned pros in the game. These elited and respected poker players such as DANMERR, Fried Meuldersm, tonkaaaap, Ryan Fee, and Dan Ott, have contributed instructional videos that cover both theory and play.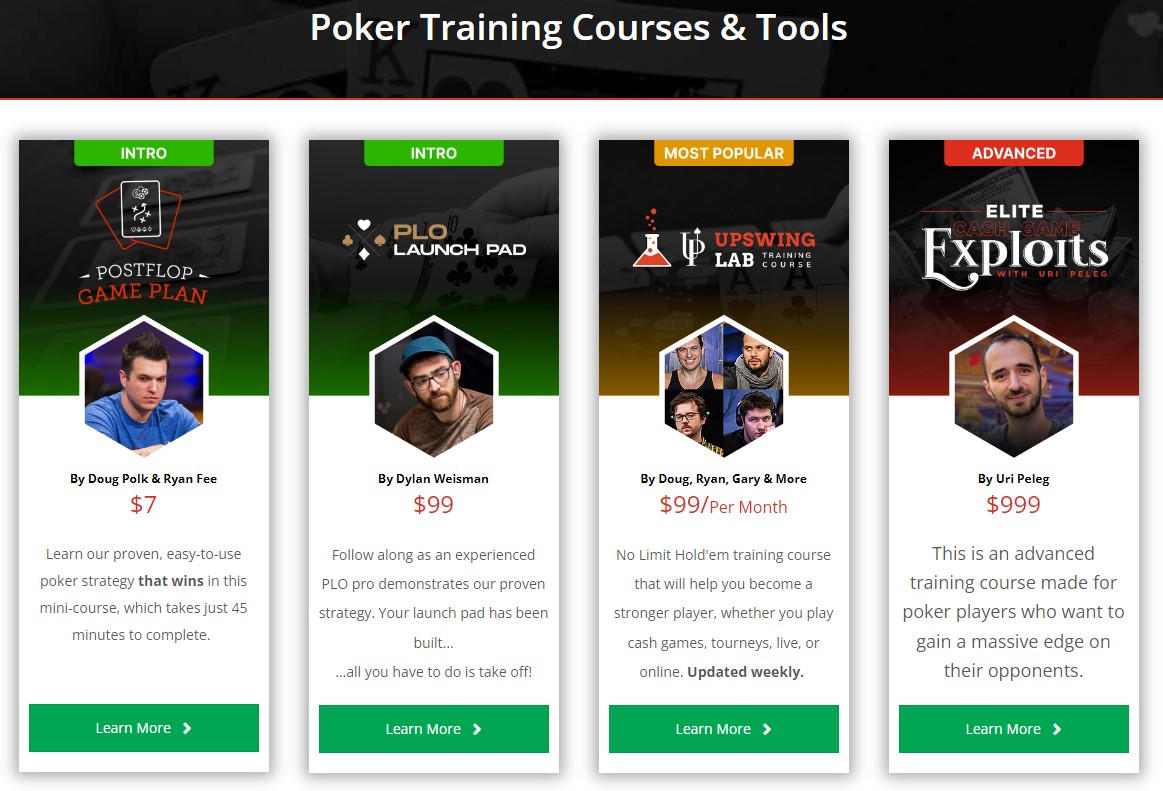 Join Fishy Tables on Exclusive Poker Clubs
The poker educational program is continually refreshed with constantly engaged instructors with brand-new streaming content and recommended things to do. This will ensure that you are well-versed in the most cutting-edge techniques for winning at the tables at all times.

Upswing Poker Lab caters to both cash game and tournament players. The Poker Lab features cash and tournament play strategies in Texas Hold'em and Omaha. The experts at Upswing Poker explain their smart plays in a way that even the Average Joe can understand. It turns out that poker strategy isn't so difficult to master. You need the proper information and lots of practice away from the poker arena.
Learn the ins and outs of No-Limit Hold'em poker and increase your chances of winning cash prizes at online gambling rooms with this comprehensive training program. Let's go over the Poker Lab's contents more in-depth so you know and understand what you are looking for and studying by enrolling here.
Lab Core Strategic Methods
Like any good school, the lab teaches poker fundamentals from the ground up. Later on, more complex ideas are introduced. It is possible to rewind a video in the Upswing Lab to review a particular section or skip straight as an experienced poker player.
Some sample chapters from the Lab Core Strategy are as follows:
Poker Hands, Divided into Four Groups
Variations in Poker Jargon
Choosing the Right Games for Your Bankroll
The Stakes
Introduction After the Flop
Tips for River Play
There are tutorials and videos covering a total of 30 varying poker-related topics. If you want to become a better poker player and win your opponents, then you need to take these lessons seriously.
Advanced Strategies of Lab Core
In-Depth Analysis of No-Limit Hold'em's Finest Details for Advanced Lab Players. Learn more about deep stack poker strategy, playing flush draws, and being the aggressor in multiway pots. We also go into extensive detail explaining ideas like overbets and blockers.
Among the spotlighted Upswing Poker instructors is Fried Meulders. Meulders, who goes by the handle "mynameiskarl" on the virtual felts, is a frequent money winner at the $1/2 and $2.5/5 Zoom stakes on PokerStars. Here we also introduce you to Jason McConnon, a coach who has written some excellent material on the topic Big Blinds.
All these hand case studies and poker solver evaluations of various board types are found throughout the Advanced Laboratory Procedures. Among the 12 videos included, "Deep Stack Play" is arguably the most helpful to poker players of all skill levels. After watching these videos, you won't be as flummoxed when the appropriate stack size is +200 Big Blinds.
Play on Reliable Poker Platforms:
Play and Explains
Through this portal, you can immediately enter the consciousness of the top Upswing Poker instructors. You get a behind-the-scenes look at the likes of Ryan Fee, Doug Polk, Fried Meulders, 'Danmerrrr,' and Parker Talbot doing what they do best. These instructional videos are invaluable: The coaches provide invaluable advice by walking you through every move they make during a hand.
Online poker tournaments and cash games are covered in this article. The videos feature games played for a wide variety of stakes, from micro to high. That way, you can get accurate data for the stakes you prefer. Play and Explains regularly receives updated video content as with the rest of the site. Hearing high-level poker players explain their thought processes aloud is always something to take away.
Multi-table tournaments (MTTs)
It's no secret that MTTs (multi-table tournaments) are the most well-liked way to play poker online. Both casual players and seasoned tournament veterans adore the prospect of winning a life-changing sum of money for a relatively small investment. Weekends spent lounging on the couch in front of a computer can be spent participating in poker tournaments at stakes that suit your tastes. There aren't many things in life that can boast such ease and convenience.
For multi-table tournaments, Upswing Lab recommends starting hand ranges before the flop. Poker tournament ranges are described in detail, along with their differences from cash game ranges. In this section, we'll take a look at some excellent illustrations:
Tournaments Using a Chip Model That Doesn't Rely on Luck
Theories of the Big Blind
Final Table play with 10-25 BB
Upswing's coach and tournament grinder Moritz Dietrich discuss the post-flop play. Over 5 hours of Upswing Lab Member Tournament Reviews are also available and can be used to find the most common leaks in a player's game. Your preflop play can be refined, and your error rate reduced with the help of this training material. Doug Polk and Ryan Fee produced this series of videos.
Mini-courses
Mini-courses, as the name implies, are brief poker tutorials. The GTO guru and poker author Matthew Janda will be on hand to help you analyze hands and up your red-line game.
In this section, we'll look at some common types of short courses:
How to Start Being a Gangster Do the opposite of what the red line says!
Comprehending Database Management Systems
Exposing the Myth of High-Stakes Poker
Betting skills such as winning pots without witnessing the tussle are among those you'll pick up. Selective aggression is the key to increasing your winnings outside of a showdown. This article will dissect the differences between GTO and other poker schemes that are exploitative. Maintaining a high win rate in poker requires proficiency in both as you move up in stakes.
Playing Poker in Real Time
It's hard to beat the excitement, challenge, and camaraderie of playing poker in a live setting with other poker fans. While the Lab's main focus is on improving your online poker experience, we're glad to see that you guys made a whole section just for those of us who prefer to hit the tables in a real casino!
There are a total of 20 videos spread across 3 sections in the live poker section. Included in these video lessons is instruction on the following topics:
Adapting your performance to a real-world setting
Choosing the Best Gambling Establishment
Poker Strategy for an Upswing:
Playing poker by reading tells
An actual game of poker, with an explanation
Doug Polk, Ryan Fee, and Mike Finstein crafted the following analysis. If you want to start winning at the low-stakes poker game in your local casino, use the advice in this section to get you started.
Rates for the Upswing Poker Lab
There is a price to pay if you want to improve your poker skills to the professional level. This poker training course requires a monthly membership fee in furthermore to your time and effort spent learning the game. The Upswing Poker coursework is available for purchase on three distinct payments: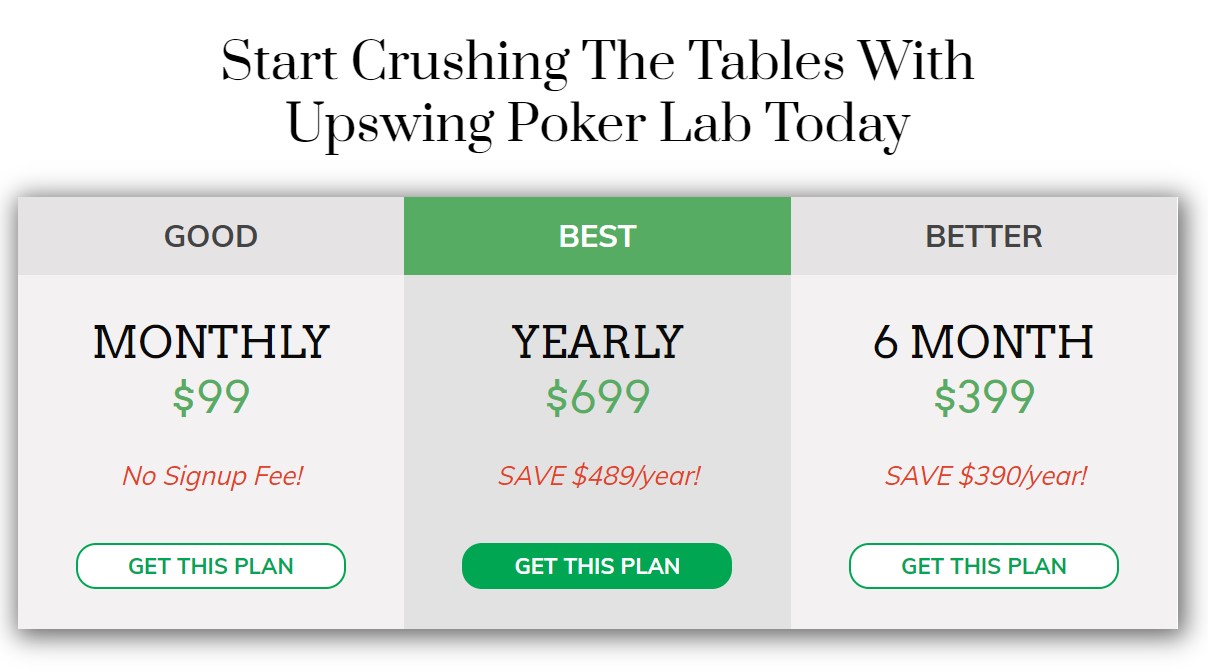 The Good and Bad of Upswing Poker Lab
Like everything else in life, the Poker Lab has its advantages and disadvantages. Our verdict on the good and bad is as follows.
Advantages
Consistent and straightforward instructional materials
Your membership grants you access to a closed Facebook group where you can share your hands and get answers to any questions you may have.
Top-tier, expert mentors for cash games and tournaments alike
An extensive set of starting hand charts for new and experienced players alike
Cons
No risk-free demo version is offered
Some of the higher-stakes players may find the material lacking.
There are a few minor video quality issues
The Upswing Lab can be a great asset wherever you are in your poker career. There's not much of a risk in taking advantage of the offer because you can get your money back within 30 days, and the alternative could end up costing you more in the end. If you're interested in giving it a shot, you can quickly get started with your training by signing up through the button below.
Frequently Ask Questions
Just what is the point of Upswing Poker?
Upswing Poker is a highly regarded poker training website that makes the strategies and techniques used by the best players in the world accessible to amateurs and pros alike. The Poker Hand Rankings guide is just one of many free resources offered as part of their extensive training program. Upswing Poker has also developed premium poker content like the Upswing Poker Lab with the heavy investment crusher Nick Petrangelo to help you increase your win rate.
Which Upswing Poker training course should I pick if I want to dominate Pot-Limit Omaha?
The Advanced PLO Mastery is the best option if you don't want to spend dozens of hours investigating PLO with poker solvers.
What types of poker are included in the Upswing covers?
The Upswing Poker Lab is dedicated to helping players of all skill levels improve their game in full-ring cash games, Fast Forward poker, No-Limit Hold'em games, 6-max cash games, and live games.
Is there advanced poker training material available in the Upswing Poker Lab?
Matthew Janda's materials cover GTO strategies, while the Upswing Lab is geared more toward low and medium-stakes players. Value can also be found in this context for a high-stakes player. Upswing Poker's Advanced Cash Game Strategy Course with Kanu7 is a better option if you're already familiar with GTO poker solvers.
When you sign up, do you get anything extra?
Yes, the high-end solver ranges provide advice on what hands to play in what situations and are available for cash games. Opening ranges, ranges for playing against an opener in position, ranges for 4-bet pots, advanced tournaments, and 3bets ranges are all included. Using these previously calculated solutions can save you hours of combinatorial optimization analysis time.
When you sign up for Upswing Poker, you'll also gain access to their chart viewer app, which includes more than 240 premade hand charts. When you join the Upswing Lab, you immediately gain access to these extras.
How about a free demo of Upswing Poker Lab?
Although there isn't a free trial available, you can give Upswing Lab a shot with no risk, thanks to the company's 30-day money-back guarantee. In the event that you are dissatisfied with the material, you may request a refund from Upswing Poker's customer service by getting in touch with them directly.
Who exactly are the mentors at Upswing Poker Lab?
Doug Polk, Ryan Fee, Fried Meulders, Mo Dietrich, Daniel Merrilees, and Jason McConnon are the Lab's mentors. You can trust these trainers because they have collectively won billions of dollars in cash games and tournaments.
Just how frequently does Upswing Poker Lab update its members with new materials?
Each month, a new learning module or set of lessons is introduced, and every week, update like Play & Explain videos is made available. If you join the Lab, you'll have access to the most cutting-edge methods for winning.
Can I get out of my membership, or do I have to stick with it for a certain period of time?
You are free to end your membership to the Upswing Poker Lab at any time.
Is there a way to tell if Doug or other instructors are a good fit for me?
The Poker Lab developed by Upswing Poker counselors is an excellent option if you want to improve to the point where you can win money in online cash games and tournaments. First, they update and add new content weekly that expands on the original strategy. The Poker Lab is an example of an up-to-date poker course that provides useful information such as preflop charts, 3-bet pot advice, bluffing and reading the table dynamics, and optimal play as a preflop raiser, caller, and other positions.
For another, poker coaching isn't specific to any one variant of the game. Strategies for different types of poker tournaments are discussed, including ICM dissection, 6-max, full-ring cash games, Zoom tournaments, and tweaks for live play. And third, each video is created by a professional poker instructor who has played hands a million times. With this form of affiliation training program, you can improve your poker skills and decisions much more quickly than you could on your own.
The risk of trying Upswing Lab is greatly reduced by the satisfaction guarantee for 30 days.