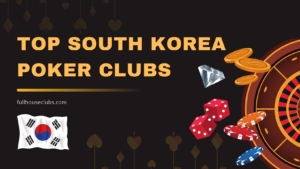 The popularity of poker has just recently emerged in Korea. However, games like Badugi can be credited with giving gambling its start in this nation. Making the lowest hand possible while using cards from each distinct suit is the objective of this game. Since the 1970s, badugi has gained popularity in Korea.
The legality of gambling is one of the few things in the globe where Korean nationals and foreigners are treated differently. Koreans can bet using lotteries, ToTo, horse racing, powerboat racing, and cycle racing only in Seoul and many other big cities. Casino gaming is, however, illegal for them at all but one location, the 2000-opened Kangwon Land Casino. Both foreigners and Korean citizens are welcome to bet here. It is not unexpected that Kangwon Land Casino generates the highest revenue of any casino in Korea given that it welcomes both locals and visitors. Kangwon Land joined the Forbes 2000 list of the largest public corporations in the world in 2016.
Korea has a very modest number of casinos (around 20). Since only foreigners are permitted to gamble, the majority of them are located in hotel complexes that cater to tourists. The first licensed casino to open was Incheon Olympus Hotel Casino. The island of Jeju is home to about half of Korea's casinos, which has the benefit of stunning scenery. Here, you may find waterfalls, volcanoes, and flawless beaches. The main locations for gaming are two major cities. At either end of the island, in the cities of Jeju and Seogwipo, are numerous casinos.
---🔥 Start playing on the softest tables in poker! This agent offers up to 55% Rakeback depending on your weekly rake. The team is available to you 24/7:
A
Telegram -
@FullHouseHelp
A
Whatsapp -
Get Started
As a player with this agency you get the best Rakeback,

guaranteed deposits and VIP service

for anything poker, catered to your needs. ---
However, huge super-casinos are scheduled to start operating in the upcoming years.
Live Poker in South Korea
South Korean laws governing live poker
Gambling is illegal in South Korea according to Chapter 23 of the Criminal Act. According to Article 246, anyone caught gambling with the intent to gain property faces a fine of no more than 5,000,000 Won. The same provision also states that chronic gamblers may be subject to a fine of up to 20 million Won or a prison term of up to 3 years.
Outside of the few possibilities that are permissible for them, South Koreans are not allowed to bet. Because of this, the majority of South Koreans who travel abroad to gamble do so in Macau and Singapore, two nearby destinations. Even when it occurs in a foreign nation, this is still seen as a crime. Sometimes Koreans are prosecuted for gambling abroad, however these cases almost always involve more serious accusations against the defendant.
South Korean Live Poker Venues
Locals in Korea might now participate in live poker tournaments that were organized in recent years by poker tours. The most well-known of these were PokerStars Festival Korea, APPT Korea, all of which were held at Incheon Paradise City, and APT Korea Seoul, which was held at Grand Walkerhill Seoul.
Both the renowned Triton Super High Rollers organization, which made a stop on Jeju Island, and the World Poker Tour, who held their inaugural event in Korea at the Incheon Paradise City in 2018, helped put South Korea on the map.
Online Poker in South Korea
Although it is prohibited for South Korean firms to run online poker sites, there are no explicit regulations that prohibit playing poker online. Nevertheless, despite the government's numerous efforts to crack down, unlawful South Korean websites continue to operate. To stop people from playing poker online, the South Korean government even went so far as to shut down Facebook social games. It made no difference that these games used play money; even classic games like Farmville were eventually blocked.
Join Fishy Tables on Exclusive Poker Clubs
Thus, the Korean government tried to technically restrict foreign poker sites, but the tech-savvy locals still manage to access them. In order to circumvent regulations, many Korean poker players use virtual private networks and online wallets. Many popular websites, like PokerBros or PPPoker, do not handle Korean Won currency and does not enable local bank transfers. Dafa is one of the few websites that accepts Korean Won (www.dafapoker.com). It is one of the most popular options for Korean online poker players and has full licensing in the Philippines.