Pros
The world's top poker site has been operating online since 2001.
Downloadable and mobile versions of the game
Huge selection of games at different stake levels
Incredibly busy ring games and competitions 24/7
Numerous sophisticated features, including several tables, hand histories, player search, tracking, and chat
Web cashier functionality and quick, secure banking
Cons
Numerous competitors cause tournaments to quickly fill up.
No instant play option
Nothing in the world of gaming compares to poker in terms of pure attraction. People are drawn to gambling not only because of the potential to earn large sums of money but also because it allows them to use their own talent to outwit other players. Because PokerStars puts talent first and foremost, playing poker can be incredibly lucrative.
Our in-depth evaluation of PokerStars will convince you that this is a website you can trust, earning its position as the top online poker site in the world.
The software and user interface for PokerStars is incredibly simple to use.
---🔥 Start playing on the softest tables in poker! This agent offers up to 55% Rakeback depending on your weekly rake. The team is available to you 24/7:
A
Telegram -
@FullHouseHelp
A
Whatsapp -
Get Started
As a player with this agency you get the best Rakeback,

guaranteed deposits and VIP service

for anything poker, catered to your needs. ---
Not only does PokerStars.eu have a history on their side, but reputable, well-known poker professionals around the world also enthusiastically support it. These professionals rank this site as the best in the industry for the quality of the software and selection of games offered, and they should know what makes for a top-tier poker brand.
With more than 50 million players that have joined, PokerStars is the site with the most player traffic. Numbers speak for themselves. The site draws a lot of gamers that enjoy the game and are looking to advance their skills, even if many of them are professionals or wannabe professionals.
You receive a PokerStars welcome bonus as soon as you join up. Around-the-clock ring games and tournaments will keep the competition humming, while a robust loyalty rewards program and several promotions keep the playing incentives high. Simply put, by participating in PokerStars games, anyone may learn how to control the power of the deck!
Security and Integrity
PokerStars.com has a license from the Isle of Man, which has a reputation for having high standards. Additionally, the site's overall security, general fairness, and game randomization continue to be regularly examined by independent auditors.
All real money players at PokerStars, even high rollers, have no problems funding or withdrawing money from their accounts. The money that players deposit is maintained in a different account from the one that is used to cover the costs of running the website. Additionally, the use of cutting-edge encryption techniques ensures that every account is completely protected and private, both for online and mobile play. On the other hand, you are allowed to play for free until you feel comfortable playing for real money if you are new to the game or haven't played in a while.
Join Fishy Tables on Exclusive Poker Clubs
Last but not least, the support of well-known poker figures from around the world like Barry Greenstein and Daniel Negreanu adds to the legitimacy of the website.

PokerStars has undoubtedly increased the stakes by bringing lots of action to the tables!
Mobile Poker
Sorry, Windows phone customers, but the PokerStars mobile apps are only compatible with Apple iOS and Android smartphones and have not been optimized for other platforms. But if you have a compatible gadget, you should be really happy. The PokerStars apps are significantly more sophisticated than those provided by many other top websites (check the list of other poker rooms here) since they have been able to outpace the competition in this area.
You must register and create an account before using your smartphone or tablet to play at PokerStars. You can carry out this action on your computer or using the web checkout feature of the downloaded mobile app. In fact, if you choose, you can use your mobile device to make all of your deposits and withdrawals, including any poker jackpots.
Compatibility of hardware and software
You must select the proper app to download based on the type of device you own. The PokerStars app may be used on the following platforms:
Apple devices running iOS 7 or higher (iPhone 4 and above, iPad 2 and above, iPad Mini models, iPad Air models, iPod touch 4th Generation and above)
Machines running Android 4.1 or later (minimum screen resolution of 800×480 required)
The iOS App is available for download from the App Store to users of Apple iOS devices. Owners of Android devices can directly download the app from the PokerStars website. Except for the PokerStars Clock (see below), downloading and using the PokerStars mobile applications are both free, although you do need an active Internet connection to use them.
We advise looking at the online lessons created exclusively for users of mobile devices like smartphones and tablets if you are new to playing mobile poker. As previously stated, the variety of choices available to you as a mobile player will pleasantly surprise you. You may access all of the same bonuses and promotions as computer players, participate in the same games and tournaments, follow and talk with other players, examine your hand history, and withdraw your poker jackpot using your mobile device in addition to using it for all of your banking needs.
Software For its software requirements, many online poker rooms and casinos rely on third parties, occasionally a combination of vendors. However, PokerStars makes use of cutting-edge software that was created internally by its own experts. Utilizing the most recent advancements in online and mobile gambling technology, PokerStars software is always being updated and improved to bring you new games and cutting-edge features that keep our site ahead of the competition.
You have two easy options for playing PokerStars games: installing the software to your computer or using an iOS or Android mobile device.
Unexpectedly, this website doesn't have a Flash version that can be played instantly online without having to download anything. Mobile play is your only choice if you don't have this option and aren't at home or another location where you can use a laptop. A fairly small variety of games is typically the price you pay for the convenience of playing on your mobile device whenever and wherever you choose. You don't have that issue at PokerStars.com and PokerStars.eu, therefore the scenario is different there. On your smartphone or tablet, you may access almost all of the games and cutting-edge features that make using a computer entertaining and thrilling.
Regarding your playing options, it makes no difference whether you decide to download the PokerStars program onto your computer or the relevant app for your iPhone, iPad, iPod Touch, or Android smartphone or tablet. In either case, downloading is quick and simple, and the instructions are simple enough that even if you've never played a game like this before, you shouldn't have any trouble understanding them. You can alternate between utilizing your mobile device and playing online. You may essentially continue where you left off on your smartphone or tablet even if you are in the middle of a match on your PC and have to take a break.
Pokerstars apps offer many advanced customizable options
The above-mentioned area, where PokerStars does fall short, is made up for by the fact that this site is not only constantly active but also jam-packed with cutting-edge features that can significantly improve play for regular poker players. The fact that both online and mobile players can use these extra choices makes them even better. Some of them are listed below.
Quick seating
Individual avatars and a customisable table layout
Option to play for free
A large poker jackpot is available.
Multi-tabling
Replay last hand and compare hand histories
Player tracking and search capabilities
Chats with other players
Option to improve your game by attending an online poker school. Test your abilities, get advice on tactics from professionals, converse with other players in the PSO forum, and participate in the PSO Skill League to win rewards.
Money Games
You can choose your stakes from micro stakes to high limit and get seated right away at any time of day or night if the limit or no limit hold'em is the only game you are interested in. But it's also fine if you'd want to play anything else. You have a huge number of games to pick from at PokerStars.eu, arguably more so than at any other online poker club.
You must first choose whether you want to play for real money or for fictitious money. After that, you will be prompted to refine your search. For instance, if you want to participate in a real money cash game, you must choose the game's kind, any applicable fixed limits or no limits, and the stakes you want to use (Micro, Low, Medium, or High). You can also choose to be seated right away at the game of your choosing by selecting the Quick Seat button.
ZOOM Poker
You may already be aware of all the obvious games, but fast-fold poker also seems to be very popular right now. Zoom Poker is the name of the fast-fold game at PokerStars.com, although the rules are identical. You can fold your hand before it's your turn to act, and as soon as you do, you're sent to a new table with an entirely new group of players. Zoom Poker is a game that can be played in cash games, tournaments, and even heads-up. However, before you start playing, keep in mind that it is just for low stakes.
Tournaments
The seemingly unlimited variety of choices that PokerStars has to offer will appeal to any player who enjoys the thrill of tournament play. You'll discover that there are tournaments running at all hours of the day and night, with buy-ins ranging from micro-stakes to hundreds of dollars. You can also play risk-free in a freeroll or with fake money if you'd choose.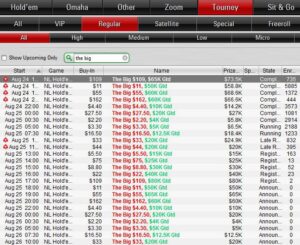 In fact, one website even provides tournaments it refers to as "super-size stacks," which create the impression of being played for a large sum of money but actually employ virtual money. Even though there are so many tournaments that new players could find it intimidating, regardless of your skill level, preferred format, or bankroll, you should have no trouble finding a tournament that is ideal for you. The only thing left to do is try to hit the massive poker jackpot!
Simply click the Tournament tab in the lobby or enter "Weekly" in the tournament filter to see the full list of tournaments that are currently scheduled. No Limit Hold 'Em is the predominant format, as you might assume, but if you'd like to try something other, like Omaha or Stud, those games also have tournaments available. Additionally, you are not required to be a high roller in order to participate in a more expensive event; the majority of them allow you to try and get entry through a freeroll or inexpensive satellite. In these tournaments, keep an eye out for potentially enormous poker payouts.
Spin and go
Finally, PokerStars offers a particular tournament variation that is likely to attract your attention. The new Spin & Go edition is one of the most well-liked tournament formats on the market. A Hyper-Turbo Sit & Go competition called Spin & Go is only open to three players.
The prize pool can be up to 10,000 times the buy-in and the buy-ins range from $1 to $100. An apparatus in the middle of the table spins at random to determine payouts.
Background and Prior Events
PokerStars has a lengthy and interesting past. Poker wasn't nearly as well-known back in 2001 when the website was first launched. However, the game began to draw popularity like never before two years later when amateur poker player Chris Moneymaker stunned the poker world by winning the WSOP Main Event. Everyone dreamed of becoming the next poker multimillionaire, including professionals, corporate leaders, blue-collar laborers, and housewives who had never played the game before.
With many of its players from the United States, PokerStars quickly rose to the top of the poker world rankings. However, on April 15, 2011, a day that will always be remembered in the poker community as "Black Friday," American players were no longer able to access the website. The American government blocked all American players from accessing PokerStars.com on that terrible day. Despite a 2012 settlement between the US Department of Justice and PokerStars, US citizens were still unable to use the website.
Through its erstwhile parent firm, The Rational Group, PokerStars was given the authorization to buy the assets of Full Tilt, another website that was similarly impacted, and to give refunds to American users of both sites. Despite the settlement, PokerStars and Full Tilt Poker continued to be unavailable to American players, and as of the time of this writing, nothing has changed.
In the meantime, New Jersey allowed state-run online gambling, including poker. On November 26, 2013, New Jersey legalized online gambling, and Resorts Casino, which had selected PokerStars as its online partner, wanted to take part. PokerStars' license application was rejected because the New Jersey Division of Gambling Enforcement raised concerns. After that, Amaya Gaming acquired both PokerStars and Full Tilt Poker, and PokerStars was eventually given the go-ahead to conduct business in New Jersey.
It's interesting to note that PokerStars has remained to maintain its status as the top poker site in the world despite the persistent absence of American players. By giving money back to users who were no longer able to play on the site, the integrity of the platform was amply demonstrated. Other elements that keep players coming back to the website are the cutting-edge PokerStars software and the enormous range of games and tournaments. The PokerStars mobile application has been yet another significant draw.
PokerStars.com released its initial mobile download for Apple iOS devices in January 2012, and then released a second app for Android devices in February 2012. Since then, both apps have undergone considerable upgrades that enable mobile users to benefit from many cutting-edge customizable features and the same extensive selection of games and tournaments as PC users. One of the best in the business today is PokerStars' mobile platform.
PokerStars also recently opened the PokerStars Casino and debuted their sports betting website, BetStars, as part of their ongoing brand expansion strategy.
Withdrawals and Deposits
You have many options for funding your account, as you might anticipate given that PokerStars.com is the biggest online poker site in the world. The fundamental approaches, which should be accessible in most nations, are described below, but depending on where you live, you might also have access to additional choices.
You can check the website's information to find out precisely which payment methods are permitted for players in your country. The same method may be used for both deposits and withdrawals unless otherwise specified. You can even use the built-in web cashier on your mobile device to make deposits and withdrawals for your extra convenience, so before you know it, you might be spending your poker jackpot!
Credit and debit cards from Visa and MasterCard
EntroPay,
Skrill,
NETELLER,
Paysafecard,
Bank Transfer,
and more.
*not suitable for withdrawal
The following currencies are accepted: USD, EUR, GBP, and CAD. The maximum deposit varies according on the mode of deposit and the level of play. You do have the choice to impose your own restrictions, though. While the processing time for withdrawals varies based on the method, it often takes 72 hours or less, and it typically takes 3 to 10 business days for the money to actually reach your account.
Despite the possibility of speedier withdrawals, every banking option you choose gives you the peace of mind that your money is completely safe. The latest cutting-edge encryption technology is used by PokerStars.com and PokerStars.eu to guarantee the complete protection and privacy of every player's personal information and financial transactions. Interestingly, PokerStars currently doesn't accept Bitcoin or other cryptos. Alternatively, a rising number of real money poker websites now accept bitcoin. Check out the top poker rooms that accept Bitcoin as payment, such as Bovada Poker, Ignition Poker, and Americas CardRoom.
Only with banking can you get assistance via live chat rather than merely email if you have any inquiries or issues. If your deposit is rejected for whatever reason, the Deposit Assistance Department (DAD) can provide support through live chat in a variety of languages. It's unclear if DAD will help you with other banking-related problems.
Customer Service
Customer Support at PokerStars.eu is limited to email, with the exception of the brief live chat assistance provided if you need help making a deposit. We believe the absence of 24-hour phone and live chat support to handle any real player question or complaint to be extremely disappointing and in need of rectification as soon as possible, as we have previously said elsewhere in this PokerStars poker room review.
Although, to be fair, PokerStars support staff are renowned for being comprehensive, fascinating, and even funny and friendly. Email support is also of a very high standard. Just to be clear, if you experience any issues while using PokerStars, you can get in touch with customer care by using the following channels:
Email;
Live Chat;
Phone;
Customer Support Form
Loyalty Program
When you sign up, all new PokerStars real money players, including mobile players, receive a substantial Welcome Bonus. A maximum of three deposits made within your first 60 days of play will receive a 100% match as part of the incentive. If you have the means, you ought to deposit the complete $20,000 on day one.
However, if you'd prefer to make a lesser investment initially and then make one or more further deposits later, as long as you do so within 60 days, the second and third deposits will also count. In that case, you can still get the full $20,000 PokerStars deposit bonus, or if less, whatever sum your qualifying deposits total. Remember that you are not required to deposit $20,000 at all. If you would rather make a smaller deposit, you are allowed to do so and will still receive a PokerStars welcome bonus, albeit one with a lower playthrough requirement.
You must accumulate the required amount of VIP Player Points (VPPs) in order to clear this PokerStars offer, which you do each time you play with actual money in a ring game or tournament. You receive 5.5 VPPs for every €/$1 you put into the rake in a ring game or spend on tournament costs. However, you won't have to wait until you've used up all of the bonus before you start getting some of it. At PokerStars, €/$10 of the pending bonus is released each time you reach 200 VPPs. You have a total of four months to accumulate the necessary VPPs to fully clear the bonus.
Loyalty Scheme
Players can earn Frequent Player Points (FPPs) and VIP Player Points (VPPs) on PokerStars.com and PokerStars.eu (FPPs). Although the VPPs were previously mentioned in relation to clearing the PokerStars welcome bonus, they actually serve a dual purpose in that they also define your position within the seven-tiered VIP program. Bronze, Chrome, Silver, Gold, Platinum Star, Supernova, and Supernova Elite are the seven levels.
All players begin at level 3, Bronze, with the option to keep going up to a higher level. To qualify for and keep that status, a specific minimum amount of VPPs must be achieved for each subsequent level each month (or annually for the Supernova and Supernova Elite levels).
With each higher tier, the player receives bigger incentives as well as the opportunity to accumulate points more quickly for more rewards.
Although FPPs are similarly based on play, they differ from VPPs in that they may be exchanged for cash, tournament entry fees, poker supplies, and other items from the VIP store. Depending on their tier, players can earn one or more FPPs for every VPP.
Increased Tier Rewards
The end-of-year Stellar Rebate awards are given out based on the total number of VPPs in addition to the monthly incentives that all players receive. Additionally, higher-tier players get invitations to VIP tournaments that are only open to players at their level and beyond. These gamers are treated just like VIPs even though it takes a minimum of 100,000 yearly VPPs to obtain Supernova rank and 1,000,000 VPPS for Supernova Elite status. They also receive VIP yearly milestone rebates, a Porsche Cayman S, priority assistance, invites to live events, personal concierge service, and big bonuses all year long.
Particular Promotions
PokerStars.com and PokerStars.eu demonstrate their appreciation for all of their players through a variety of special promotions that are open to everyone, in addition to the loyalty rewards described above. You won't want to miss out on any of the opportunities being presented, including cash prizes, freerolls, and satellites for seats to important events, as some of these short-term promotions. Be sure to check the website frequently.
Choosing a game
PokerStars is aware of the fact that poker is anything but a one-dimensional game. When you decide to play cards, you frequently have a lot of options because PokerStars spreads the action over cash games, tournament play, and more.
Conclusion
PokerStars is regarded as the best poker site in the world since it not only meets but also exceeds critics' expectations. This brand has an advantage over the competition due to the vast quantity of games and bonuses it offers, not to mention the excellent mobile play alternatives it also offers. PokerStars is the clear choice for everyone who loves the game or just wants to play for fun. This online poker room is unquestionably the best in the business!
FAQ