Need comprehensive instruction in Pot-Limit Omaha poker? Our PLO Mastermind Review will include an in-depth analysis of the platform and our final verdict towards the end!
Poker training products tend to focus more broadly on the Texas Holdem strategy than on PLO, the most popular online poker variant. We wanted to learn more about PLO Mastermind, and we tried it so that we could share our thoughts and maybe set some expectations for whoever would like to try it.
---🔥 Start playing on the softest tables in poker! This agent offers up to 55% Rakeback depending on your weekly rake. The team is available to you 24/7:
A
Telegram -
@FullHouseHelp
A
Whatsapp -
Get Started
As a player with this agency you get the best Rakeback,

guaranteed deposits and VIP service

for anything poker, catered to your needs. ---
One of the few training programs available to members is dedicated solely to the 4-card game.
So, let's get down to business.
PLO Mastermind: How Does It Operate?
PLO Mastermind aims to increase your expertise in the game and make you a high-stakes poker killing machine not matter where you choose to play. You can test your Omaha knowledge with a battery of quizzes and a plethora of video lessons. The vast amount of information available is not overwhelming in PLO Mastermind. The game provides a clear path to becoming a winning player at the stakes you select once you've decided which content path you want to take.
As soon as you sign up for PLO MM, you'll have access to the entire content library. Paid members have access to 5 new videos each week. All of the community platform's features and content, including videos, quizzes, and functions, can be accessed from a mobile device, allowing for more adaptable educational options. Finding other members with whom you can discuss tactics and hand histories is simple on the poker discussion board or Discord chat for PLO players.
The Secret to PLO Mastermind's Success in Poker (and why it's worth your time)
Like any complicated gameplay, Omaha poker necessitates a methodical approach to learning the game's intricacies. Only in that way can you hope to reach the level of mastery required to become a champion player. The majority of PLO Mastermind's training materials are based on strategies found in poker solvers. In other words, once you dive into the materials, you'll be well on your way to creating a thoroughly theoretical game.
How many different membership levels are there, and how much do they cost?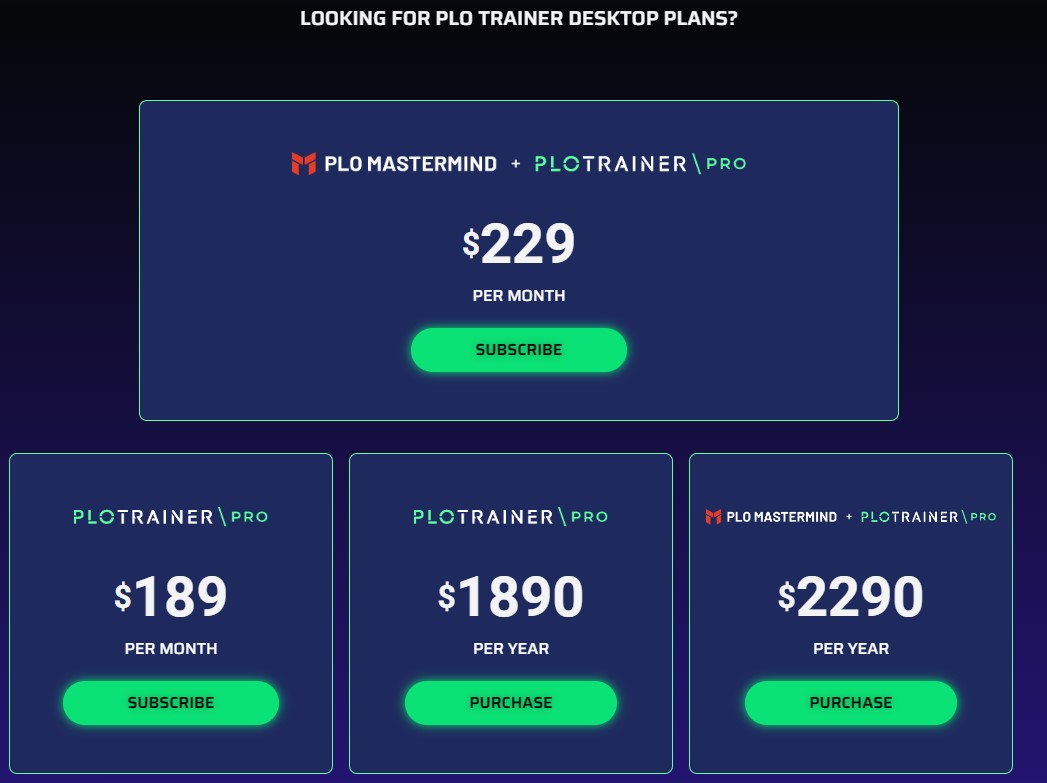 Join Fishy Tables on Exclusive Poker Clubs
When you join PLO Mastermind, you can choose from one of three different membership tiers. The levels of most training programs are progressive, adding more and more functionality with each passing stage. Free membership is available, as is a $109 monthly membership and a $1090 annual membership. Briefly discuss the various membership tiers:

A membership that costs nothing
Joining the platform as a free member grants you access to the community forums and the first 10 PLO Launchpad Videos. Even as a basic member, you can learn much from the forum threads about how other people use the site to play PLO. You can improve your own game by reading the coaches' comments on the areas where their players need help. A sample of the poker training materials on their poker training site will also be available to you.
Paying a recurring monthly fee
Payment of $109 per month buys you 30 days of availability to the following educational resources:
Over 700 videos available on-demand
More than three hundred and fifty questions on the PLO
There are 146 downloadable materials
A Pre-flop Aid for PLO
One-on-one PLO Trainer orientation call
Even with extensive studying, learning all of the training material properly can take weeks. Whether you subscribe to training or not, fixing your PLO flaws will take time. Monthly members have access to strategic planning materials and PLO firmware that together provide virtually all of the technical know-how required to dominate at Pot-Limit Omaha.
Premium membership with yearly dues
There are two key ways in which the annual membership is unique from the monthly one. First, if you pay for the entire year at once, you'll save about $200. Second, you join the PLO Mastermind trainers and group in a private yearly member-only Discord server.
Train Yourself in GTO with the PLO Trainer

Using solvers to master GTO is a slow process. You can practice making the best calls in a variety of PLO situations, as PLO Trainer provides access to over 83,000 such scenarios. After making your selection, you'll immediately receive feedback, which greatly accelerates your progress.
There is no need to download PLO Trainer because it can be accessed directly in a web browser. PLO Trainer costs $149 monthly or $1490 annually. PLO Mastermind and PLO Trainer are available in a discounted bundle for $189 per month or $1890 annually.
Advantages and Disadvantages of a PLO Mastermind
There is no such thing as a poker training course that will prepare you for every eventuality. There are advantages and disadvantages to each possible path. The most important ones we discovered while testing the system are as follows:
Merits
Extensive, and many PLO players have used it successfully in battle
Supportive group of athletes and trainers.
In-Depth PLO Decision-Making Trainer
Integral preparation for the mental, physical, and strategic aspects of the game Competence at Pot-Limit Omaha
Constantly-updated content published every week
Cons
There is no full-service, no-cost trial option (the course does come with a 30-day money-back guarantee)
Micro-stakes players may find the price to be prohibitive.
PLO Mastermind's contents

Play on Reliable Poker Platforms:
This Pot-Limit Omaha course material is extensive. Let's start with the basics, like how it's set up and what you get once you join:
Over 700 videos available on-demand
Over three hundred and fifty PLO tests and one hundred and forty-six printable guides
Guide to PLO Preflop Play and PLO Training (Add-on)
A personal, one-on-one phone call for new hire orientation
Final Thoughts on the PLO Mastermind
We were very impressed by the platform's high standard of strategy instruction. If you want to become a true PLO crusher, PLO Mastermind has fairly much all you need to know. The videos don't hold back, and the Trainer will make sure you know exactly what you're doing wrong and how to fix it. The monthly membership fee should be a +EV investment for any Omaha player who regularly plays PLO $0.25/0.50 or higher.
An Excellent Performance, 9 out of 10 from Us!
Answers to Your Questions About the PLO Mastermind
Who are the PLO Mastermind coaches?
The leader of the team is known as "JNandez87," but his real name is Fernando Habegger, and he has trained hundreds of players in PLO. Alexey Altshuller, Fabian Rigo (aka Suhepx), and Luuk Botter are a few of the other coaches.
The PLO Mastermind is what?
PLO Mastermind is a resource for learning the poker variant Pot-Limit Omaha, featuring video lessons covering theoretical and practical strategies and various interactive exercises. A subscription to the site grants users entry to the PLO player hub, where they can chat with other members and learn the ropes. With the free version of the platform, you have access to the ten introductory sessions, PLO articles, and strategy forums.
How many poker variants does PLO Mastermind cover?
PLO MM covers both the 4-card and 5-game variations of Pot-Limit Omaha. PLO tips and strategies for low, medium and high-stakes Omaha games are all available. We also discuss winning strategies for Heads-Up, 6-Max, cash games, and tournaments in PLO.
Where can I find the PLO Mastermind downloads?
Many useful tools, including Preflop Charts and Postflop Shortcuts, are available for download.
Who is this mysterious JNandez87?
Swiss Pot-Limit Omaha specialist Fernando "JNandez87" Habegger got his start in poker in freerolls in 2006. Jnandez played in low and medium stakes No Limit Hold'em games for several years before switching to Pot Limit Omaha. He has helped hundreds of poker players improve their skills as the Head Coach for PLO Mastermind. These days, Jnandez competes in PLO tournaments with a $5,000 prize pool and cash games with stakes ranging from $10/$20 to $25/$50.
How extensive is PLO Mastermind's library?
There are over seven hundred and fifty instructional videos, three hundred and fifty quizzes, the Preflop Helper, the PLO Trainer Beta, downloadable materials, and Discord access.
Is there a refund policy for PLO Mastermind?
You can request a full refund within the first 30 days as a new member. You can get a complete refund if you are unhappy with the product.