Slots Empire Casino Review: Conquer the Reels
Prepare to step into the realm of Slots Empire Casino, an online gaming platform inspired by the grandeur of the Roman Empire. With a splendid game selection, generous bonuses, and unwavering commitment to security, Slots Empire Casino offers an imperial gaming experience like no other.
Step into the Empire
From the moment you enter Slots Empire Casino, you're transported back in time to an era of power and glory. The site's design, adorned with Roman symbols and rich, royal colors, offers an immersive environment that distinguishes it from typical online casinos.
Navigation is a breeze, thanks to its intuitive layout and user-friendly interface. Whether you're a seasoned gamer or a rookie gladiator, you'll find it effortless to explore the vast landscape of Slots Empire Casino.
Command the Reels
As the name suggests, Slots Empire Casino specializes in providing a grand array of slot games. Powered by Real Time Gaming, a renowned software provider, the games boast top-notch graphics and thrilling gameplay.
Slot fans can indulge in a variety of themes, ranging from ancient civilizations to modern sci-fi adventures. Popular titles include "Asgard," "Bubble Bubble," and "Cash Bandits," each promising a unique gaming experience and potential for significant wins.
Fear not, table game enthusiasts. Slots Empire Casino hasn't forgotten about you. It offers an extensive range of classics, such as blackjack, roulette, poker, and baccarat. Also available are live dealer games for those yearning for a realistic casino experience.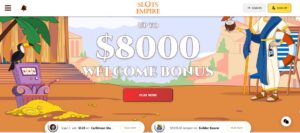 Imperial Bonuses
At Slots Empire Casino, all gamers are treated like Roman nobility when it comes to bonuses. The Welcome Bonus can net you a 220% match on your first deposit, with an extra 20% for Neosurf or BTC deposits. The generosity doesn't stop there. The casino runs regular promotions and offers a rewarding VIP program to treat loyal players like emperors and empresses.
Secure and Fair Gameplay
Slots Empire Casino is as steadfast as a Roman fortress when it comes to security. It employs advanced SSL encryption technology to ensure your personal and financial data is well-protected. Additionally, its games undergo regular audits to guarantee fairness, ensuring you can focus on enjoying your gaming conquests.
A Seamless Multi-Platform Experience
A hallmark of Slots Empire Casino is its commitment to ensuring that players can enjoy their favorite games across multiple devices. The platform is beautifully optimized for both desktop and mobile play, with zero compromises on game quality or accessibility of features. Whether you want to enjoy a round of poker at home on your laptop or spin the reels on the go from your smartphone, Slots Empire Casino has you covered.
Join Fishy Tables on Exclusive Poker Clubs
Progressive Jackpots
Another element that sets Slots Empire Casino apart is its impressive array of progressive jackpot games. These games offer the thrill of potentially astronomical winnings, making every spin a potential windfall. The tension and excitement build up with each spin, and you could be the lucky player to take home a life-changing amount.

Conclusion: An Empire Worth Exploring
In the vast online gaming landscape, Slots Empire Casino truly stands as a beacon of quality, excitement, and fair play. The platform brings together an extensive range of top-notch games, attractive bonuses, and rigorous security measures, all wrapped up in a unique, appealing theme.
From the broad range of slots to the thrilling table games and the potential windfall of progressive jackpots, there's something to cater to every player's preferences. Add to that the seamless cross-device experience and the excellent customer support, and you have an online casino that truly deserves its imperial title.
As always, remember to gamble responsibly and verify that you're of legal age to play. Now, prepare to conquer the reels and experience the grandeur of Slots Empire Casino – your gaming adventure awaits!
FAQs
1. Is Slots Empire Casino a safe platform to gamble on?
Absolutely! Slots Empire Casino employs state-of-the-art encryption technology to protect your data. Additionally, its games are independently audited to ensure fairness.
2. What games can I play at Slots Empire Casino?
Slots Empire Casino offers an extensive range of games, including a variety of slot games, table games, and live dealer games. All of these are powered by Real Time Gaming, ensuring high-quality graphics and exciting gameplay.
3. What bonuses does Slots Empire Casino offer?
Slots Empire Casino offers a grand range of bonuses, starting with a generous 220% match on your first deposit as a Welcome Bonus, with an extra 20% for Neosurf or BTC deposits. Regular promotions and a rewarding VIP program are also part of their bonus offerings.
4. Can I play at Slots Empire Casino from my mobile device?
Yes, Slots Empire Casino's platform is fully optimized for mobile play, ensuring you can enjoy your favorite games on your smartphone or tablet wherever you are.
5. What are the payment methods at Slots Empire Casino?
Slots Empire Casino offers various payment options, including Visa, MasterCard, Bitcoin, and Neosurf. As always, for the most accurate and up-to-date information, refer to their banking page.
6. How responsive is Slots Empire Casino's customer support?
Slots Empire Casino offers round-the-clock customer support. You can reach out to them via live chat, email, or phone. They have a professional and responsive team ready to assist you with any inquiries.
To sum it up, Slots Empire Casino offers a gaming experience as grand and enjoyable as the empire it's inspired by. With its broad selection of games, generous bonuses, robust security measures, and a unique, engaging theme, it's a standout choice for online casino enthusiasts. Remember to gamble responsibly, and may your gaming conquests be successful at Slots Empire Casino!